The latest and most comprehensive coverage of local News, Sports, Business, and Community News stories in the Klamath Basin, Southern Oregon and around the state of Oregon from Wynne Broadcasting's KFLS News/Talk 1450AM / 102.5FM, The Herald and News, and BasinLife.com, and powered by Mick Insurance, your local health and Medicare agents.
Wednesday, August 16, 2023
Klamath Basin Weather
AIR QUALITY ALERT TODAY
  HEAT ADVISORY until Thursday, August 17, 11:00 PM 
    Fire Weather Watch in effect until August 16, 11:00 PM
Today
Scattered showers and thunderstorms, expected in the afternoon, with patchy smoky skies, otherwise sunny and very hot with a high near 100 degrees.  West northwest wind 3 to 8 mph. Chance of precipitation is 30%. Overight, showers, hazy skies, low of 66.
Thursday
Mostly sunny, with a high near 89.
Friday
Sunny, with a high near 89.
Saturday
Mostly sunny, with a high near 90.
Today's Headlines
One of the Klamath hydroelectric dams is almost demolished and the work is underway to remove the three other Klamath River dams in 2024.
Work on removing Copco 2, the smallest of the four hydroelectric dams being removed as part of the nation's largest dam removal project, is on a brief pause. Its full removal is scheduled to be completed by late October.
Mark Bransom, CEO for Klamath River Renewal Corporation, which is overseeing dam removals, said the pause in deconstructing Copco 2 is being done to capture water from the Copco 1 dam and raise water levels before removing a diversion channel. He said most of the 35-foot-tall, 278-feet long concrete Copco 2 dam has been removed, 
Removing Copco 2 is the first phase of a planned years-long effort to remove the dams and complete restoration efforts. Bransom and Ren Brownell, KRRC's public information officer, said completing Copco 2 and the removal of the three other dams – Copco 1, Iron Gate and John C. Boyle – all in early 2024, is being done "very, very slowly" to reduce impacts on fish and sediment.
While Copco 2's removal is drawing the most attention, plans are in place to remove trees and other vegetation from Ward's Canyon directly below Copco 1 in September. Bransom and Brownell said trees, mostly cottonwoods, and other vegetation that has grown near the dam will be removed by helicopter. Once the area where the trees are growing again become part of free-flowing Klamath, it's expected the trees would otherwise die and fall into the river, creating safety hazards for boaters and other recreationalists.
Bransom said other work is being done at Iron Gate and Boyle to prepare for drawing down the reservoirs to reduce impacts from sediment and protect fish and wildlife, such as relocating coho salmon and western pond turtles and "getting the critters out of harm's way."  (herald and news)
More than half of Oregon is experiencing moderate to severe drought, according to a state report released Monday.
Several streams along the coast and in western Oregon are measuring record low flows. Southwestern and central Oregon measured the lowest July precipitation it's ever recorded, according to the Oregon Water Resources Department's report for July.
About 52% of the state was in drought that month, up from 49% in June. The report shows a stark turn from this year's spring, when snowmelt and heavier-than-usual rain helped alleviate drought in much of the state, particularly western Oregon.
Oregon Gov. Kotek has declared drought emergencies for nine Oregon counties so far this year. Those declarations open up state resources to counties that need help.
Dry conditions are making matters worse for regions battling wildfires. Rain in the spring helped plants grow fast, then an extremely dry summer dried them out. That's left plenty of fuel to burn.
Conditions are particularly bad in Lane County. Much of the county is experiencing severe drought and some people have had to evacuate from the Bedrock and Lookout fires burning in the Willamette National Forest west of Eugene.
The National Weather Service has also issued excessive heat advisories for most of Oregon west of the Cascades. The agency said areas in the Willamette Valley from Salem to Eugene could reach between 105 and 110 degrees early this week. (herald and news)
As Oregon temperatures reach triple digits, the Oregon Health Authority is warning people not to jump into rivers and lakes with toxic algae blooms.
Cyanobacteria are blooming in nine Oregon bodies of water, from Hells Canyon Reservoir to Upper Klamath Lake and the South Umpqua River.
In Portland, the Oregon Health Authority has placed advisories on the Willamette River near Ross Island Lagoo and Riverplace Marina. On Monday, it also extended an advisory at Willamette Cove downstream to near Cathedral Park. Essentially, the advisory covers much of downtown.
Cyanobacteria are found in fresh and salt water all over the world. The bacteria can be beneficial by producing oxygen, but in warm weather, low water flows can lead to blooms that produce large amounts of cyanotoxins.
High bacteria has been recently reported in klamath Lake, Bear Creek and other waterways in Southern Oregon.
Nagasi Zuberi — the man accused of kidnapping and sexually assaulting a Seattle woman, then holding her captive in a cinderblock cell in his garage — pleaded not guilty at the James A. Redden U.S. Courthouse yesterday for two federal charges: interstate kidnapping and transportation with intent to engage in sexual activity. 
Judge Mark D. Clarke deemed Zuberi "a danger to the community" and did not authorize his release from Jackson County Jail.
Federal prosecutors called Zuberi dangerous, mentioning the way he selected his victim and the nature of handwritten notes in the garage discovered by investigators. Zuberi's attorney said they would argue for his release at a later date, and his next federal court appearance is scheduled for Oct. 17.
Interstate kidnapping is punishable by life in federal prison and the second charge is punishable by up to 10 years.
Zuberi was arrested in Reno on July 16, a day after the alleged kidnapping. He is accused of abducting the woman from Seattle posing as an undercover police officer, driving her 450 miles to Klamath Falls, sexually assaulting her on the trip and then locking her in a cell in the garage of his rental home in Klamath Falls, according to the FBI.
The woman escaped after a couple of hours in the cell, ripping apart a metal screen door on the cell, sneaking out of a small space in the screen, running from the home and flagging down a motorist for help, according to the FBI and Klamath Falls police.
Investigators tracked Zuberi's cellphone, which helped Nevada state patrol officers locate Zuberi in a Walmart parking lot with his wife and one of his children, according to a federal affidavit. He was taken into custody after a 45-minute standoff, the FBI said.
A jury trial has been tentatively set for Oct. 17 before U.S. District Judge Michael J. McShane. Zuberi has been appointed two assistant federal public defenders, Devin Huseby and Clais Daniels-Edwards.
The home Zuberi rented was owned by Klamath Falls Mayor Carol Westfall and her husband, Kevin Westfall. Zuberi lived in the home with his two young sons, now 4 and 6, and their mother, and two other housemates, according to a neighbor.
Zuberi has lived in 10 states over the past 10 years, and FBI investigators said they suspect there could be other alleged sexual assault victims. In addition to Oregon, he has lived in California, Washington, Colorado, Utah, Florida, New York, New Jersey, Alabama and Nevada since August 2016.
Anyone who believes they were a victim of Zuberi's or has any information about his crimes are urged to call 1-800-CALL-FBI. (herald and news/kdrv 12)
What should Klamath Falls do with the traffic lights on Main Street?
An online poll by the Herald and News is asking just that.  As of yesterday afternoon, 85% of those that responded said they should return them to how they were, with green, yellow, and red stoplights.
10% say take out all lights and put in stop signs at every intersection.
Only 5.3% say they should leave it the way it currently is.
The current configuration has been there since June.  So far,, traffic along Main Street, Klamath Avenue and Pine Street has decreased appreciably.
Citizens have expressed concerns and entered complaints regularly at city council meetings since the traffic test began. 
Main Street Jewelers is in the process of collecting signatures from residents to put a stop to the project. The business has filled nearly all allotted spaces for signatures on the petition provided by city staff.
Go to heraldandnews.com to voice your vote.  (herald and news/local sources)
The October 14 annular eclipse will be a sight to behold in Klamath County and the surrounding area.
Klamath County will be one of the best viewing sights for the ring of fire appearing behind the darkened moon. The peak of the eclipse will be 9:15 a.m. and the eclipse will last for four minutes 24 seconds.
Klamath County Commissioner Dave Henslee says we learned a lot from the 2017 total eclipse Even though Klamath was not the best viewing location, we were on the path to the best location. We experienced a shortage of gas and diesel, but we are working to be better prepared in October.
Henslee went on say that two events in the community will draw thousands of people. We will see an economic boost from those going to the Running Y's celebration and the Eclipse Fest in Fort Klamath, and according to Henslee, projected attendance of both is 10,000.
This will bring extra traffic to the area and greater demands on cell towers, other technology and first responders.
He says the county asks that you please be patient and kind to our guests and be prepared ahead of October 14. In addition to the fuel shortage in 2017, Klamath also ran out of bottled water.
He went on to encourage local residents to:
Stock up on staples, such as food, medication and toilet paper, ahead of October 14.
Fill your gas tank early in the week of October 14.
Be prepared to pay with cash the weekend of the eclipse, as the extra use of cell towers and other technology may slow credit and debit purchases. The worst case scenario is payment systems may fail with extra use.
Enjoy the experience, but be prepared for extra traffic.
Information updates about eclipse preparedness can be found at the Klamath Eclipse 2023 Facebook page.(klamath county press release)
U.S. Senators Ron Wyden and Jeff Merkley of Oregon announced Monday that the Upper Klamath Basin will receive nearly $92,000 from the National Fish & Wildlife Foundation for data collection and conservation planning through Oregon State University.
Wyden said "there have been incredible efforts by folks in the Klamath Basin to prepare and respond to more frequent and severe droughts caused by climate chaos — but all of that starts with everyone having all the facts "While I'm gratified Senator Merkley and I brought resources for species recovery and habitat restoration to the region in the Bipartisan Infrastructure Law, it's clear that more needs to be done. To ensure the long-term viability of the Klamath Basin natural resources and economy, we must start with quality data, which is why I'm gratified to see this tool developed to help communities in the Basin set priorities that help everyone."
The hydrologically unique Upper Klamath Basin requires continuous data collection to guide conservation planning. Oregon State University will incorporate empirical data for redband trout — which are an important species both culturally and economically — from previous field studies into a tool to guide conservation of juvenile redband trout rearing and habitat conditions in the Upper Klamath Basin.
Native redband trout hold valuable insights for the unique challenges and opportunities facing future runs of salmon and steelhead in the Upper Klamath Basin," said Jonathan Armstrong, OSU associate professor. "Our project will upload key information on redband trout ecology to an interactive web tool where it will inform fisheries recovery and climate adaptation planning". (Herald and News/Sen. Ron Wyden's office)
Klamath County has work crews at the following locations this week and ask you to please use caution when in these areas and watch for flaggers.
If you are able to avoid the work zones, please use an alternate route for your safety and the safety of Klamath County employees and our contractors.
Chip Seal Crew
August 21— Westside Road; August 22 — Westside Road, Sunset Beach, Lakeshore Drive; August 23 — Lakeshore Drive, Sharp Road, Horsely Road; August 24 — Dayton Street, Derby Street, Gary Street, Gettle Street.
4 a.m. – Early Morning Broom Crew
August 22 — Westside Road; August 23 — Westside Road, Sunset Beach, Lakeshore Drive; August 24 — Westside Road, Sunset Beach, Lakeshore Drive, Sharp Road, Horsely Road; August 25 — Sharp Road, Horsely Road, Dayton Street, Derby Sreet, Gary Street, Gettle Street.
Paint Striping/Stencil Crew
Clover Creek Road, Westside Road, Fort Klamath area, Williamson River Road

Road and Utility Work — Vicinity of Stearns Elementary School

Expect daily lane closures. — Crest Street: Clinton to Denver
See the following link for a map of roads to be chip sealed for the 2023 season, or log onto the Klamath County Public Works website at http://www.klamathcounty.org/734/Maps.
In general, flagging stations will be set up at the end of the work zone and delays will be 0 to 20 minutes for the motoring public. Our goal is to minimize the delay to the motoring public. Other minor work is occurring through the county but we are only listing the major items in this announcement. Please do not contact the County if you do not see work occurring, it could be finished already or will be rescheduled.
Klamath County Public Works and the Board of County Commissioners appreciate the motoring publics' patience during the repair season for our local roads and bridges. If you have any questions regarding work, please contact the Public Works Department at (541) 883-4696.
(public works/Herald and news)
The Ella Redkey Pool will be hosting Summer Splash 2023 this Friday night.
 This event is sponsored by the Friends of Ella Redkey Pool and includes free admission to the first 100 people ($5 per person, $20 per family up to 6 people after), family friendly music, and a raffle with 18 different baskets to choose from.
The Summer Splash will begin at 7:00 p.m. and the fun will continue until 10:00 p.m. with the raffle beginning at 8:00 p.m. All proceeds raised by this event will be applied to future projects and equipment at the pool. Tickets are available for purchase at the Ella Redkey Pool during normal hours of operation. Must be 18 years old or older to purchase a ticket, and winners do not have to be present at the drawing. Tickets are $5 each or $20 for 5 tickets. Tickets can be purchased up to the drawing time. For inquiries call (541) 273-1477. (city of KF press release)
Around the state of Oregon
More Than Half Of Oregon In Drought
According to a state report released Monday, more than half of Oregon is experiencing moderate to severe drought.
Several streams along the coast and in western Oregon are measuring record low flows. Southwestern and central Oregon measured the lowest July precipitation it's ever recorded, according to the Oregon Water Resources Department's report for July.
About 52% of the state was in drought that month, up from 49% in June. The report shows a stark turn from this year's spring, when snowmelt and heavier-than-usual rain helped alleviate drought in much of the state, particularly western Oregon.
Gov. Tina Kotek has declared drought emergencies for nine Oregon counties so far this year. Those declarations open up state resources to counties that need help. Dry conditions are making matters worse for regions battling wildfires. Rain in the spring helped plants grow fast, then an extremely dry summer dried them out. That's left plenty of fuel to burn.
Conditions are particularly bad in Lane County. Much of the county is experiencing severe drought and some people have had to evacuate from the Bedrock and Lookout fires burning in the Willamette National Forest east of Eugene.
As of Monday afternoon, the Bedrock Fire had burned across about 19,300 acres. The Lookout Fire had burned across about 1,200 acres around three miles north of the McKenzie Bridge.
The National Weather Service has also issued excessive heat advisories for most of Oregon west of the Cascades. (SOURCE)
August 16, 2023 Flat Fire Morning Update
Start Date: July 15, 2023 Total personnel : 536
Size: 33,895 acres Containment: 58%
Resources: 22 engines l 9 crews l 3 bulldozers l 20 water tenders l 9 masticators l 4 helicopters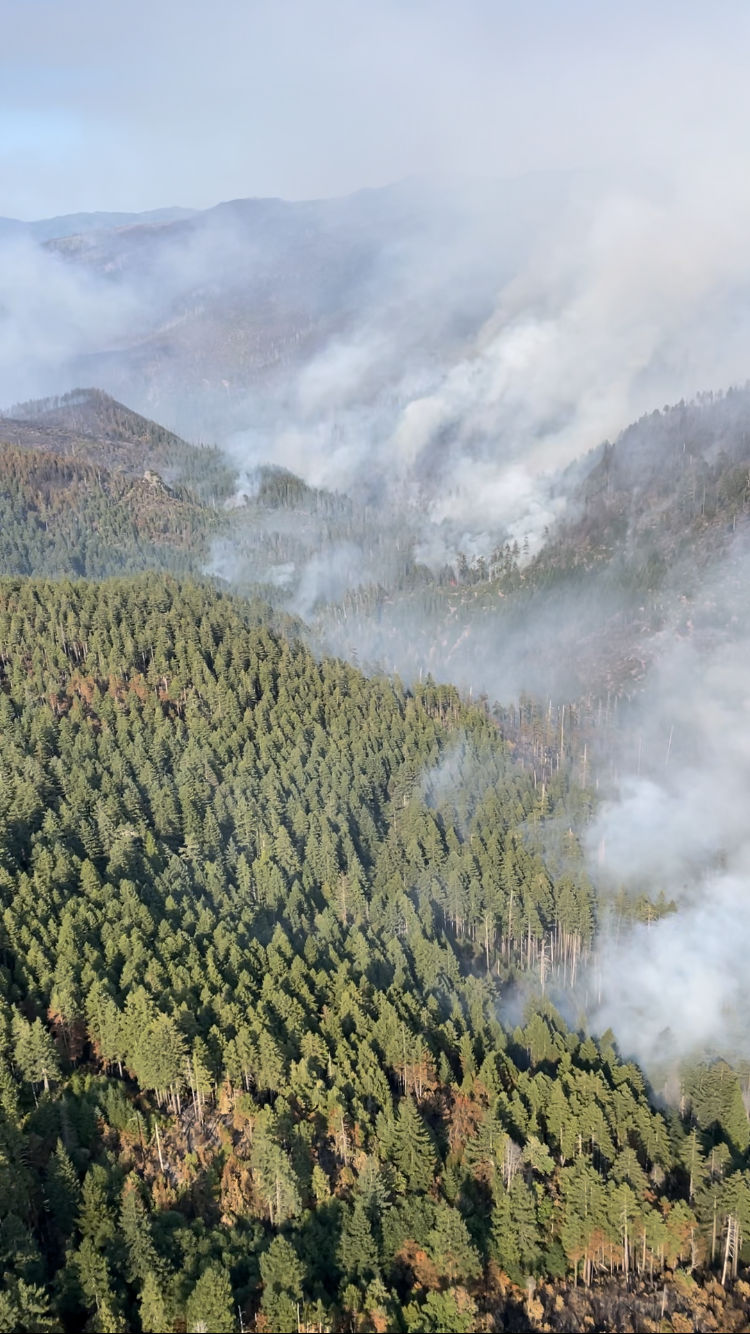 Current Situation: With the increased temperatures and dry conditions, firefighters continue to utilize aviation resources to monitor the scattered hot spots. Fire activity is limited to small, isolated pockets inside the fire perimeter. Fire behavior for today is expected to remain the same with scattered areas of smoldering and creeping and occasional flare-ups with single tree torching. Crews continue to be vigilant with frequent localized weather observations and careful monitoring of ridge tops, drainages, unburned islands, and isolated heat sources. Warmer morning temperatures have created an increase of smoke in some areas. Some drift smoke may also appear from other wildfires across the region. Resources assigned to the Flat Fire continue to assist with initial attack in the area as well.
Today's activities: All resources are in place, patrolling contained fire lines, monitoring for fire behavior changes, and utilizing both heavy equipment and hand crews for contingency work. Some resources will continue to be available for initial attack as well as assisting with the O'Brien Creek Fire and new starts to the south in Six Rivers National Forest. Air resources will continue to monitor the fire and will also remain available to support initial attack efforts if needed.
The Southwest Team 3 will begin to arrive today and tomorrow, anticipating a transfer of command on Friday morning. The objectives for suppressing this fire remain the same and firefighters will continue working towards full containment of the Flat Fire.
California sending five strike teams to boost firefighting capacity in Oregon
SALEM, Ore. – Five CalOES strike teams are headed to Oregon to provide additional capacity as our state deals with a continued forecast of triple-digit temperatures, extreme fire danger, and forecasted lightning. The strike teams are able to mobilize to Oregon after the Oregon State Fire Marshal (OSFM) made the request today through the Emergency Management Assistance Compact (EMAC) and the Oregon Department of Emergency Management. The strike teams will be pre-positioned in the Willamette Valley to be available to support existing wildfires or any new fire starts that break out. 
"With several fires burning on the west slope of the Cascades and the fire danger increasing by the hour, our agency has decided to take the proactive step to bring in additional capacity to support the Oregon fire service," Oregon State Fire Marshal Mariana Ruiz-Temple said. "We are thankful for our strong and storied partnership with CalOES and the California fire service. We work extremely well together and offer each other support when our communities are impacted by wildfire and other disasters."
The OSFM currently has 11 task forces mobilized to two fires in Lane County, the Lookout Fire and the Bedrock Fire. 
Over the next week, Oregonians and visitors should remain vigilant as the threat of wildfire is exceptionally high. The OSFM is urging everyone to be wildfire aware and practice wildfire prevention to avoid sparking additional wildfires. 
Oregon's state-run paid leave program has started taking applications. The first leave can start September 3rd with payments going out through direct deposit or prepaid cards two weeks later.
Paid Leave Oregon will cover time off for family members, illness, and safe leave. Around 41-thousand claims are expected at the start and then 12-thousand a month as the program moves forward. Grants are available for small businesses to help cover for employees while they're on leave. Eleven states have similar programs. Details at paidleave-dot-oregon-dot-gov. (oregon news)
These are the fires currently burning in our area of the state.
UPDATES on the Lookout Fire – Bedrock Fire – The Wiley Fire – The Salmon Fire – Priceboro Fire 
Lookout Fire 2023 is near McKenzie Bridge and has level 1 & 2 evacuations. It's around 200 acres and 0% contained. Expect this one to grow. https://lanecounty.org/news/lookout_fire
The small mountain communities along the McKenzie River are struggling with more of the Lookout Fire's smoke covering the region. The fire now grows closer to 3,000 acres burned resulting in heavy dense smoke covering the burn site.
Because of the conditions, helicopters were grounded for August 15 until the smoke clears up. With the lack of aerial help from above, hotshot and fire crews on the ground doing most of the day's work. Their work included protecting structures like houses and power lines, along with setting a line so the fire does not get over the McKenzie Highway.
The Bedrock Fire 2023 is near Lowell and Fall Creek. It also has level 1 & 2 evacuations issued.
August 16, 2023 Quick Facts: Bedrock Fire Acres: 25,780 Containment: 20%Total personnel: 1090Crews: 26 Helicopters: 9 Engines: 66 Heavy Equipment: 34 Water Tenders: 34
It is 19,000 acres and 20% contained. The southeast edge of the four pointed towards Oakridge looks to be very well under control. https://lanecounty.org/news/bedrock
Smoke shaded the Bedrock Fire yesterday, lowering temperatures slightly and moderating fire behavior. The smoke over the fire also prevented helicopters from safely flying. Yesterday wildland firefighters and structural fire engine crews from the Oregon State Fire Marshal began preparation work around residences in Big Fall Creek. This work continues today as fire crews build dozer line around structures, install networks of fire hoses, pumps, and sprinkler systems, and remove brush close to homes.  
Firefighters have successfully held containment lines on the northern and eastern portions of the fire for several days and are working to secure and deepen these firelines. Fire crews are continuing to mop up and secure fire control lines on the southern fire edge. The Lakeview Hotshot crew used an Unmanned Aircraft System (UAS) yesterday for aerial firing operations, adding depth to containment lines with a precision burnout operation in the rugged terrain on the northeastern portion of the fire.  
The Wiley Fire is near Sweet Home. Firefighters on the Wiley Creek Fire continued to hold lines overnight and move forward on mop up progress.
Resources focused on mopping up the spot fire found on Monday, reaching 50 feet into the interior all the way around its perimeter. This morning, it's continuing to hold at 245 acres and 25% contained.
Fire crews worked tirelessly yesterday, and overnight, to expand containment lines around the Wiley Creek Fire. Containment along the west and northwest of the fire, important for protecting area residences and properties, has been holding strong and crews continue to reinforce the containment line. An Excessive Heat Warning is in place until Wednesday at 11:00 p.m. In consultation with Wiley Creek Fire Incident Command, and out of an abundance of caution, all Wiley Creek Fire LEVEL 1 and LEVEL 2 Evacuation Preparedness Warnings remain unchanged. For more information on evacuations, visit https://www.linnsheriff.org/ and https://tinyurl.com/LinnWileyFire.
All road systems within the LEVEL 2 evacuation area are closed to everyone except residents living within the LEVEL 2 area, and emergency response vehicles. Smoke in the Sweet Home area, and throughout the valley, continues to be in the air. The large majority of the smoke is not from the Wiley Creek Fire. Rather, winds are pushing the smoke from the Lookout Fire into the valley. The Lookout Fire is burning in Lane County, near the unincorporated community of McKenzie Bridge. Wiley Creek Fire Maps: https://tinyurl.com/LinnWileyFire
Salmon Fire is near Oakridge and in mop up stages with 60% containment. There is currently a level 1 evacuation notice issued. https://lanecounty.org/news/salmon_fire
There is currently minimal fire behavior. Firefighters are continuing to mop up, patrol, and monitor around the fire perimeter.  
Evacuations: The Lane County Sheriff's Office currently has Level 2 and 3 "Go now!" evacuation notices in place for areas west of the fire near Fall Creek Lake. The level 1 evacuation around the Salmon Fire remains in place. A searchable evacuation map with fire perimeters is on the Lane County website.  
Smoke: The daily West-Central Oregon Smoke Outlook provides a detailed air quality forecast for the Bedrock and Salmon Fires, as well as other nearby fires. 
Weather: The Red Flag Warning was extended and now remains in effect through 11 PM tonight for dry and unstable air, critical fire weather conditions that can contribute to extreme fire behavior. The Heat Advisory continues this week through 10 PM Thursday. Temperatures today are forecasted to be 96-100 degrees at lower elevation and 83-89 degrees on the ridges. Winds will begin this morning 3-6 mph, increasing to 8-10 mph this afternoon with gusts to 20 mph on ridgetops. 
Safety and Closures: The Willamette National Forest implemented the Bedrock Fire Emergency Area Closure on July 24 to ensure the safety of the public and personnel working on the fire. An emergency closure order for the Salmon Fire area is in place as of August 8. The closure maps for the Bedrock and Salmon Fires are available on InciWeb. There are Temporary Flight Restrictions over the Bedrock and Salmon Fire areas. Residential electrical outages can be reported to Lane Electric at 541-484-1151. 
Lebanon firefighters Extinguish Vegetation Fire Along River
Lebanon OR. — Lebanon Firefighters responded to the area of 1400 E. Grant Street in the early afternoon Tuesday for a reported small vegetation fire near the S. Santiam River. Dispatch reports of fire burning in the trees along the river. When responding firefighters arrived, they found two small fires burning near a under sheltered camp along the river. Firefighters initially deployed a small fire pump in the river to extinguish the fire and then quickly switched to a brush truck, when the fire pump malfunctioned. Firefighters had the fire under control in about 15 minutes and used hand tools and chainsaws to mop-up and make a trail around the burned area. No injuries were reported, and cause of the fire remains under investigation.
Lebanon Fire responded with 14 firefighters on 3 brush trucks, 1 ladder truck, 1 water-tender and 3 staff vehicles. Lebanon Police Department assisted at the scene in locating the fire.
Lebanon Fire would like to remind everyone that the hot weather we are experiencing over the next few days promote extreme fire behavior. The Linn County Fire Defense Board and the Oregon Department of Forestry have announced restrictions on all open fires, including the prohibition of recreational and cooking fires. Stay up to date by visiting the Oregon Department of Forestry's restrictions and closures. Be safe Lebanon.
The Oregon Shakespeare Festival received a $250,000 donation from Sid and Karen DeBoer on Tuesday.
As a popular tourist destination in Southern Oregon and as it still recovers from the pandemic, OSF said it's feeling grateful for the generous support.
Sid DeBoer is the chairman and owner of Lithia Motors, Inc. but is also known for his charitable work throughout Southern Oregon. With their donation, the Deboers are encouraging other local donors to support historical theatre organizations, like OSF.
 OSF has been successful with recent fundraising campaigns and has had a busy summer season. But, the numbers aren't even close to what they were pre-pandemic.
Thanks to its recent fundraising efforts, OSF is wrapping up some finishing touches and plans to announce its 2024 season in the near future. (kdrv 12)
Gray whales are a sight to see and we are fortunate to have them off our coast, feeding in the summer months.
Oregon State University scientists have been watching them much more closely than the rest of us. In recent years, they've been using non-invasive techniques like drones, to really get to know the 212 gray whales called the Pacific Coast Feeding Group.
The population is much smaller than the 16,000 or so that travel farther north to Alaska to feed, in the Eastern North Pacific.
The habitat here off the Oregon coast is much different than the habitat of the gray whales feeding in Alaska or in the arctic would experience. It's much more shallow, rocky, kelp forest, so you could see where a different morphology: smaller size, shorter skulls (and) flukes might actually help them thrive and survive in this habitat,
(oregon news)
–
Oregon manufacturing's pandemic recovery may be over, with factories shedding thousands of jobs since last summer.
The declines stand out because other parts of Oregon's economy are continuing their recovery, adding workers, and because the state's jobless rate is near a historic low at 3.5%.
Manufacturing recoveries tend to be incomplete, reflecting a long-term decline in factory work in Oregon and across the country.
That protracted deterioration of blue-collar jobs reflectsoffshored production work, especially in the 1990s and early 2000s; increased automation on the factory floor; and the closure of aging factories that are too expensive to replace.
Oregon manufacturing has held up better than in other parts of the country, but in the pandemic's wake, Oregon factories appear to be faring a little worse.
Nationally, manufacturing employment is up about 1% in the past year. It's down a little more than 2%, about 4,100 jobs, in Oregon.
Thanks for reading

BasinLife.com

from Wynne Broadcasting.  Enjoy articles, news and weather updates, music, entertainment news, recipes, business offers, contests and much more right here every day.
Ready to Advertise? We're ready to help you with the best digital advertising in Southern Oregon. You can receive Daily Radio Mentions across our 6 stations, Articles, direct link Banner Ads, floating Banner Ads on hundreds of article pages daily, Social Media Posts, geo-fencing and geo-targeting services, monthly Email Blasts to thousands of local residents and we keep you updated with the latest smart digital marketing strategies for 2023 for your business. At BasinLife.com we're the best value in the Klamath Basin for advertising, as we celebrate our 7th year promoting businesses!
For information or prices on plans, simply call us today at 541-363-7503 or email us at Info@BasinLife.com. Let us keep your business top-of -mind!