The latest and most comprehensive coverage of local News, Sports, Business, and Community News stories in the Klamath Basin, Southern Oregon and around the state of Oregon from Wynne Broadcasting's KFLS News/Talk 1450AM / 102.5FM, The Herald & News, and BasinLife.com, and powered by Mick Insurance, your local health and Medicare agents.
Friday, December 9, 2022
Klamath Basin Weather Updated 12/10/22
Hazardous Weather Conditions for the Klamath Basin
–Winter Storm Watch in effect thru Saturday, December 10th, 4PM.
Saturday Snow showers before 1pm, then rain and snow showers. Snow level 4300 feet. High near 40. South wind to 20 mph, with gusts as high as 30 mph. Chance of precipitation is 100%. Total daytime snow accumulation of less than one inch possible. Overnight more snow flurries, patchy fog, low of 25. Chance of precipitation is 90%. New snow accumulation of 1 to 2 inches possible.
Sunday A 50% chance of snow showers, mainly before 4pm. Mostly cloudy, with a high near 36. New snow accumulation of less than a half inch possible. Sunday Night, a 20% chance of snow showers before 10pm. Mostly cloudy, with a low around 19.
Monday Partly sunny, with a high near 36.
Tuesday Patchy fog before 10am. Otherwise, partly sunny, with a high near 31.
Wednesday Partly sunny, with a high near 31.
See Road Camera Views:
Lake of the Woods
Doak Mtn.
Hiway 97 at Chemult
Hiway 140 at Bly
Hiway 97 at GreenSprings Dr.
Hiway 97 at LaPine
Today's Headlines
Oregon State Police's Permit-To-Purchase Gun Application Now Online While Measure 114 On Hold
Oregon's new permit-to-purchase application for prospective buyers of firearms is online today, as the legality of the State's new gun control measure is getting resolved in state and federal courts.
Oregon State Police (OSP) put the application online overnight at Oregon's Measure 114 had been set to take effect today, December 8, 2022, 30 days after Oregon voters narrowly passed the measure in a November 8, 2022, referendum. The Oregon Secretary of State's Office had said last month it would certify the vote outcome and the Measure's passage today, too.
According to the OSP, their Firearms Instant Check System (FICS) unit will continue to work to process and resolve the pended/delayed FICS transactions. This delay of implementation will allow firearm sales to continue being processed under the current law.
The OSP launched a "Permit to Purchase" webpage with preliminary information such as the Permit to Purchase Application, a description of the steps for acquiring a permit, and other information including answers to questions that OSP is anticipating.
The website is at tinyurl.com/HN-OSP-Gun-Law.
The Oregon State Police recognizes the impact this measure will have and is working diligently through this very complex measure to provide everyone with the most up-to-date information.
The Oregon Tech Foundation surpassed a historic milestone this year, awarding $1,030,000 in scholarships to Oregon Tech students.
The new record was celebrated Oct. 29 as participants gathered at the Klamath Falls campus and live-streamed to a gathering at the Portland-Metro campus for the annual Scholarship Awards Banquet. This special event honors the achievements of scholarship recipients and recognizes the philanthropic donors who make scholarships possible.
Funds raised through scholarships make a dramatic difference across Oregon Tech. For academic year 2022-23, the foundation awarded 342 scholarships ranging from $300 to $16,000.
These scholarships fill various needs for students including those pursuing excellence in academics, assisting those with demonstrated lesser financial resources, increasing opportunities for underrepresented groups, attracting and retaining students in certain fields of study, supporting scholarly athletes, and helping those close to graduation earn a diploma when they have limited to no financial resources left.

The U.S. Air Force is replacing F-15C Eagles of Kadena Air Base, Japan with a rotating force of fighters according to official Air Force spokeswoman Ann Stefanek. That announcement kicks off a process of ferrying nearly 50 fighter aircraft across the Pacific Ocean back to the United States mainland—a task with many challenges.
They need a place to go–not just any place but a secure military installation with the room to park them, and with a team of people who understand the care and feeding the Eagle requires.
It's a problem with a ready solution—Kingsley Field, the home of the 173rd Fighter Wing, located on the west Coast in Southern Oregon, has extensive ramp space and whose Eagle Keepers are proficient at keeping them airworthy every day.
When these aircraft arrive, which began Dec. 4, 2022, Kingsley maintainers "catch" them and inspect them for any issues following their transit of the Pacific Ocean.
Currently the wing has accepted 14 Kadena F-15 Eagles and will send seven of them to new homes across the nation, including guard units in California, Massachusetts, and Louisiana. Four of them will retire to the Boneyard and three of them will call the 173rd Fighter Wing home.
The Klamath Falls Lions club will be selling See's Candy for the Christmas Holidays as a fundraiser for its sight and hearing projects.
See's candy will be available at Turn Thom, Point S Tires next to Bi-Mart from 8 a.m. to 5 p.m. Mondays through Friday and 8 a.m. to 4 p.m. Saturdays. The club began selling candy Monday, Dec. 5.
According to a press release, the Klamath County Lions clubs conducted vision screening for more than 4,000 students in Klamath County this past fall.
Lions also provide glasses for students and others in need, the press release states.

Oregon Tech faculty are partnering with Oregon Tech Library's Open Educational Resources (OER) program to reduce student costs associated with textbook materials, and throughout the past three years have saved Oregon Tech students $1,216,866 in textbook costs.
According to University Librarian John Schoppert, OER are freely accessible, high-quality coursework materials made accessible to students to alleviate the high costs of mainstream publisher textbooks. OER describes openly licensed materials and resources for any user to use, remix, reuse, repurpose and redistribute.
OER are available at no cost to the student and, in general, no monetary cost to the faculty for adopting, adapting or creating an open resource, but it can take time to redesign a course to adopt new materials. To address this, the Oregon Tech Library's OER program provides grants to faculty who wish to adopt or create high-quality, openly licensed materials for their courses.
The process also allows for sharing of knowledge as faculty modify materials for their courses, adopt materials to the course needs, or enhance materials with text, images, or videos to support different learning styles.
It's time to wax the downhill skis and snowboards. That's because the Mt. Ashland Ski Area, which has benefited from recent storms and is expecting more snow throughout the next several days, opens for the 2022-23 season this Saturday, Dec. 10 with lifts operating from 9 a.m. to 4 p.m. through Monday, Dec. 12.
Information about what lifts and terrains will be open. Mt. Ashland's daily holiday schedule will begin Thursday, Dec. 15, with more information at the operating schedule on the area's website, www.mtashland.com.
Trails on the upper mountain will be ungroomed and for experts only. Skiers and snowboarders are cautioned to "expect early season conditions, meaning some natural obstacles will be present. Trails off the Comer and Sonnet chairlifts will be groomed and provide intermediate and beginner terrain.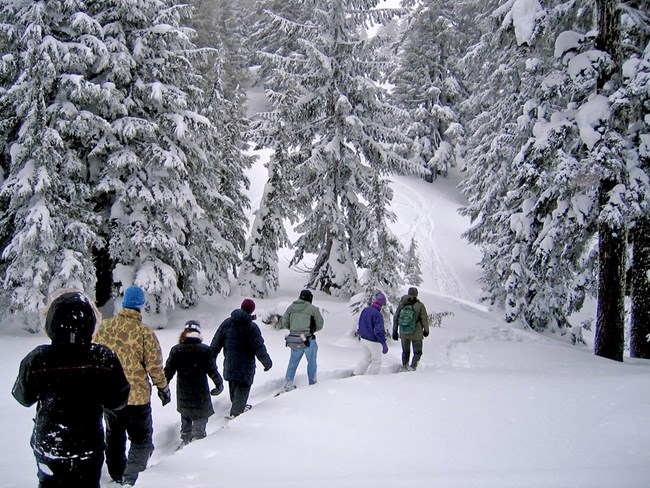 Free ranger-guided walks will be offered again this winter at Crater Lake National Park beginning this Saturday, Dec. 10.
The ranger-led outings will be available 1 p.m. Saturdays, Sundays and holidays through April 30.
In addition, walks will be offered during the school holidays every day from Dec. 17 through Jan. 2 and March 25 through April 1. Walks last two hours and cover one to two miles of moderate to strenuous terrain through forests and meadows near and along the rim of Crater Lake.
No previous snowshoeing experience is necessary and snowshoes are provided free of charge. Participants must be 8-years-old or older and no pets are allowed.
Space is limited so call 541-594-3100 to check availability and make reservations.
Mt. Shasta Ski Park has announced that Opening Day is Saturday, Dec. 10th for the season.
It is mark the grand opening of the new Gray Butte Lift. The Ski Park Office says Mt. Shasta's ski operation will be open 9am to 4pm Saturday, and with "Heavy snow, anticipate delays and have patience."
The Mt. Shasta Ski Park says its goal is to have all lifts running, including the Gray Butte Lift for the first time.
NewsWatch 12 meteorologists are forecasting wintry weather in Siskiyou County with winds and snow at higher elevations above 3000 feet tonight, with another winter storm this weekend that could deliver an inch of snow hourly.
Mt. Shasta Ski Park says, "This weekend's winter storm is predicted to bring 45+ inches of new snow, which means we are able to open early and it will be an epic powder day! With that much snow coming in, we want to ask everyone to be ready for potential delays, and please have patience with our team as they will be working hard to get everything ready and open. We could not be more excited to welcome our guests back for our best season yet!"
MEETING NOTICE
The Board of Directors of EagleRidge High School, an Oregon Nonprofit Corporation, will hold a Board Meeting on Thursday, December 15, 2022, at 4:00 pm at EagleRidge High School, 677 South Seventh Street, Klamath Falls, Oregon.
The meeting is In-person and available on Teams. The meeting agenda includes discussion of the annual audit and spending of grant funds.. The Board may also consider other business brought before the board.
EagleRidge High School was established to create and implement an autonomous, high achieving and equitable small high school in collaboration with the Klamath Falls City School District pursuant to the Oregon Charter School law. The meeting will be conducted in accordance with the Oregon Public Meetings law.
Around the state of Oregon
Secretary Deb Haaland Announces Four Tribal Water Projects During Visit To Klamath River
The Department of the Interior announced yesterday that four tribal water projects in Oregon and California's Klamath River Basin will receive $5.8 million through the Bureau of Reclamation to restore aquatic ecosystems, improve the resilience of habitats, and mitigate the effects of the ongoing drought crisis. The funding is made available through Reclamation's Native American Affairs Technical Assistance to Tribes Program.
Secretary Deb Haaland made the announcement while touring the Iron Gate Fish Hatchery with Governors Gavin Newsom and Kate Brown, Congressman Jared Huffman, representatives from the Klamath Basin Tribes and other officials and stakeholders to celebrate the imminent surrender and decommissioning of the Lower Klamath Project, a four-dam hydropower project on the Klamath River.
On November 17, 2022, the Federal Energy Regulatory Commission issued an order approving the surrender and decommissioning of the Project, the culmination of nearly two decades of effort to find a path to remove the dams, open up hundreds of miles of historic salmon habitat, improve water quality, and restore the River and the fishery the Basin Tribes have relied upon since time immemorial. Dam removal activities will begin next spring, with full removal completed in 2024.
"Clean water, healthy forests and fertile land made the Klamath Basin and its surrounding watershed home to tribal communities, productive agriculture, and abundant populations of migratory birds, suckers, salmon and other fish. But over the past 20 years, the Basin has been met with unprecedented challenges due to ongoing drought conditions and limited water supply," said Secretary Haaland . "The projects we are funding today — combined with millions of dollars in water and habitat resilience investments from President Biden's Bipartisan Infrastructure Law — will help restore this once abundant ecosystem for the benefit of all its inhabitants."
"Reclamation is committed to working with tribes in the Klamath River Basin on important water resource issues," said Reclamation Commissioner Camille Calimlim Touton . "This funding will help facilitate collaboration with tribes as they address the severe and continuing drought impacting their lands."
Reclamation's Native American Affairs Technical Assistance Program provides technical assistance to tribes to develop, manage and protect their water and related resources. The funding announced today is provided to tribes as a grant or cooperative agreement. The projects are:
Klamath Tribes, Upper Williamson River Restoration : The Klamath Tribes will receive $500,000 to assess and plan river system restoration activities on the Upper Williamson River in southern Oregon. The tribe will assess the existing condition of approximately five miles of the river, develop plans for restoration activities, and install restoration infrastructures. This project advances goals and objectives established in both the Klamath Basin Integrated Fisheries Restoration and Monitoring Plan and the Upper Klamath Basin Watershed Action Plan.
This funding supplements nearly $26 million from the Bipartisan Infrastructure Law allocated this year for Klamath Basin restoration projects, including nearly $16 million for ecosystem restoration projects in the Basin and $10 million to expand the Klamath Falls National Fish Hatchery.
Hoopa Valley Tribe, Karuk Tribe and Yurok Tribe, in collaboration with U.S. Geological Survey (USGS), Juvenile Salmonid Survival and Migration Rate Study : The project will receive $3.9 million to study juvenile salmon. The Yurok Tribe will estimate specific survival through time of wild and hatchery Chinook Salmon as they migrate through the Klamath Basin under various environmental conditions. The Hoopa Valley and Karuk Tribes will use acoustic tags to monitor juvenile salmonid survival and migration rates from the Scott, Salmon and Trinity rivers and locations on the middle Klamath to Klamath River estuary. The USGS will provide support to the tribes for this research study.
Hoopa Valley Tribe, Ecological Flow Assessment on the Hoopa Valley Indian Reservation : The Hoopa Valley Tribe will receive $554,325 to complete an ecological flow assessment on the Trinity River. The project includes site selection, field data collection, stream gaging and water temperature monitoring.
Yurok Tribe, Oregon Gulch Project, Mainstem Trinity River : The Yurok Tribe will receive $864,533 to remove tailing piles, increase floodplain inundation, promote fluvial processes, and reduce the wood storage deficit. The project will also double rearing habitat, improve the aquatic ecosystem, create seasonal surface water connections, increase vegetation biomass and increase the number of trees along the riverbanks.
As part of the Interior Department's ongoing commitment to partnership and collaboration, senior Department leaders have held several in-person and virtual engagement sessions with tribes, state and county officials, interagency partners, and water users to discuss near- and long-term solutions related to drought impacts in the Basin.
Doctors Urging Oregonians to Put Masks Back on When Indoors
With cases of RSV and the flu forcing hospitals into crisis mode, local physicians and state officials are encouraging the public to put the mask back on when indoors.
"Anytime you have to go to an indoor crowded area during this surge, if you and your child can wear a mask, that will help protect the [health care] resources," said Wendy Hasson, the medical director of the pediatric intensive care unit at Randall Children's Hospital at Legacy Emanuel. "Now is not the time to go to crowded indoor places like indoor birthday parties, play places, restaurants, grocery stores… Anything you can do to keep your child out of a crowded indoor area will help."
The entire media briefing is available to watch on the OHA YouTube:
Hasson and three other physicians joined state epidemiologist Dean Sidelinger Thursday for Oregon Health Authority's monthly COVID-19 media briefing, which focused on the strain being put on hospitals due to respiratory illnesses.
Sidelinger called the situation in Oregon hospitals "extremely serious."
"Today, more hospitals are reaching a point of crisis in their adult bed capacity just as our pediatric hospitals moved to crisis care standards in the past two weeks," he said. "The combination of surging flu, RSV and COVID-19 cases is pushing hospitals past their current ICU bed capacity, which never happened during the darkest days of the COVID-19 pandemic in Oregon."
Sidelinger also strongly encouraged Oregonians to put their masks back on when they are in a crowded indoor space.
"We know what works to keep our families and our neighbors safe. Wear a mask when you're in crowded indoor places this winter and stay up to date on your vaccinations," Sidelinger said. "Masks work. During the worst of the COVID-19 pandemic, Oregonians wore masks at higher rates than people did in most other states. Oregon had one of the lowest COVID-19 death rates in the nation. Our hospitals were never overwhelmed. And we saved more than 5,000 lives."
Matthias Merkel, a senior associate chief medical officer at OHSU, echoed those same sentiments.
"Definitely wear a mask if you go in public places," he said. "Definitely get all your vaccines to really minimize the risk that you are the next patient in one of our totally full emergency rooms, waiting for the next ICU bed to be made available for you."
Update: Human remains found near I-5 in Marion County
Update: There is an active forensic investigation underway and efforts are being made to identify this person. Ancestry has not been determined, nor has the length of time that elapsed prior to the discovery. Analysis and examination is ongoing, including possible genetic testing.
Human remains will never be released to a museum or historical society. Once the investigation is concluded, and based on those conclusions, this individual's remains will be respectfully returned to the appropriate party (ies).
On Monday, November 21, 2022 at approximately 9:18 AM, Oregon State Police Troopers responded to a suspicious object found by Oregon Department of Corrections cleanup crew on northbound Interstate 5 near milepost 260.
OSP Troopers with the Salem Area Command took possession of a small backpack that contained a human skull.
The skull was transported to the Oregon State Medical Examiner's Office who will continue to investigate the identity of the skull. The skull had no identifiable features, but was most likely that of a female in her late 30's to 40's. No further information is available at this time.
Tips from ODOT: Finding Your Way in Winter
Winter officially begins on December 21st, but the time to start driving with extra caution is now. Our partners at the Oregon Department of Transportation have some excellent tips regarding use of your GPS during our rough and unpredictable weather and we thought it would be good to share them here as well:
When roads are closed and your GPS navigation system directs you onto a detour route, keep in mind that the device you count on for guidance could instead guide you into trouble. Most navigation tools don't take current road or weather conditions into consideration. They may direct you onto remote roads that are neither maintained nor passible in all weather conditions.
Navigation systems and similar smartphone apps are great tools, but travelers may need to verify the identified detour route is appropriate given current conditions and the vehicle they are driving. Here are a few tips to consider:
What you can do
• Be aware that the app on your phone or in your GPS device might not have the latest information – don't follow it blindly!
• Use TripCheck.com (available on your computer and on your phone) to get the latest on state road conditions, or call 511.
• Remember, in winter conditions (or in summer's fire season), roads can be impassable, so USE COMMON SENSE.
• If you are not familiar with an area and current road conditions, stay on state roads and don't attempt detours onto roads you don't know.
• Alter your travel plans. If you are not sure of the route and road conditions your GPS device directs you to, ask local folks for information and consult a map. It is better to stay the night in town rather than be stuck on a remote road in the middle of nowhere.
What ODOT will do
• ODOT crews work continually to keep state highways safe, but during certain conditions, such as blowing snow and freezing temperatures, you may want to avoid travel altogether.
• ODOT will issue media flash alerts if roads are closed. These will be updated continually on http://TripCheck.com.
Paid Leave Oregon Contributions Start January 1st
Starting January 1, 2023, Oregonians will notice a new small amount of money coming out of their paychecks.
It's the contribution employees are required to make to support the new Paid Leave Oregon program, which begins in 2023. The program was passed by lawmakers in 2019 and is about to go into effect.
Although contributions to the program begin January 1, employees will not be able to take advantage of the paid leave benefits until September 2023. This will allow the plan to accumulate funds that can be paid out when an employee needs to take leave.
Ahead of the contribution period starting, Paid Leave Oregon is asking employers to alert their staff to the coming changes and the benefits that will soon be available to them.
Paid Leave Oregon will allow employees in the state to take up to 12 weeks off from work in a year. In some pregnancy-related situations, an employee may be able to take up to an additional four weeks off, for a total of 14 weeks.
Employees can take weeks at a time or a single day if they need it. The leave can be used for family events – things like the birth of a child, adoption, or caring for a family member will a serious injury or illness; medical leave – to care for yourself when you have a serious illness or injury; or safe leave – for survivors of sexual assaults, domestic violence, harassment or stalking.
What's different about Paid Leave Oregon from other leave programs is that employees will continue to get paid.
"This is actually paid leave and so, for many of us when we've taken FMLA or some sort of other leave along the way, like during the birth of a child, sometimes that's unpaid, but we get our job protected. But in the case of paid leave, it's actually paid," explained Paid Leave Oregon Director Karen Humelbaugh.
The program's safe leave is another unique aspect. Humelbaugh believes Oregon is the first state to offer a paid leave program for survivors of sexual assaults and domestic violence.
Minimum wage workers will receive 100% of their average wage while on leave. People who make more than minimum wage will receive benefits based on a sliding scale. Hummelbaugh said some people will not receive the full amount of their job's wage.
Paid Leave Oregon plans to have a benefits calculator posted on its website in the next few months.
Most employees in Oregon will be covered, with the exception of federal government employees.
Tribal governments, self-employed business owners and independent contractors will not automatically be included in the program, but can opt-in by notifying the Paid Leave program.
Anyone who is eligible cannot opt-out to stop the contributions from coming out of their paychecks.
The contribution system works slightly differently for small employers and large employers. Large employers who have 25 or more employees will be required to make a total contribution of 1% of gross payroll. Employees will pay 60% and large employers will pay 40% of the 1% contribution rate.
For example, if an employee makes $5,000, the employee will pay $30 and the employer will pay $20.
A small employer, one with fewer than 25 employees, is not required to pick up 40% of the 1% contribution rate. However, their employees are still required to pay 60% of the 1% contribution rate.
The benefits an employee is eligible for are the same whether they work for a small or large employer.
"For the individual worker, if you are eligible for benefits, you'd still receive the full amount that any would be receiving. You don't receive a lesser amount. You would still get the full amount," Humelbaugh said.
Paid Leave Oregon has a tool kit and fact sheets posted on its website now to inform employers on how the contribution system will work. Humelbaugh suggests employers begin informing their employees of the changes now, before the start of the year.
The program also has more information online about how Paid Leave Oregon compares to other programs like the Oregon Family Leave Act, Family and Medical Leave Act, and Oregon Sick Leave.
Paid Leave Oregon was enacted by the passage of House Bill 2005 . As it's written, the bill requires the state to re-evaluate its contribution rate every year. If that contribution amount results in a surplus in the trust fund that's used to pay out benefits, state officials could decide to lower the rate in future years.
Portland Store Selling Psychedelic Mushrooms Raided
A store that had been openly and illegally selling psychedelic mushrooms in Portland was raided by police on Thursday, authorities said.
In the past week, the business garnered national media attention and customers flocked to it.
In recent weeks, Shroom House allegedly sold the magic mushrooms, announcing its grand opening via Twitter in late October. The store's logo — a mushroom straight out of a fairy tale complete with a red-and-white cap and a door and windows — was shown on a Portland billboard and on a sign outside.
Police served a search warrant at the retailer, called the Shroom House, in the Northwest District neighborhood, the Portland Police Bureau said in a news release. Investigators seized about 22 pounds of suspected mushrooms and over $13,000 in cash, police said.
The seized drugs field-tested presumptive positive for psilocybin, police said, and a representative sample will be sent to the Oregon State Police crime lab to be confirmed.
Steven Tachie, Jr., 32, and Jeramiahs Geronimo, 32, were booked into the Multnomah County Detention Center on suspicion of 10 counts each of money laundering and 10 counts each of unlawful delivery of a controlled substance within 1,000 feet of a school. Two other men were cited for alleged felony delivery of psilocybin, police said.
In 2020, Oregon became the first state in the country to legalize the use of psilocybin for people 21 and older in a controlled, therapeutic environment under the supervision of trained facilitators.
But the ballot measure, approved by 56 percent of voters, did not allow for retail sale — and legalization won't take effect until next month. In November, Colorado became the second state to pass a measure legalizing psychedelic mushrooms. The drugs are still federally illegal.
Five Electricity Substations Attacked in Pacific Northwest in November
At least five electricity substation attacks in Washington and Oregon in November were reported to the FBI, according to local media.
Utility companies Puget Sound Energy, the Cowlitz County Public Utility District, and Bonneville Power Administration (BPA) told the Seattle Times they were cooperating with a federal investigation, though the FBI declined to confirm it was investigating the attacks. It's not clear if any power outages resulted from the assaults.
One operation described as a "deliberate physical attack" took place at a Clackamas, Oregon, substation over the Thanksgiving holiday, BPA spokesman Douglas Johnson said. News of the attacks in the Pacific Northwest comes after damage from a substation shooting in North Carolina on Saturday plunged tens of thousands of people into darkness.
SALEM, Ore—Guided First Day Hikes led by rangers and volunteers are set for 20 Oregon State Parks on New Year's Day—Sunday, Jan. 1.
Be ready to bundle up with family and friends and join hikes to learn about park history, geology, wildlife and plants at parks around the state from the high desert to the coast. Hikes are free and the $5 day-use parking fee is waived that day for all state parks that require a parking permit and are open.
"A guided hike is great way to kick off 2023 in the outdoors and begin a new tradition or continue a longstanding family tradition," said Lisa Sumption, director of the Oregon Parks and Recreation Department. "As our centennial year comes to a close, we're excited to begin the next 100 years of Oregon State Parks and continue to offer year-round recreation."
Visit the Oregon First Day Hikes web page to see the list of parks hosting hikes as well as the start times and meetup locations. Additional hike information is also available including terrain and hike distance via the park links on the web page. A few hikes require registration.
Remember to plan for winter weather, dress in layers, wear sturdy shoes, bring water and carry binoculars for viewing wildlife.
Share photos of First Day Hikes via Twitter and Instagram by using the hashtag #ORfirstdayhikesor tagging "Oregon State Parks" on Facebook.
First Day Hikes is a national initiative to welcome the coming year in the outdoors, promote exercise and encourage connecting with nature. The Oregon Parks and Recreation Department has participated since 2012.
Governor Brown Issues Executive Order To Help Strained Oregon Hospitals
Outgoing Gov. Brown has issued an executive order in response to a surge in adult and pediatric cases and hospitalizations for respiratory viruses.
The order gives hospitals more flexibility to increase staffing and use volunteer nurses and doctors.
The Oregon Health Authority will spend up to 25-million dollars to hire supplemental nurses to help increase hospital staffing.
"Our health care workers––our nurses, doctors, and hospital staff––are being pushed to their limits by this year's combination of flu, RSV, and COVID-19 hospitalizations," said Governor Brown. "As they do everything they can to keep Oregonians healthy and safe, we must all do our part to help them. Our health care workers are working around the clock to protect the people most vulnerable to severe respiratory illnesses––including our young children and seniors.
"I am asking Oregonians to come together to help our health care heroes this holiday season. Stay home if you are sick, stay up to date on your vaccinations, and consider wearing a mask in crowded indoor situations––especially if you are at higher risk for severe illness from RSV, the flu, or COVID-19."
Last month, Governor Brown issued an order that increased hospital flexibility to help with the increase in pediatric RSV cases. The new order expands that flexibility.
Search And Rescue Teams Save Man Stranded in Snow for Two Days Near Prospect
Jackson County Sheriff's Office (JCSO) Search and Rescue (SAR) saved a 77-year-old man this morning after he was stranded in the snow for two days. SAR vehicle teams and the Snowcat began looking for the man last night at 1:55 a.m. after he was reported missing in the area of Elk Creek Road outside of Prospect.
The SAR Snowcat located the man around 8 a.m. this morning approximately 10 miles off the Elk Creek Rd. on National Forest Road 6640. Two days ago, he attempted to turn his truck around before becoming stuck in two to three feet of snow. He spent the last two nights in his truck without a functioning heater but was located in good spirits with a mild case of hypothermia.
During this winter season always be prepared even if you aren't planning on driving in the snow. Bring supplies including blankets, food, and water. Make sure you tell someone where you are going and include the route, and especially what time you will be back. This ensures SAR will know your general location and begin searching as soon as possible. Thank you to the SAR volunteers for a successful mission.
Back to the BasinLife.com homepage
Enter to win the BasinLife.com $15,00 Year End Bonus! CLICK BELOW!