The latest and most comprehensive coverage of local News, Sports, Business, and Community News stories in the Klamath Basin, Southern Oregon and around the state of Oregon from Wynne Broadcasting's KFLS News/Talk 1450AM / 102.5FM and BasinLife.com, and powered by Mick Insurance, your local health and Medicare agents.
Wednesday, May 10, 2023
Klamath Basin Weather
Today     Mostly sunny, with a high near 66. Partly cloudy overnight with light winds and a low around 40.
Thursday   Mostly sunny, with a high near 72. Light and variable wind. Overnight a low of 44.
Friday   Sunny, with a high near 79. North northeast wind 5 to 10 mph becoming east in the morning.
Saturday   Sunny, with a high near 84.
Sunday   Sunny, with a high near 84.
Today's Headlines
A squadron of F-35A Lightning II's from Luke Air Force Base in Arizona is here with the Kingsley Field 173rd Fighter Wing for the next two weeks, and you'll hear the roar of the jets today.
173rd FW Commander Col. Lee Bouma said this is the second visit from Luke AFB's F-35s. 
The Commander reminds locals that the additional aircraft and training flights will increase aircraft noise throughout the community during these two weeks.  Luke AFB is home to the 56th Fighter Wing, an F-35A training wing in Phoenix.
The 173rd FW has an established relationship with the 56th FW. Since 2014, the active association at Kingsley Field, the 550th Fighter Squadron, is a detachment of the 56th Fighter Wing.
Oregon Department of Transportation (ODOT) Is Repaving parts of South 6th Street this week.
Between the hours of 1 p.m. and 11 p.m., ODOT will be paving South Sixth Street between Klamath Community College and Austin Street.  One lane of traffic will be closed. Flagging will direct traffic during construction.   The project is estimated to be completed by Friday.
Wednesday, May 31, the City of Klamath Falls Water/Geothermal Division crews will be shutting down the geothermal system for the summer season. 
Crews will turn off the downtown geothermal infrastructure to allow for inspections and preventive maintenance.
The division's goal is to have all maintenance completed and the system fully operational by October 2, 2023. During the time the system is off, customers will need to utilize their secondary heat source until the system is recharged and back in service in the fall. 
Water/Geothermal Division Staff would like to thank the citizens in advance for their patience during this maintenance downtime. 
If you would like more information about our geothermal system seasonal shutdowns, please call the Water/Geothermal Division at (541) 883-5388 or City Public Works Department at (541) 883-5363.
Klamath County officials say a flood warning is in effect for the Sprague River.
The warm weather is begin to see flooding from Crater lake and other nearby mountain areas. At Sprague River at 9 feet, flooding could impact structures near Sprague River, Lone Pine, and downstream.
The overflow created flooding of agricultural fields in the area. Warmer temps in the high mountains are melting the snowpack and increasing river flows. The river is expected to rise above flood stage this afternoon, crest around midnight, and be back below flood stage by early Sunday.  According to weather and county officials, a crest this high hasn't happened since 1986.
Greensprings Market and Deli on Riverside Drive celebrated its One-Year Anniversary recently and everyone is invited to stop in and say hello, as the owners say that Oregon Lottery is back! Get your tickets here.
A member of the community for more than 40 years, Karen Wynne spent most of her working career in retail before taking over ownership of Greensprings in 2022. 
To celebrate her first year as owner and to say thanks, Wynne gave away $1 Oregon Megabucks lottery tickets from the market's new machine to each patron that came through the door.
Aside from bringing lottery to the business, Wynne has also taken full advantage of the market's commercial kitchen by offering homemade baked goods and daily specials for sale such as spaghetti, meatloafs and daily soups.   
Located on Riverside Drive, Greensprings Market is open 5 a.m. to 7 p.m. Mondays through Fridays, 6 a.m. to 6 p.m. Saturdays and 9 a.m. to 3 p.m. Sundays. (See more about them on BasinLife.com and their "BasinLife Special"!)  https://www.basinlife.com/2023/05/05/greensprings-market-deli-with-fresh-hot-cold-sandwiches-drinks-chips-snacks-make-it-your-next-stop/
Around the state of Oregon
BULLETIN 10:56AM Eugene, Oregon
South Eugene High School locked down after bomb threat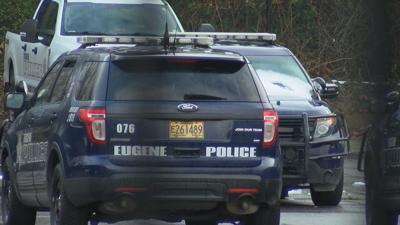 As of this moment, South Eugene High School is now locked down on this Wednesday morning after police and school officials threats apparently directed at the school.   According to the Eugene Police Department, at 9:28 a.m. on May 10, police dispatch received a call of a bomb threat at South Eugene High School.
Police said the message was the same as a similar bomb threat against South Eugene High School on May 3rd.  Police got another call at 9:32 a.m. on that May 3rd from a male-sounding person who claimed he was in a bathroom at SEHS with a shotgun and a handgun. Police said the caller made threats and hung up.
Police have been getting regular similar threats at schools across Oregon and Washington completely disrupting the education of the schools.
Officers had cleared the building and Eugene School District 4J had begun evacuating students. Police said the Metro Explosives Disposal Unit was dispatched to the school for another search as a precaution. This is a developing story and we will keep you posted on BasinLife.com if more details emerge.
With the mercury on the rise toward the weekend, the Oregon State Marine Board wants to remind people to play it safe on and around the water by wearing a life jacket. 
"Every year when the first warm temperatures arrive, many people decide to cool off by hitting the water," says Brian Paulsen, Boating Safety Program Manager for the Marine Board. "With the great snowpack, you can guarantee as it's melting it's going to be frigid. It's incredibly important everyone wear a life jacket and dress for the water temperature, not the air temperature." Cold water shock is a leading cause of drowning and hypothermia from cold water immersion.
In 2022, there were 16 recreational boating fatalities, and 10 victims were not wearing life jackets. Of the fatalities, seven of the victims were in paddlecraft, and three were in motorboats. Because Oregon is considered a cold water state, water temperatures remain cold (under 70 degrees) most of the year. Lake and river water temperatures are in the low 50 degrees, and so is the Pacific Ocean.
A life jacket also needs to fit correctly. An inherently buoyant lifejacket (one with foam flotation) should be buckled snugly and should not rise above a person's ear lobes. Try the touch-down test, especially when fitting children and youths. Have them lift their arms next to their head and pull the jacket from the shoulders. If it rises to the ear lobes or higher, then the life jacket is too big. 
"It's also important to boat with others. One of the stand-out points from 2022 is that nine of the victims were solo operators boating alone," Paulsen says. The Marine Board recommends always having a co-captain when operating a motorboat and boating with other people when paddling. "Awareness, preparation, and good decision making, along with wearing a life jacket, will help boaters have a safe experience on Oregon's waterways," Paulsen adds.
Learn where life jacket loaner stations are in Oregon and the different styles for water recreation. For more information about safe boating, visit Boat.Oregon.gov.
Murder Trial Starts in Medford Over Victim Found Stuffed In Refrigerator
The first trial for one of three former wildland firefighters accused of a 2021 Medford murder started this week.
Police said in September of 2021, 24-year-old Aaron Stitt was killed and then stuffed into a fridge after his death.   The three local wildland firefighters accused in his death will stand trial separately over the next few months.
25-year-old Austin McLeod's trial began Monday. He faces charges of murder, robbery, unlawful use of a weapon, abuse of a corpse, and tampering with physical evidence.
23-year-old Dylan McLeod's trial begins in August and 20-year-old Brycen Scofield will go to trial in October.
The former employer of three murder suspects who are accused of luring 24-year-old Aaron Stitt to an apartment in Medford and then killing him is speaking out about their time working as wildland firefighters.
Pacific Oasis, Inc, a forestry and fire fighting contractor company said 25year-old Austin McLeod and 22-year-old Dylan McLeod worked for them briefly in 2018.
The company said, in a written statement that in July of 2018 Austin McLeod was terminated for violating the company's drug policy.
"We have had no contact with either of them since then," the statement reads.
The company said 20-year-old Brycen Scofield began work with them as a wildland firefighter in late 2020.
According to court documents Scofield was charged with possession of meth on July 10, 2020.
"We have no idea of how, where, or when any of the people involved met, knew each other or what their association is to each other, or to the victim of this terrible crime," Pacific Oasis said in their statement. "We are shocked and saddened to hear the news of this tragic event. Our prayers go out to the families."
According to charging documents, the three are accused of using a hammer or wrench to kill Stitt and of attempting to hide his body.  The incident happened on Sept 25 in the 800 block of Royal Ave. in Medford. Medford Police were dispatched to the location on reports of an armed robbery at an apartment. When officers arrived, they found Scofield outside the apartment. He then ran back inside to avoid contact with officers. After officers phoned Scofield, he exited and was detained without further incident.
Police located Stitt deceased inside the apartment. According to detectives, the three suspects had invited Stitt over earlier in the day with the intent to rob him.
Pacific Oasis, Inc. employs approximately 250 people seasonally.
"We have provided fire crews to more than 480 wildland fire dispatches since 2015, including over 80 so far in 2021," the company noted in the statement. "Our goal is to provide top-quality service to our industry. We work to provide education, mentoring, and employment to people in our community. We try to provide people with an opportunity to develop and use knowledge and skills that will allow them to earn a living working in the woods. That is what we have done here in the Rogue Valley since 1990."
The three suspects face the following charges:
Murder in the Second Degree
Robbery in the First Degree
Unlawful Use of a Weapon
Abuse of Corpse in the Second Degree
Tampering with Physical Evidence
 
The Oregon State Police is seeking #PublicAssistance with information regarding the location of William Thomas Gillespie- Josephine County

The Oregon State Police, U.S. Marshals Service, and the Bureau of Alcohol, Tabaco Firearms and Explosives are seeking the public's assistance with locating William Thomas Gillespie (38) of Cave Junction, Oregon.
Gillespie is wanted on a felony Federal warrant. Additionally, Gillespie is wanted by OSP for questioning regarding the May 2022 homicide of Daniel Guess in Cave Junction and a January 2023 investigation involving felony assault, robbery, kidnapping, and strangulation that also occurred in Cave Junction.
Gillespie is described as 6'2" and approximately 200 lbs. with black hair and brown eyes. His tattoos include the word "infidel" above his right eyebrow, a fishhook below his left eye, a demon head or Japanese Oni-style tattoo on his throat, with its horns extending to both sides of his neck. Visible piercings include pierced ears and a dermal stud piercing below his right eye. Mr. Gillespie may have changed his appearance in order to elude law enforcement.
Mr. Gillespie is considered armed and very dangerous and should not be contacted by the public.  A reward of up to $2,500.00 is being offered for information leading to the arrest and conviction of William Thomas Gillespie.   Anyone with information on Mr. Gillespie's location should call the Oregon State Police at OSP from your mobile phone or 800-442-2068.
Josephine Marijuana Enforcement Team Serve Search Warrant in Selma
On Monday, the Josephine Marijuana Enforcement Team (JMET) with the assistance of Josephine County Public Health & Building Safety, executed a search warrant in the 2000 block of Thompson Creek Road, Selma, regarding an illegal indoor marijuana grow site.
During the execution of the warrant, more than 500 pounds of processed marijuana and 1,869 marijuana plants were seized and destroyed.
The property also had multiple electrical, water and solid waste code violations. These violations could result in the criminal forfeiture of the property.  While authorities were on scene, an individual at the property was briefly detained for the duration of the search. The individual was questioned by detectives and is believed to be a victim of human trafficking. Upon completion of the search, the individual was released to UNETE officials, who provided aid and resources for their situation.
The primary suspect was not at the location during the search. They will be charged with Unlawful Manufacturing of Marijuana, Unlawful Possession of Marijuana and Unlawful Appropriation of Water if located.   At the time of this press release the investigation is ongoing and no further details are being released.
ODHS will begin replacing SNAP benefits for victims of electronic theft on May 22
Need to know
Oregon will begin replacing SNAP benefits stolen due to EBT card skimming fraud on May 22
People who discover their SNAP benefits were stolen should request replacement benefits immediately
People with EBT cards are encouraged to take steps to protect their cards from fraud
(Salem) – Starting May 22, the Oregon Department of Human Services will begin replacing Supplemental Nutrition Assistance Program (SNAP) food benefits for victims of electronic theft who have had benefits stolen from their Electrotonic Benefit Transfer (EBT) cards. Electronic theft includes card skimming, card cloning and other similar methods.
Thanks to the Consolidated Appropriations Act, 2023, ODHS can soon begin to replace SNAP benefits that were stolen electronically on or after Oct. 1, 2022.
After May 22, people in Oregon whose SNAP benefits were stolen should request replacement benefits immediately.
People who know their SNAP benefits were stolen between Oct. 1, 2022, and May 22, 2023, must request replacement benefits by June 21, 2023. ODHS cannot replace benefits that were stolen before Oct. 1, 2022.
People who discover their SNAP benefits were stolen after May 22 will have 30 days from the date they discover the theft to request replacement benefits.
"We know that many individuals and families in Oregon rely on the food assistance they receive through their EBT cards to meet their basic needs and to get enough healthy food for themselves and their families," said Claire Seguin, interim director of the ODHS Self-Sufficiency Programs. "We are glad to be able to replacement benefits that were stolen due to EBT card skimming fraud and we encourage people to take steps to protect their benefits."
How to request replacement SNAP benefits
If your Temporary Assistance for Needy Families (TANF) benefits are stolen
You can request replacement benefits by contacting:
How to protect your EBT card information:
Freeze your card immediately after each use and unfreeze it before making purchases. This can be done in the "Freeze Card" section under "Account Services" by visiting Cardholder.ebtEdge.com or using the ebtEdge mobile app.
Block purchases made outside of Oregon and online purchases. These blocks can be removed by you when necessary. This can be done in the "Protect My Account" section under "Account Services" by visiting Cardholder.ebtEdge.com or using the ebtEdge mobile app.
Keep your PIN secret. Do not share your PIN with anyone outside your household. Cover the keypad when you enter your PIN on a machine.
Check your EBT account regularly for unauthorized charges. If you notice any, cancel your card immediately.
How to cancel your card:

Outside of business hours: Call the 24-hour toll-free customer service line at 1-888-997-4447 to cancel your card and protect your benefits. Then call the replacement card line below during business hours to get a new card and PIN.
During business hours: Call the toll-free replacement card line at 1-855-328-6715 to order a replacement card. The replacement line is open Monday through Friday from 8:30 a.m. to 4:30 p.m. You will get a replacement card by mail, usually within five business days.

Check card reading machines to make sure there's nothing suspicious overlayed or attached to the card swiper or keypad. The overlays can be difficult to detect but are often bigger than the original machine and may hide parts of the machine.
Sometimes scammers use text messages to obtain EBT card numbers and PINs, and steal SNAP benefits. These are known as phishing scams and are a type of fraud. ODHS will never send a text message to request your information. Do not provide your EBT card number or PIN by phone or text.
Resources to help meet basic needs
Oregon Honors 193 Fallen Law Enforcement Officers – One Name Added to Memorial Wall
On Tuesday, May 2nd, DPSST hosted the 2023 Oregon Law Enforcement Memorial Ceremony. The State of Oregon remembered and honored 193 fallen law enforcement officers, and the families they left behind, during this annual ceremony attended by Governor Tina Kotek. The event took place outdoors, at the state memorial which is located at the Oregon Public Safety Academy in Salem.
The name of one fallen Oregon law enforcement officer was added to the state memorial and honored at this year's ceremony; Brian J. Gaunt of the Beaverton Police Department, EOW 10/24/21. Sergeant Gaunt died as a result of contracting COVID-19 in the line of duty. Sergeant Gaunt was a United States Coast Guard veteran who served 21 years with the Beaverton Police Department and had been assigned as a patrol officer, detective, and canine handler. He is survived by his wife and three children.
The Oregon Fallen Law Enforcement Officers' Memorial Ceremony is a significant event that the Department of Public Safety Standards and Training (DPSST) is proud to host each year in partnership with the Oregon Law Enforcement Memorial Fund, Oregon Concerns of Police Survivors (C.O.P.S.), Oregon Fallen Badge Foundation, and Oregon's various statewide law enforcement associations.
The memorial honors 193 fallen Oregon law enforcement officers who have died in the line of duty since the 1860s. This includes officers from city, county, state, tribal and federal law enforcement agencies who have served as law enforcement officers, corrections officers, and parole and probation officers.
The Oregon memorial is held ahead of National Police Week events in Washington, D.C. so that family members and co-workers can attend both memorial ceremonies. More than 23,000 officers who have died in the line of duty are honored on the national memorial.
### The Oregon Law Enforcement Memorial Fund-raised funds to build the state memorial more than 20 years ago and hosts the annual ceremony. For more information on the Oregon Law Enforcement Memorial Fund and the statewide license plate that is available to honor fallen law enforcement officers and firefighters please visit: https://www.oregon.gov/dpsst/BD/MFB/Pages/Oregon-Law-Enforcement-Memorial-Trust-Fund.aspx
For more information on the Oregon Law Enforcement Memorial please visit: https://www.oregon.gov/dpsst/Memorials/LawEnforcement/Pages/default.aspx
For more information about National Police Week, please visit: https://lnkd.in/g8U4r9nY
GOP state lawmakers continue to thwart the Oregon Senate's attempts to convene.
Nine Republican senators, including Klamath County's Dennis Lithincum, and one Independent were
absent yesterday, preventing a quorum for the sixth day in a row.
Republicans say it's a protest over bill summaries that aren't written to the level of an 8th grader, but Democrats say it's a stall tactic to prevent a vote on a reproductive health care bill.
Some of the Senators now have six unexcused absences. Under Oregon law, legislators with more than nine unexcused absences can't run again.
New OHA report reveals payer and provider performance under the state's cost growth target
Data highlight opportunities to improve health care affordability
PORTLAND, Ore. – Today Oregon Health Authority (OHA) released its first report on cost growth trends for health insurance plans and large provider organizations across the state.
The report provides insight into health care spending growth across the commercial, Medicaid and Medicare markets for 29 payers and 51 provider organizations. Payers and provider organizations were more likely to meet the cost growth target for their Medicaid line of business (and Medicaid patients) compared to commercial and Medicare Advantage.
Overall, health care costs grew 3.5% between 2020-2021, just above the cost growth target of 3.4%. Cost growth was primarily due to increased utilization of health care services as people resumed care they may have postponed in the first part of the COVID-19 pandemic.
"The cost growth program was created to show us system trends and shine a light on the work that needs to be done to allow for more equitable access and affordable health care," said Dave Baden, OHA's interim director. "Now that we have this data and understand more about the impacts of COVID-19 on health care utilization and cost growth, we have even more reason to come to the table to find solutions."
In 2019, the Oregon Legislature established the Sustainable Health Care Cost Growth Target Program, which is designed to prevent health care costs from growing faster than wages, inflation and other economic indicators. In collaboration among large provider organizations, hospitals and health insurance plans, employers, and consumer/patient advocates, the program sets a statewide target for the annual per-person growth rate of total health care spending. The program is flexible by design and accounts for the impact of COVID-19 and historically high inflation.
Accountability measures for payers and providers exceeding the target cost growth rate will be phased in with a multi-year approach. Performance improvement plans (PIPs) for entities exceeding the cost growth will begin in 2025. No payers or provider organizations will be subject to a PIP based on the data in this report.
A few key trends from the 2020 – 2021 report include:
Overall cost growth was greatest in the commercial market. Statewide, total health care expenditures grew 12.1% in the commercial market, compared to 6.5% growth in the Medicare market and a 2.1% decrease in the Medicaid market. Payers and provider organizations were more likely to meet the cost growth target for their Medicaid line of business.
Primary cost drivers include an increase in hospital outpatient and professional services utilization, as people resumed care they may have delayed in the first part of the COVID-19 pandemic. Because they had previously delayed care, many patients had increased needs or were sicker when they did access care, leading to higher costs.
There was also a shift in care sites. Due to capacity issues, patients received care in higher cost locations. For example, limited primary care availability meant that more patients sought care in urgent care settings. Patients had longer hospital inpatient stays when skilled nursing facility beds were not available.
Retail pharmacy spending grew in all markets. Statewide, retail pharmacy spending grew 3.6% between 2020-2021, even after pharmacy rebates were taken into account. Pharmacy rebates account for around $1 billion per year in Oregon. Statewide, about 23% of spending for retail pharmacy was returned to payers and pharmacy benefit managers (PBMs) through rebates.
On May 2, the Sustainable Health Care Cost Growth Target Program released a report with health care spending trends from 2018 to 2020. A May 17 public hearing will cover data from both reports. More information is available online.
ODF sends 22 firefighters to Alberta to help fight wildfires
SALEM, Ore. – Monday, the Oregon Department of Forestry (ODF) deployed 22 firefighters to Alberta, Canada through the Northwest Compact to provide extra support in fighting their wildfires. The Northwest Compact is a mutual assistance agreement that allows five northwest states, including Oregon, and five NW Canadian provinces and territories to easily share resources with one another, creating a larger and more comprehensive fire management system.
Currently, Alberta is experiencing an influx of fire activity with over 100 active wildfires across the province. Of those, at least 14 are larger wildfires. The province has been experiencing an immense amount of lightning and high winds paired with dryer and warmer conditions as we transition into summer, and their resources are becoming more strained as the wildfires and evacuations continue.
The ODF team will be on a standard, two-week deployment in Alberta and will return with new knowledge on firefighting tactics, refined skills and stronger relationships with our partners up north.
"Fire is a family, no matter if it's in the U.S. or Canada, and we're here to help," said Mike Shaw, ODF's Fire Protection Division Chief. "But keep in mind that, before committing to any deployment, we make sure that our own fire management system is prepared and ready to respond to fires here in Oregon."
Bend Man Arraigned On Murder And Manslaughter Charges In Fatal Shooting Of Powell Butte Man
A Bend man accused of fatally shooting a Powell Butte man at the victim's home on Sunday, stealing his car and later engaging in a police chase north of Bend and shooting himself several times was arraigned on murder, manslaughter and other charges Tuesday afternoon.
Crook County Circuit Judge Wade Whiting ordered that Russell Votruba, 42, continue to be held without bail at the county jail, from which he appeared by video link, in the shooting death of Cristopher Hoffman, 41. A formal arraignment was scheduled for Thursday, May 18, after an expected grand jury indictment.
The arraignment was delayed from Monday, when a jail deputy said Votruba was "acting out" and "throwing juice around."
When the subject of any possible request for release on bail arose Tuesday, Chief Deputy District Attorney Laura Moszer said prosecutors would oppose that, noting that Votruba had 32 previous criminal convictions, including for trespass in Deschutes County and a 1999 felony sex abuse case.
His court-appointed attorney, David Rich, did not waive his right to eventually seek a release hearing.
After the next arraignment was scheduled, and before the hearing concluded, Votruba said, "I'd like to add something, if possible, your honor."
But Whiting quickly advised: "I recommend you speak with your attorney before any statements in open court."
"Thank you, your honor," Votruba responded.
Votruba was transferred from St. Charles Bend to the Crook County Jail early Monday, accused of murder in the shooting death of the Powell Butte man whose car he allegedly stole.
Second sinkhole forms at Cape Kiwanda State Natural Area, please use caution
PACIFIC CITY, Ore— Oregon Parks and Recreation Department is asking visitors to use caution and to stay away from the area where a second sinkhole has formed at Cape Kiwanda State Natural Area.
The second sinkhole was discovered Monday about 10 inches away from the first, which appeared in January. The new sinkhole measures about 10 feet across and about 30 feet deep and developed within the safety fence of the first sinkhole in the northwest corner of the lower dune.
Park staff learned about the additional sinkhole late Monday evening when a photo was posted on social media. They expanded the safety fence early Tuesday around both sinkholes to keep park visitors at a safer distance.
"We ask that visitors respect this barrier and all park safety barriers and that they keep pets on leashes and children away from the edges. We are monitoring the site daily, but it's a dynamic environment. The soft sandstone cliffs can give way without warning, which is why it's important to respect safety fences everywhere in the park," said Park Ranger Supervisor Travis Korbe.
The second sinkhole appeared sometime between 10 a.m. when a park ranger checked on the safety fencing and 7:30 p.m. when a photo of the second sinkhole was posted on social media.
Oregon Parks and Recreation Department is working with a geologist to help determine the best location for a permanent safety fence to keep visitors away from the sinkholes. The soil appears to be falling into large, unstable voids beneath the cliff caused by strong ocean waves. The first sinkhole measures about 25 feet across and 15 feet deep.
Cape Kiwanda is a sandstone outcropping, which is naturally much weaker and prone to sudden changes compared with hardier rock like basalt. While any natural area carries risk, enjoying Cape Kiwanda safely requires visitors to pay special attention.
Even though the spot is marked with barriers, the sinkholes could change at any moment, and others could appear. If you see something that concerns you, leave the area and report it to Cape Lookout State Park staff at 503-842-4981. In an emergency, call 911.
Oregon Parks and Recreation Department is continuing to monitor the situation. We will share additional details as they become available.
STATE LIFTS COVID-19 RESPONSE MEASURES AS FEDERAL EMERGENCY ENDS
Lifting of COVID-19 vaccine requirement for education, health care workers among other changes taking effect in coming weeks
PORTLAND, Ore. — In alignment with the federal COVID-19 public health emergency ending May 11, state health officials today announced the lifting of health-protective measures that helped reduce COVID-19 infections, hospitalizations and deaths, and expanded access to services during the pandemic.
The changes affect a wide range of programs and services. Some changes are effective May 11, and others will take effect in the coming weeks. Other changes put in place during the COVID-19 emergency will continue after the end of the federal emergency.
"These changes are an acknowledgement of the progress we've made over the last three-plus years," said Dean Sidelinger, M.D., M.S.Ed., health officer and state epidemiologist at OHA. "However, we know COVID-19 will remain a part of our lives for years to come, so we need to continue taking steps that prevent its spread, such as staying up to date with vaccinations. My thoughts go out to those sick with COVID-19, mourning a loved one, or still suffering with symptoms following their acute infection."
Highlights of the changes resulting from the ending of the federal public health emergency are as follows:
Vaccination requirements
Effective Thursday (May 11), workers in health care settings will no longer be required to be vaccinated against COVID-19 under state rules, OHA announced today. A similar vaccination requirement for teachers and school staff in private and public education settings will lift June 17, the end of the last week of school, to support consistency in student instruction through this school year.
Exposure, isolation guidance
A five-day period of isolation for those infected with COVID-19 also will no longer be recommended for the general population, including people in K-12 education settings. Oregon public health officials believe widespread population immunity due to vaccination and repeated infections means many COVID-19 infections are now likely asymptomatic or mildly symptomatic, and the five-day isolation period is doing little to reduce transmission.
Instead, officials say, the recommendation for the general population will be to stay home until fever free for 24 hours and symptoms are improving; avoid contact with individuals at increased risk for severe disease, including older adults and those with underlying medical conditions; and consider masking for 10 days.
School testing
Diagnostic testing resources for students and staff with symptoms or exposure to COVID-19 in schools will remain available through July 31, 2024. iHealth self-tests will remain available for K-12 schools to request and distribute to their school communities until current stock is depleted. Weekly opt-in "screening" testing for K-12 students and staff without COVID-19 symptoms will end July 31 as funding for the effort wraps up.
The endings of the vaccination, isolation and some testing measures are among a spate of impending changes over the coming weeks as Oregon, and the nation, continue the long, careful transition out of the pandemic. A number of "flexibilities" put in place during the pandemic will remain in effect.
The following are among the COVID-era activities and requirements that will continue after May 11:
An extension of a 90-day "reasonable opportunity period" for non-citizens to verify citizenship or immigration status to 180 days so they can enroll in Oregon Health Plan (OHP).
A requirement that OHP providers, including coordinated care organizations, continue to cover COVID-19 vaccinations and treatment without cost sharing, and that commercial health insurers cover vaccinations without cost sharing. In Oregon, vaccinations are covered no matter where someone gets a shot. Oregonians should contact their health care provider about where they can get vaccinated.
A requirement that Oregon health care providers be reimbursed for language interpreter services (spoken or signed) provided during an office visit.
A requirement that OHP providers offer access to telehealth services.
In addition, state officials are currently implementing previously announced changes in access to Medicaid coverage and other human services programs administered by the state and federal governments.
The following are among many other changes taking effect May 11:
COVID-19 reporting
A change in how OHA monitors COVID-19. Epidemiologists will transition to a more sustainable and effective model that focuses on measures that indicate transmission, and continue monitoring for severe outcomes, including hospitalizations and death. Case data, which is based on individual laboratory test reporting and is heavily biased, will be retired. The changes align with CDC recommendations and mirror how influenza is monitored.
A change in how OHA reports COVID-19 data. Epidemiologists will streamline data reporting to a smaller number of dashboards updated weekly. Data visualizations will include graphs showing statewide percent positivity, wastewater levels and trends, distribution of variants, hospitalization rates and capacity, death counts, emergency department visit and vaccination trends. Dashboards with case counts and county data will be archived.
Health coverage, supports
The end of extended health coverage, services and supports for people with disabilities and older adults, and extra food benefits that were provided during federal emergency. Continuous coverage for Medicaid also is ending. Oregon began a "redetermination" process April 1 to help people renew their OHP membership and other Medicaid benefits, and stay on the plan, and is encouraging members to keep mailing addresses, phone numbers and email addresses current to ensure they receive information about their benefits in the coming months. More information about the renewals process and options for updating contact information is at oregon.gov/oha/phe. Those with questions can reach out to the ONE Customer Service Center at 800-699-9075 (TTY 711) from 7 a.m. to 6 p.m., Pacific Time, Monday through Friday.
 
Thanks for reading BasinLife.com from Wynne Broadcasting. Enjoy articles, news updates, music, entertainment news, recipes and much more right here every day.
Ready to Advertise? We're ready to help you with Daily Radio Mentions, Articles, direct link Banner Ads, Geo-targeting and Geo-fencing, Social Media Posts, Email Blasts and smart digital marketing strategies for 2023 for your business, website and social media pages. Call 541-363-7503 or email us at Info@BasinLife.com