Labor Day pays tribute to the contributions and achievements of American workers and is traditionally observed on the first Monday in September. It was created by the labor movement in the late 19th century and became a federal holiday in 1894.
Labor Day weekend also symbolizes the end of summer for many Americans and is commonly celebrated with parties, street parades, and athletic events.
Today many Americans see Labor Day as time off from work, an opportunity to enjoy a barbecue with friends and family, and a final moment of summertime relaxation before the busy fall season begins.
Don't Forget Why We Celebrate Labor Day
Labor Day, an annual celebration of workers and their achievements, originated during one of American labor history's most dismal chapters.
But the history behind the Labor Day holiday is far more complex and dramatic than most might realize, starting with a heated campaign by workers in the late 19th century to win support and recognition for their contributions. In July 1894, President Grover Cleveland finally signed into law legislation creating a national Labor Day holiday in early September.
In the late 1800s, at the height of the Industrial Revolution in the United States, the average American worked 12-hour days and seven-day weeks in order to eke out a basic living. Despite restrictions in some states, children as young as 5 or 6 toiled in mills, factories and mines across the country, earning a fraction of their adult counterparts' wages.
People of all ages, particularly the very poor and recent immigrants, often faced extremely unsafe working conditions, with insufficient access to fresh air, sanitary facilities and breaks.
As manufacturing increasingly supplanted agriculture as the wellspring of American employment, labor unions, which had first appeared in the late 18th century, grew more prominent and vocal. They began organizing strikes and rallies to protest poor conditions and compel employers to renegotiate hours and pay.
In the wake of this massive unrest and in an attempt to repair ties with American workers, Congress passed an act making Labor Day a legal holiday in the District of Columbia and the territories. On June 28, 1894, President Grover Cleveland signed it into law.
Labor Day is still celebrated in cities and towns across the United States with parades, picnics, barbecues, and other public gatherings. For many Americans, particularly children and young adults, it represents the end of the summer and the start of the back-to-school season.
Labor Day Forecast Hot and Dry But Cooler than it has been — Please be Careful and Safe!
Preventing wildfires is a responsibility we all share!

With hot, dry conditions in the forecast & increased crowds for Labor Day weekend, please know where campfires are allowed & never leave them unattended.
Don't be that spark that could lead to a tragedy! Check Conditions
This public lands link is super helpful to check before you head outdoors. The Keep Oregon Green website carries ODF's public use restrictions. Click the link for up-to-date information: https://keeporegongreen.org/current-conditions/
Roads Will Be Busy For a Labor Day Getaway
Many Oregonians will be hitting the road this Labor Day weekend, and officials are advising travelers to drive carefully and be prepared. There are already wrecks being reported!
Gas prices are continuing to fall in Oregon, but that doesn't mean drivers will see many bargains at the pump this Labor Day weekend.
The average price has fallen 11 weeks in a row, according to the latest figures from AAA Oregon/Idaho. But that's not the entire story.
The statewide average in Oregon is $4.78 a gallon, down nearly 80 cents from the all-time state record set in mid-June. Still, Dodds said that's far more than the previous Labor Day record of $4.02, set in 2012.
Oregon's prices remain well above the national average of $3.84 per gallon. The highest gas prices can be found in Portland and Medford, according to AAA, while the cheapest average prices are in Salem. Eugene is near the middle of the pack at around $4.66 per gallon.
Despite the high prices, officials expect the highways to be packed with motorists as Oregon suffers through a heat wave with temperatures on average running 10-15 degrees hotter than normal. AAA Oregon says the Oregon coast will likely get hit the hardest with travelers wishing to get out of the hot weather inland.
"We expect a very busy weekend this Labor Day. Traffic is going to be back out on the roads again," said Don Hamilton, spokesperson for the Oregon Department of Transportation (ODOT). "Highway 18, Highway 6, certainly 26 up to Cannon Beach are all going to be very busy starting on Friday"
Some AAA members said they are waiting until Friday or even Saturday morning before hitting the road. For Oregonians, the Oregon coast is the top destination, followed by Central Oregon, Las Vegas, Washington, and California. 85% of people are expected to head by car to their destination.
The Oregon Coast will probably be one of the most popular destinations. If you haven't booked a room yet, Travel Oregon communications manager Allison Keeney said you're probably too late.
"I would suggest calling hotels directly might be the best way to snag a last-minute hotel but preferably we've been telling people to plan ahead, plan ahead. So hopefully most people have done that already," said Keeney.
Some people will head to central Oregon for the long weekend break, while others are heading south to see the sites like Crater Lake.
In either direction, be aware of the traffic impact from wildfires and recovery efforts.
ODOT is advising travelers to keep hot cars off dry grass and keep trailer chains from dragging to prevent any new, disastrous fires from sparking.
Labor Day is also an especially deadly time because of drunk or impaired driving. Law enforcement agencies have announced extra patrols for DUIIs.
For more information on Oregon roads, check tripcheck.com
BE KIND
As you travel and when you get where you're going, Travel Oregon asks that you be kind, especially to front-line service workers at restaurants and hotels, and stores as they are working under pressure.
"Just understanding that they have been working this whole time and they are people just like us, doing the best that they can often with short staff," said Keeney with Travel Oregon. "So please practice kindness when you're out there this weekend."
ROAD TRIPS
Have an emergency kit in your car – include water, sunscreen, and a hat in addition to basic tools, flags, and flares.
Let someone know your route for safety.
Don't drink and drive.
OUTDOOR SAFETY
Keep cool. Drink plenty of non-caffeinated, non-alcoholic fluids.
Apply sunscreen and mosquito-repellent.
If you're doing chores, use ladders appropriately and check any electrical cords for fraying.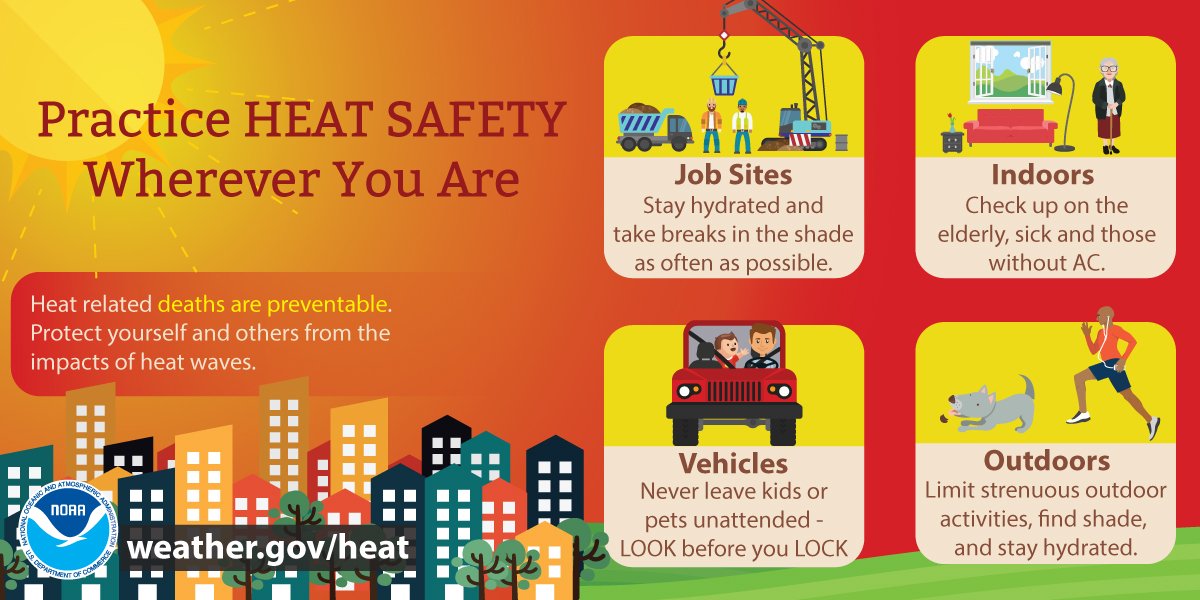 SWIMMING SAFETY
Keep a weather eye out. Thunder and lightning can happen in a moment's notice.
Keep a close eye on children and inexperienced swimmers. Have them wear Coast Guard approved life jackets.
Avoid alcohol while swimming.
FOOD SAFETY
Protect your home and family from fire by keeping grills away from your home, trees, shrubs, or other flammable materials.
Wash hands thoroughly when handling meat and food to prevent cross-contamination.
Keep chilled food – like potato salad – out of the sun. Use a bowl of ice or a refrigerator to keep foods chilled.
Refrigerate all meat before grilling. Cook meat thoroughly to prevent illness.
A Proclamation on Labor Day, 2022
SEPTEMBER 02, 2022 •PRESIDENTIAL ACTIONS
American workers have built our communities, laid the foundation for our democracy, and powered the engine of our prosperity. From the factory hands who forged an Arsenal of Democracy and helped beat back fascism during World War II, to the immigrants who assembled the transcontinental railroad that connected America's coasts, to the health care professionals and first responders who mobilized selflessly during the pandemic to save countless lives, American workers have guided us through our most difficult moments and delivered some of our Nation's greatest triumphs.
Unions have been the voice of American workers, guiding their path to power as a major force in our society. Unions fought for higher wages and family-supporting benefits, established vital health and safety standards, secured an 8-hour work day, eradicated child labor, guarded against discrimination and harassment, and bargained for every worker's fair share of economic prosperity. They give workers a say in critical decisions affecting their lives and livelihoods and play a transformative role in shaping the future of our democracy. The middle class built America, and unions built the middle class. When organized labor wins, families win. We all win.
I said from the start that I would be the most pro-worker and pro-union President in American history, and I am keeping that promise. When I took office, I put money in the pockets of hardworking Americans with the American Rescue Plan, offering families much-needed breathing room. I have now enacted a bold, long-term economic agenda that will lead to historic investments in our Nation and our workers: the Bipartisan Infrastructure Law, the CHIPS and Science Act, and the Inflation Reduction Act. My economic agenda is a once-in-a-generation blueprint to rebuild America, outcompete every other economy in the world, and create thousands of good-paying and clean-manufacturing jobs. We are putting plumbers, pipefitters, electrical workers, steel workers, and so many others to work on a range of projects — from rebuilding our infrastructure to manufacturing semiconductors, electric vehicles, wind turbines, and solar panels. Many of these jobs will be union jobs.
This is just the beginning. To give workers more power and raise wages, I signed an Executive Order calling for a ban on unfair non-compete agreements that hinder people from building on their experience to take new jobs in their industries. I created a White House Task Force on Worker Organizing and Empowerment with the aim of identifying new ways the executive branch can facilitate the organizing of workers. I also appointed a former union president and card-carrying union member to serve this country as the Secretary of Labor.
Still, there is more we can do. I believe every worker should have a free and fair choice to organize and bargain collectively with their employer without coercion or intimidation. That is why I called on the Congress to finally pass the Richard L. Trumka Protecting the Right to Organize Act and the Public Service Freedom to Negotiate Act, which will make it easier for private-sector, State, and local government workers to join a union and bargain collectively.
As our economy recovers and rebuilds, we must build it from the bottom up and the middle out — not the top down — so everyone benefits. Our Nation continues to fall short of its promise to deliver equal opportunity to workers of color and women, among others, and we can do more to ensure that good-paying jobs are accessible to everyone. Only when all workers have a strong voice in their wages, benefits, and job treatment can we start to change how we value their labor. Only then can we begin to reward work and not just wealth.
I have had the honor of meeting workers of every stripe. I have visited longshore workers in California, firefighters in Colorado, transit workers in New Jersey, welders in Wisconsin, and teachers in Virginia, among many others. I also welcomed frontline worker-organizers into the Oval Office. Whenever I meet members of America's labor community — dedicated women and men who derive purpose from their work — I am reminded of something my father used to tell me: "A job is about more than a paycheck — it is about dignity and respect."
This Labor Day, let us honor those trailblazers who have fought for the rights of working people. Let us stand in solidarity with all workers and strengthen their ability to organize and bargain with employers. Let us give thanks to all of America's workers who build this Nation and pave our future.
NOW, THEREFORE, I, JOSEPH R. BIDEN JR., President of the United States of America, by virtue of the authority vested in me by the Constitution and the laws of the United States, do hereby proclaim September 5, 2022, as Labor Day. I call upon all public officials and people of the United States to observe this day with appropriate programs, ceremonies, and activities that honor the energy and innovation of working Americans.
IN WITNESS WHEREOF, I have hereunto set my hand this second day of September, in the year of our Lord two thousand twenty-two, and of the Independence of the United States of America the two hundred and forty-seventh.
JOSEPH R. BIDEN JR.
https://www.whitehouse.gov/briefing-room/presidential-actions/2022/09/02/a-proclamation-on-labor-day-2022/