The latest and most comprehensive coverage of local News, Sports, Business, and Community News stories in the Klamath Basin, Southern Oregon and around the state of Oregon from Wynne Broadcasting's KFLS News/Talk 1450AM / 102.5FM, The Herald & News, and BasinLife.com, and powered by Mick Insurance, your local health and Medicare agents.
Friday, June 24, 2022
Klamath Basin Weather
Today Sunny, with a high near 87. North northeast wind 3 to 6 mph. Overnight should be clear with a low around 51. North wind 8 to 14 mph.

Saturday Sunny, with a high near 92. North northeast wind 5 to 8 mph. Saturday night, clear with a low around 56.
Sunday Sunny and hot, with a high near 96.
Monday Sunny, with a high near 95.
Tuesday Sunny, with a high near 85.
Wednesday Sunny, with a high near 84.
Today's Headlines
You'll hear the roar of jet engines tomorrow as The 173rd Fighter Wing will host the Sentry Eagle Open House at Kingsley Field, on Saturday, June 25th. Admission is free.
"We are pleased to announce that we will host a 2022 Sentry Eagle Open House," said Col. Jeff Edwards, 173rd Fighter Wing commander.
"This event is an opportunity to showcase our mission of providing air superiority as the premiere F-15C training base for the United States Air Force, as well as say thank you to our Airmen and supportive community."

During the Open House the Kingsley Field gates will be open to the community, providing a
behind the scenes look at what the Airmen accomplish every day at the 173rd Fighter Wing.
Additionally, there will be multiple aerial demonstrations, static display aircraft, flightline
operations viewing opportunities, recruiting events, and local vendors.
"The Sentry Eagle Open House will be an amazing event and opportunity for the public to get an up close and personal look at our mission here at Kingsley Field," said Edwards.
The Sentry Eagle Open House is being held in conjunction with the Kruise of Klamath and the Klamath Freedom Days events.
Additonal details such as schedules, parking plans, and more will be shared online as they are made available at https://www.173fw.ang.af.mil/Home/Sentry-Eagle/ or on the 173rd FW Facebook event page at https://www.facebook.com/173FW.
For more information about the Sentry Eagle Open House contact the 173rd FW Public Affairs Office at (541) 885-6677.
Certain items for the Sentry Eagle Open House that are not allowed on base include weapons, firearms, explosives, alcohol, drugs, pets, and drones. Additionally, large bags and coolers will not be allowed on base. Purses, handbags, portable folding chairs, small camera bags, and diaper bags are allowed, but will be inspected upon entry. Individuals who would like to come on base are asked to have official identification ready as they may be asked to present it upon entry.
In addition to the standard F-15C ground and air operations, there will be multiple aerial demonstrations, static display aircraft, flight line operations viewing opportunities, recruiting events, and local vendors.
The A-10C Thunderbolt II Demonstration Team from Davis Monthan Air Force Base in Arizona will be providing an aerial demonstration as well as a heritage flight with the P-51 Val-Halla. There will also be a B-17 Flying Fortress, the aircraft 2nd Lt. David. Kingsley, the base's namesake, flew in during World War II, along with other historical warbirds. See the insert for the full schedule of events.
This year, the wing has partnered with Klamath County Fairgrounds and Basin Transit Service to provide bus shuttles between the fairgrounds and the base every half hour. Cars may park off Arthur Street behind Hanscom's Bowling Alley. Buses are scheduled to begin running at 8:30 a.m. with the last bus leaving Kingsley Field at 3:30 p.m.
The Sentry Eagle Open House is being held in conjunction with the Klamath Freedom Days events. Additional Klamath Freedom Days events this weekend include the Klamath Kruise Thursday through Sunday, and the Pat Green country concert at the Klamath County Fairgrounds on Saturday night.
Many Oregon healthcare systems were in the headlines recently following announcements that they were facing extraordinary financial hardships because of ongoing pandemic-related challenges.
Some of the hospitals responded with reductions of their workforces.
While Sky Lakes Medical Center is not immune to the forces that affected those hospitals the financial outlook is stable and they are actively recruiting healthcare professionals Competition for nurses is especially intense.
To help attract nurses to the Klamath Falls hospital, Sky Lakes recently doubled sign-on bonuses to $20,000 for qualifying nurses who agree to stay here for at least three years, and added a moving allowance of up to $10,000.
Further, current Sky Lakes employees who re-recruit nurses who have been away from Sky Lakes for at least six months could earn bonuses of up to $5,000.
Nurses at Sky Lakes Medical Center have multiple opportunities for professional and leadership growth, Sky Lakes also offers a supportive and collaborative company culture where leadership is accessible and peers champion each other's successes.
About Sky Lakes: Sky Lakes Medical cares for people in a 10,000-square-mile area in south-central Oregon and northwest California, it is licensed for 176 beds and offers a full range of inpatient and outpatient services, a home health agency, a primary care clinic and a variety of specialty physician clinics. The Sky Lakes family also includes the award-winning Sky Lakes Cancer Treatment Center and Cascades East Family Medicine Clinic and residency program.
Klamath County had Oregon's highest seasonally adjusted unemployment rate of any county in Oregon, (5.3%) in May.
Other counties with relatively high unemployment rates were Grant (5.2%), Curry (4.9%), and Lincoln (4.9%). Benton, Hood River, and Wheeler counties registered the lowest unemployment rates in May, at 2.9% each. Other counties with some of the lowest unemployment rates in May included Washington (3.0%), Sherman (3.1%), and Gilliam (3.2%).
In May, unemployment rates declined in 33 of Oregon's 36 counties. Unemployment rates in three counties did not decline, but held steady over the month. Thirteen counties had unemployment rates at or below the statewide and nationwide rate of 3.6% in May.
Between May 2021 and May 2022, total nonfarm employment rose in each of the six broad regions across Oregon. The Willamette Valley region experienced the fastest job growth over the year at 4.1%. Employment also grew at a relatively fast pace in the five Portland-metro counties (3.7%) and Central Oregon region (3.3%).
Growth occurred at a slower pace along the Coast (1.3%), in Eastern Oregon (0.8%), and in Southern Oregon (0.7%).
This week several agricultural organizations announced the emergence of a new alliance to focus on strategic water investments and common-sense policies that will promote water and agricultural sustainability.
This comes as the Klamath Basin as well as much of Oregon continues to face historic drought conditions and as supply chain issues and global food insecurity concerns grow.
Members of the newly formed Oregon Agricultural Water Alliance (OAWA) include the Oregon Farm Bureau, Oregon Cattleman's Association, Oregon Association of Nurseries, Oregon Dairy Farmers Association, Oregon Water Resources Congress, Northeast Oregon Water Association, and Water for Life Inc.
The alliance formed a steering committee and contracted with a consultant, Greg Addington, from Oregon's Klamath Basin, who has experience in organizational operations and state water policy. Priorities identified by the alliance include shifting state water policy to focus on an adequate, safe, and affordable food supply and growing other environmentally beneficial agricultural products; creating more water storage (above and below ground); building drought resiliency; interstate cooperation in water supply and management; demanding more agency accountability; and reducing costly and unnecessary litigation.
Addington, who spent a decade working on Klamath Basin water issues, cited the newly formed group's recognition that a more coordinated approach from the agricultural community is needed.
In the Klamath Basin and across the State of Oregon, farmers and ranchers produce over 240 commodities that supply Oregon, the United States, and beyond with critical elements of the agri-food chain. Collectively the OAWA members represent a broad spectrum of individuals and entities including water delivery districts that serve nearly 600,000 acres and over 14,000 producers of food and fiber in Oregon.
The Klamath Basin has dealt with reduced water for decades, but this year is particularly grim.
The region is facing extreme dry conditions, as one of many ground zeros in a western U.S. multiyear drought some scientists describe as the worst in 1,200 years. For a third straight year, the amount of water farmers can receive from Upper Klamath Lake and the Klamath River is a trickle at most.
The water shortages impact livestock grazing and result in increasing numbers of fallowed farm fields, which in turn threaten production contracts for farmers growing many Klamath Basin crops.
In its analysis, the Klamath Water Users Association said federal mandates for water use from Upper Klamath Lake break down this way: 40% of the lake's water will be dedicated to river flows for salmon; 28% will be used to protect lake levels for Klamath suckerfish; and 27% is expected to be lost to evaporation.
The association, which advocates for irrigated agriculture, said that means "5% or less may be available to Klamath Basin food production."
A member of our community recently found a sum of cash while attending one of the Klamath County School District's graduation ceremonies and turned it into the Klamath County Sheriff's Office.
If you or your graduate lost cash and believe what has been turned in could belong to you, please contact KCSD.
To ensure the cash is returned to its rightful owner, you will be asked to identify what graduation you attended, which day it took place, the denominations of cash, and the condition it was in at the time you lost it.
When calling please reference case # 22-1442.
The downtown Klamath County Library has events almost every day for children, teens and families to enjoy, and we've added even more for the summer season.
Over a dozen programs and events are planned for nearly every day during the summer break.
Children younger than 10 must attend library events with a parent or guardian. Registration is not required. For more information on any of these events, call 541-882-8894 or stop by the downtown library's Youth Services desk.
Oregon health officials reported 8,944 new coronavirus infections over the last week, 14% fewer than the prior week.
While experts say infections are vastly underreported, hospitalizations due to the coronavirus have likely peaked. Nearly 310 people were hospitalized with COVID-19 as of Monday, nearly 20 occupied beds fewer than the peak June 5.
On the other hand, more COVID-19 patients were in intensive care units Monday than at any point during the current wave, the number doubling over the last week to 52.
But the slight drop in cases has not coincided with a drop in positivity rates, a key marker of how widespread COVID-19 is in the community. More than one in ten of every reported COVID-19 test since June 13 has come back positive, state data show. The drop in cases could also be attributed to a drop in testing, with 10% fewer tests reported over the last week compared to the prior week.
After a two-year absence, the long-awaited Klamath Basin Oktoberfest is back.
The Klamath County Economic Development Association (KCEDA) announced yesterday that it would be resuming the instant tradition in its full scope, something the event-host has been unable to do since the festival was first introduced in 2019.
The 2019 event had groundbreaking attendance, attracting over 2,500 people, representing a welcome mix of residents and travelers from regions throughout the West Coast.
Located at the Bill Collier Ice Arena on the Running Y Ranch & Resort, the event will take place on Saturday, September 17 th from 2pm to 9pm.
As a regional gathering, The Klamath Basin Oktoberfest is designed to bring the community and tourists together to celebrate the remarkable brew, food, and entertainment options that exist here in Southern Oregon. In addition to the many notable vendors participating at the event, there is also a wide selection of family friendly games and activities for people of all ages to enjoy.
Representatives at KCEDA additionally noted that more details about event specifics would be released as the event date gets closer.
Klamath County Fire District 1 in cooperation with the Oregon State Fire Marshal's Office asks that you celebrate America's independence responsibly.
Recognize that current weather and dry conditions can lead to rapidly expanding fires caused by careless use of fireworks. They urge you to use only legal fireworks and to use them in a safe and careful manner.
For answers to commonly asked questions about fireworks follow KCFD''s Facebook page, and visit the Oregon State Fire Marshal's Office at www.oregon.gov.
Please contact your local law enforcement agency to report the illegal use of fireworks. For reports within the City of Klamath Falls, contact the Klamath Falls Police Department. For reports outside city limits, contact the Klamath County Sheriff's Office. As always, for emergencies call 911.
Klamath Falls City Streets Division crews will be performing work June 27th through July 1st, during the hours of 2:30 a.m. to 4:00 p.m.
The Asphalt Crew from June 27 through 30th will be paving Walnut Ave. between S.7th St. and S.9th St.
Paint Crew workers from June 28 through July 1 will be painting legends, crosswalks, curbs, and parking stalls on Main St. from 8th St. to Conger Ave.
Sign Maintenance and Sweeping will be performed June 27 through July 1 throughout the City as needed. Detours and signage will be in place where needed.
Klamath Falls City Streets Staff thanks citizens in advance for proceeding with caution in areas where crews are working. Work may be delayed or canceled due to weather, equipment breakdown or unexpected emergencies.
If you would like more information about this topic, please call City Public Works Department at (541) 883-5385.
Beginning today (Friday), three teams will be competing in the Invent Oregon competition at RCC in Grants Pass. Two of those teams are from here in the Klamath Basin.
"Invent Oregon" is a college-level competition for students with ideas for inventions.
Students from Southern Oregon University, Oregon Institute of Technology and Klamath Community College are competing. They'll share their ideas with judges throughout the day.
The Invent Oregon program supports students with mentors, education and grants.
At the Invent Oregon finals this weekend , students will complete for $30,000 in cash prizes.
Around the state of Oregon
The Supreme Court overturned Roe v. Wade, leaving the legality of abortion up to the states
WASHINGTON, D.C. – Pro-life activists rejoiced as pro-choice activists expressed disappointment after the Supreme Court overturned the landmark 1973 Roe v. Wade decision, giving individual states the authority to decide their abortion laws.
"I'm shaking, and we obviously knew this was coming," a pro-choice activist told reporters following the decision. "It's still [a] shock that we can lose our rights like this."
"How can our nation be blessed if we just don't care about life in the womb and the unborn," one pro-life activist said. "Yeah, we are very stoked that this is going back to the states."
The Supreme Court's ruling came in the case Dobbs v. Jackson Women's Health Organization, which centered on a Mississippi law that banned abortion after 15 weeks of pregnancy.
The decision effectively ends the recognition of a constitutional right to abortion and gives individual states the power to allow, limit or ban the practice altogether.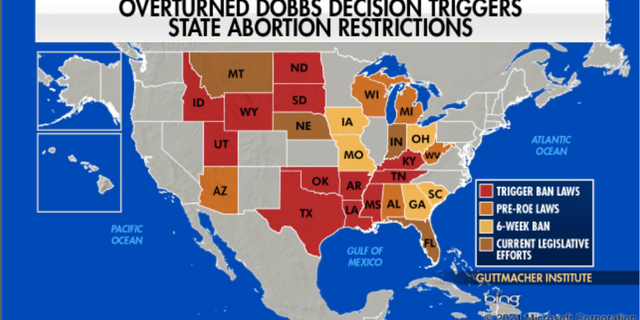 President Biden said the Supreme Court's decision to end the Constitutional right to abortion "cannot be the final word" as he urged Congress to act and voters to take their frustrations to the polls.
"My administration will use all of its appropriate lawful powers. Congress must act, and with your vote, you can act," Biden said.
The President said the decision has made the US an "outlier among developed nations in the world," but it "is not over."
Biden also called on those protesting the decision to remain peaceful.
"I call on everyone no matter how deeply they care about this decision to keep all protests peaceful — peaceful, peaceful, peaceful. No intimidation. Violence is never acceptable," he said, adding that "threats and intimidation are not speech."
Xavier Becerra, secretary of the US Department of Health and Human Services, on Friday called the US Supreme Court's decision to overturn Roe v. Wade "unconscionable," saying abortion is a basic and essential part of health care.
"Today's decision is unconscionable," Becerra said in a statement released by the agency. "Abortion is a basic and essential part of health care – and patients must have the right to make decisions about their health care and autonomy over their own bodies."
The US Food and Drug Administration has not yet formally commented on the Supreme Court's decision.
FDA Commissioner Dr. Robert Califf did not give a reaction when asked during an Aspen Ideas Health panel on Friday.
"I'm not going to react to the decision. I'm not going to talk about the decision," Califf said when asked for his reaction as a physician and public health official. "What I will say is that the science and the medicine haven't changed. We have a big Supreme Court decision and we have to digest that and look into it further before I'm going to react."
Abortion remains legal, accessible in Oregon in wake of Supreme Court ruling
Decision has no effect on Oregon's Reproductive Health Equity Act that guarantees right to receive abortion, health care providers' right to provide it
Following a U.S. Supreme Court decision today that overturns Roe vs. Wade, Oregon Health Authority (OHA) is reminding people that abortion remains legal in the state.
The Reproductive Health Equity Act (RHEA) was established in 2017 after the Oregon Legislature passed House Bill 3391. The landmark legislation contained multiple provisions to both protect and expand access to the full scope of reproductive health services, including abortion, for all people in Oregon. RHEA enshrined into state law an individual's right to receive an abortion, as well as a health care provider's right to provide an abortion.
"The decision by the U.S. Supreme Court to overturn Roe vs. Wade does not change the fact that people in Oregon are guaranteed the right to receive abortion services, which remain legal in this state," said OHA Director Patrick Allen. "OHA will continue to implement and promote RHEA to ensure that people in Oregon have access to essential reproductive health services, including abortion, sterilization and contraceptives, without any barriers."
This includes a legal right for anyone who comes to Oregon for an abortion, not just Oregon residents.
While the abortion rate has declined across the country in the last 30 years, the need for abortion care has recently been on the rise, according to Guttmacher Institute, which found the abortion rate increased by 7% from 2017 to 2020. In Oregon, the abortion rate declined by 21% during this time.
Oregon is one of 16 states and the District of Columbia that has laws that protect the right to abortion, and is just one of four states and the District of Columbia that has ensured the right to abortion without any restrictions or state interference. Oregon also is one of only seven states that funds abortions, using state general funds under the Oregon Health Plan (OHP), the state's Medicaid program, without any restrictions.
In 2017, RHEA further expands access to abortion by requiring health benefit plans regulated by the state of Oregon to cover abortion services without any cost sharing to its members. It also provides coverage for abortion services for people not eligible for the Oregon Health Plan because of their immigration status, including those with DACA status, those with no documentation, and people with legal permanent resident status who have not met the five-year waiting period for OHP eligibility.
And abortion access will continue to expand with the Oregon Legislature's passage earlier this year of House Bill 5202, which allocates $15 million in state general funds to advancing reproductive health equity. The funds will be distributed by OHA to Seeding Justice, a grant-making organization, to establish the Reproductive Health Equity Fund, which will invest in culturally specific health outreach and education programs around the state that benefit patients, health care providers and community advocates.
Individuals can access free or low-cost reproductive health services at local health departments, Planned Parenthood clinics, federally qualified health centers and rural health clinics across the state. To find a clinic, visit: healthoregon.org/rhclinics, dial 211, or text HEALTH to 898211.
Oregon State Police SW Region Drug Enforcement Team Makes Illegal Marijuana Bust Outside Eagle Point in Jackson County
On Wednesday, June 22, 2022, the Oregon State Police (OSP) Southwest Region (SWR) Drug Enforcement Section (DES) team, assisted by the Illegal Marijuana Enforcement Team (IMET) of the Medford Police Department and Jackson County Sheriff's Office, served an illegal marijuana search warrant in the 11000 block of East Antelope Rd. Eagle Point, Jackson County.
As a result, 2,864 illegal marijuana plants contained in ten (10) greenhouses, were seized. Also located and seized were 209 pounds of processed marijuana bud packaged for sale on the black market, eight (8) firearms, body armor and over $10,000.00 in US Currency. Two (2) individuals were detained, identified, and interviewed.
Jackson County Code Enforcement also responded to the property for multiple code violations. A total of $66,000.00 in fines were levied on the property owner for violations of unapproved greenhouse structures, multiple unapproved electrical installations, unapproved marijuana production, prohibited camping within a marijuana grow site and solid waste.
The investigation is on-going and no further information is available at this time.
Oregon State Police SW Region Drug Enforcement Team makes illegal marijuana bust-Josephine County
On Thursday, June 23, 2022, the Oregon State Police (OSP) Southwest Region (SWR) Drug Enforcement Section (DES) team, assisted by the Josephine Marijuana Enforcement Team (JMET), served an illegal marijuana search warrant in the 600 block of Pinewood Way, Cave Junction, Josephine County.
As a result, 3,944 illegal marijuana plants contained in seven (7) large, industrial sized greenhouses, were located, seized, and ultimately destroyed. Additionally, the property is subject to multiple code violations through Josephine County Code Enforcement, for unpermitted structures, multiple unpermitted electrical installations, and unpermitted excavation.
Josephine County will move forward with legal action against the property owner which could result in closure of the property for one calendar year (illegal drug cultivation) and possible civil forfeiture.
The investigation is on-going and no further information is available at this time.
Child Predator Arrested in Grants Pass
On Monday, 06-20-22, the Grants Pass Police Department responded to a reported sex offense that occurred at the Grants Pass YMCA.
The complainant reported her 6-year-old daughter had been subjected to sexual touching while swimming at the pool. Management at the YMCA was advised of the incident and assisted law enforcement with the investigation.
Through the assistance of the YMCA, the individual involved in the incident with the child was identified as 66-year-old Rex McCurdy, a registered sex offender from California. The YMCA staff advised law enforcement when McCurdy arrived back at the facility on Wednesday, 06-22-22. McCurdy was subsequently arrested by Grants Pass Police Detectives and lodged at the Josephine County Jail for two counts of Sexual Abuse in the First Degree.
Due to the nature of this incident, the Grants Pass Police Department is concerned there may be other children who may have had inappropriate contact from McCurdy, who frequented the facility with a male friend. Therefore, we are asking for the public's assistance in identifying any additional victims. Anyone with information regarding McCurdy or his associate is encouraged to call Detective Heather Yerrick at 541-450-6344.
We also want to ensure the public that the YMCA does run federal and state background checks on individuals requesting membership at their facility and has been proactive in denying membership when there are concerns about an applicant. Unfortunately, due to restrictions in place during COVID, McCurdy's sex offender status, as well as that of his male companion, was not accessible during the background check conducted by the YMCA.
The YMCA has been provided additional resources to prevent this from occurring in the future until all public records are appropriately updated from the COVID backlog. The Grants Pass Police Department wants to thank the YMCA for their assistance with this investigation and the brave child who came forward in this case. Grants Pass Police Department
Record-high gasoline prices are not discouraging car travel, according to Independence Day projections from AAA of Oregon.
The auto club expects a record 42 million Americans to travel for the July 4th holiday by car. That includes 441,000 Oregonian who will hit the roads for the upcoming holiday.
Overall, AAA expects 47.9 million Americans to travel via air or car for the 2022 holiday. That approaching pre-pandemic levels of travel, In 2019, AAA reported 49 million Americans traveled for the Fourth of July holiday.

Airlines have been challenged by canceled flights and higher fares due to higher fuel prices. Only 7.4% of travelers will do so by air, according to AAA. That is lowest level since 2011.
The average price of gasoline nationally was $4.97 per gallon nationally in Tuesday, July 21. The average price is $5.53 per gallon in Oregon and $6.38 per gallon in California, according to AAA.
In the Pacific region, which includes California, Oregon, Washington, Alaska, Hawaii, AAA expects 6.8 million people to travel for the July holiday.
Increased emergency SNAP benefits will continue in July for Oregonians
(Salem) – Most Oregonians who receive Supplemental Nutrition Assistance Program (SNAP) benefits will receive emergency allotments in July.
Most Oregonians who receive SNAP benefits will continue to receive temporarily increased emergency food benefits in July
Approximately 422,000 SNAP households will receive approximately $68 million in extra food benefits in addition to their regular SNAP benefits
These emergency benefits are a temporary support that Oregon can provide because of the federal COVID-19 public health emergency
Find resources to meet your basic needs: Dial 2-1-1, or text your zip code to 898-211, www.211info.org
The federal government has approved emergency allotments every month since March 2020. This gives SNAP recipients additional support during the COVID-19 pandemic. These emergency benefits are a temporary support that Oregon can provide because of the federal COVID-19 public health emergency.
Because the federal government approved these emergency benefits for July, Oregon will also be able to issue them in August. However, the emergency benefits are expected to end when the federal public health emergency ends.
In July, approximately 422,000 SNAP households will receive approximately $68 million in extra food benefits in addition to their regular SNAP benefits.
"We know that many rely on these additional emergency food benefits to get enough healthy food for themselves and their families," said Claire Seguin, deputy director of the Oregon Department of Human Services (ODHS), Self-Sufficiency Programs. "We also know that many Oregonians are still struggling to meet their basic needs and we encourage them to contact our partners at 211 and the Oregon Food Bank for support during this difficult time."
Current SNAP households will receive emergency allotments on July 12. Emergency allotments will be issued July 29 or Aug. 2 for households who did not receive benefits in the first monthly issuance.
SNAP recipients do not have to take any action to receive these supplemental benefits as they will be issued directly on their EBT cards.
More information about emergency allotments is available at https://www.oregon.gov/dhs/ASSISTANCE/FOOD-BENEFITS/Pages/Emergency-Allotments.aspx.
Questions about your SNAP benefits should be directed to the ONE Customer Service Center at 1-800-699-9075.
The Oregon Health Authority is warning of excessive heat this weekend all around the state.
Richard Whitman, the director of the Oregon Department of Environmental Quality, announced Wednesday that he will retire at year's end. The decision was not a sudden one, according to Harry Esteve, a department spokesperson.
Whitman got Klamath hydroelectric dam removal project underway. Whitman has been director of the department for five years.
Whitman said on Wednesday that he is most proud of building up staff numbers in the agency, getting the Klamath hydroelectric dam removal project underway and getting the Climate Protection Program passed.
The Oregon Department of Revenue will begin distributing One-Time Assistance Payments of $600 to more than 236,000 qualifying households later this week.
Payments will be received by direct deposit or by check by July 1, 2022.
To qualify households must have received the Earned Income Tax Credit on their 2020 tax filing and lived in Oregon the last six months of 2020.
The One-Time Assistance Payments will be deposited directly to the bank accounts of 136,640 recipients and checks will be mailed to 99,647 recipients. Households that receive a direct deposit will also be mailed a letter explaining the payment. Households that receive a paper check will include information about the payment on their check stub.
A total of nearly $141.8 million is expected to be distributed to 236,287 qualifying recipients.
A man is in the Douglas County Jail after a search warrant uncovered almost 550 pounds of illegally grown and processed marijuana at his home.
In January 2022, detectives from the Douglas Interagency Narcotics Team served a search warrant at the home of Alejandro Martinez, 25, on Gross Loop in Canyonville.
They say they found nearly 550 pounds of processed marijuana packaged in 1-pound bags and ready to be shipped. Detectives say they also found marijuana plants, an undisclosed amount of cash, and other evidence of drug trafficking.
The home was unoccupied at the time because Martinez was in custody in Fresno County, California on unrelated charges. Martinez posted bail in March but was not allowed to leave the state as part of his parole deal.
The Douglas County Sheriff's Office says that one Tuesday, June 21, a deputy found Martinez broke down on the side of Interstate 5 south of Canyonville and arrested him without incident. Martinez is charged with unlawful possession and manufacture of marijuana, laundering a monetary instrument, and attempting to commit a felony.
The Coos Bay Police is reporting a rise in Fentanyl overdoses in their area and is urging the public to be cautious.
On June 20, the Coos Bay Police and Fire Departments responded to three reports of drug overdoses, one of them fatal. Fentanyl is suspected in all three.
In June alone, North Coos Dispatch center has had six overdose reports in the Coos Bay and North Bend area, with four of those on June 20 and 21.
Coos Bay Fire Department Battalion Chief Steve Takis reported his department administered Naloxone, sometimes known as Narcan, 29 times in all of 2021, but has already administered Naloxone 25 times in 2022.
Police ask the public to call 911 if they suspect someone is using or overdosing on Fentanyl since exposure in even tiny amounts can be dangerous, not only to the person using the drug, but to those who may be in close proximity as well.
A Eugene, Oregon man who formerly resided in Southern Oregon was sentenced in federal court today for violating the Lacey Act by illegally importing and exporting hundreds of live scorpions.
Darren Dennis Drake, 39, was sentenced to two years' federal probation, 250 hours of community service, and a $5,000 fine payable to the Lacey Act Reward Fund.
According to court documents, between September 4, 2017 and March 21, 2018, Drake imported and exported dozens of live scorpions from and to contacts in Germany without first obtaining an import-export license from the U.S. Fish and Wildlife Service (FWS). On one parcel intercepted by U.S. Customs and Border Protection (CBP), Drake falsely labeled the package contents as "chocolates." Drake also mailed or received several hundred live scorpions from other U.S. states, including Michigan and Texas, in violation of federal mailing laws.
U.S. Attorney Scott Erik Asphaug of the District of Oregon made the announcement.
"Keep it legal, keep it safe" is the message from the Oregon Office of State Fire Marshal (OSFM). The 2022 fireworks retail sales season begins June 23rd and runs through July 6th in Oregon.
The OSFM would like everyone to know which fireworks are legal, where they can be used, and how to use them safely.
To reduce the risk of starting a wildfire, some local governments in Oregon have put in place regulations, perhaps including bans, on the sale or use of fireworks. It is important to check your local regulations and follow them where you live or may be traveling to celebrate the 4th of July holiday.
"We ask that those using fireworks be responsible when using them," Oregon Office of State Fire Marshal Assistant Chief Deputy Mark Johnston said. "Every year, we see fires started because of improper use or use of illegal fireworks. Our message is to keep it legal and keep it safe as people celebrate the holiday."
Consumer legal fireworks can only be purchased from permitted fireworks retailers and stands. State regulations also limit where those fireworks may be used. People who plan to visit public lands and parks are asked to leave all fireworks at home. The possession and use of fireworks are prohibited in national parks and forests, on Bureau of Land Management lands, U.S. Fish and Wildlife properties, state beaches, state parks, and in-state campgrounds. The use of fireworks is also prohibited on many private lands protected by the Oregon Department of Forestry.
Officials may seize illegal fireworks and charge offenders with a class B misdemeanor, which could result in a fine of up to $2,500. Those who misuse fireworks or allow fireworks to cause damage are liable and may be required to pay fire suppression costs or other damages. Parents are also liable for fireworks damage caused by their children.
People with mobility challenges will be able to use all-terrain wheelchairs to enjoy the beach at Seaside on July 2nd and 3rd. The electric wheelchairs have treads, instead of wheels, to move over the sand. Seven of the wheelchairs will be available for free. People need to register in advance online at davidschair dot org.
On Tuesday, the Biden administration announced plans to increase federal wildland firefighter pay as required by the bipartisan infrastructure law.
This move is part of a series of steps that also includes the establishment of a new wildland fire management job series.
Last week, senators Jeff Merkley and Ron Wyden sent a letter to the office of personnel management for the immediate implementation of these changes.
And while Senator Jeff Merkley welcomes this announcement, he says he would like to see more.
The administration also announced the creation of a program to support the health and wellbeing of firefighters.
Senator Merkley added it's important to support the firefighters as we enter into the peak of Oregon's wildfire season.
A first-of-its-kind exhibit is coming to the Rogue Valley, and you and your family can go see it at Crater Rock Museum in Central Point next month.
Local stone artist Rafe Millette has created the only complete chess set made from dinosaur bone in the world.
Not only is each individual chess piece carved from dinosaur bone, so is each and every square on the board. Millette says the project has taken four years and over 4,000 hours of work.
The set will be on display at the Museum from Jul. 6 to the end of the month. From there, Millette is hoping to find an interested buyer.
The bones were collected in Utah, near the Four Corners area. Millette is not entirely certain what the fossils are made of.
Unfortunately, no one will be able to actually play chess with it for the time being – as it will sit in a glass case at the museum. You'll have to buy it for that.
[News gathered, written and edited by Brian Casey, BasinLife.com]
Back to the Wynne Broadcasting BasinLife.com Homepage