The latest and most comprehensive coverage of local News, Sports, Business, and Community News stories in the Klamath Basin, Southern Oregon and around the state of Oregon from Wynne Broadcasting's KFLS News/Talk 1450AM / 102.5FM, The Herald & News, and BasinLife.com, and powered by Mick Insurance, your local health and Medicare agents.
Monday, February 28, 2022
Klamath Basin Weather
This Afternoon A 20 percent chance of rain. Partly sunny, with a high near 61. South southwest wind 10 to 13 mph, with gusts as high as 20 mph. Overnight, mostly cloudy, with a low around 35.

Tuesday A 10% chance of rain after 4pm. Partly sunny, with a high near 63. Overnight, cloudy, with a low around 34. Chance of precipitation is 20%.
Wednesday A 30% chance of rain, mainly after 10am. Snow level 6800 feet. Mostly cloudy, with a high near 56. South wind 6 to 14 mph, with gusts as high as 21 mph. Overnight, rain mixed with snow, low of 33. Snow level 6400 feet lowering to 5100 feet after midnight . Chance of precipitation is 70%. Little or no snow accumulation expected.
Thursday Rain and snow likely before 10am, then a chance of snow between 10am and 1pm, then a chance of rain after 1pm. Snow level 4500 feet. Mostly cloudy, with a high near 45. Chance of precipitation is 60%. New snow accumulation of less than a half inch possible.
Friday A slight chance of snow. Mostly sunny, with a high near 44.
Saturday Mostly sunny, with a high near 45.
Today's Headlines
The Upper Klamath Basin's groundwater crisis has continued to worsen, even in winter.
Even after rains returned last October and snow soon followed, the Oregon Water Resources Department has received 34 additional reports of dry or failing domestic wells in Klamath County. That's on top of more than 200 reported during the summer of 2021.
Though not all reported wells had completely dried up, many were experiencing problems related to lowering groundwater levels. Some owners' pumps could no longer reach the water in their wells, because the water level had dropped precipitously. Ivan Gall, administrator for OWRD's Field Services Division says the additional complaints were "unexpected" because groundwater level usually declines in the summer and rebounds somewhat during the winter, after high-volume pumping for irrigation ends for the growing season.
OWRD doesn't yet have the data to say exactly why additional wells may have experienced problems even after agricultural pumping ended, though Gall said it likely doesn't have to do with the stretches of dry weather that occurred in November, January and February.
Though the situation is indirectly connected to drought severity, which limits the surface water delivered to Klamath Project farms and increases farmers' dependence on groundwater. Some portions of the aquifer have declined by as much as 40 feet since the early 2000s, Gall said.
Federal regulators on Friday issued a draft environmental impact statement saying there were significant benefits to a plan to demolish four massive dams on Northern California's Klamath River to save imperiled migratory salmon, setting the stage for the largest dam demolition project in U.S. history.
The issuing of a statement by the Federal Energy Regulatory Commission clears a major regulatory hurdle for the project and paves the way for public hearings on the document before a final draft is issued as soon as this summer.
A final environmental impact statement would allow the extensive preparations necessary for the nearly $500 million demolition and habitat restoration plan to begin in earnest. Dam removals could begin as early as next year if all goes smoothly, but a more likely scenario is 2024. The aging dams near the Oregon-California border were built before current environmental regulations and essentially cut the 253-mile-long river in half for migrating salmon, whose numbers have plummeted.
The project on California's second-largest river would be at the vanguard of a push to demolish dams in the U.S. as the structures age and become less economically viable and as concerns grow about their environmental impact, particularly on fish.
Regulators wrote that moving ahead with the proposal would "maximize benefits" to salmon fisheries important to local tribes and restore the landscape to a "more natural state." Tribes that rely on the salmon for their sustenance and culture, including the Yurok and Karuk, cheered the milestone Friday. So did commercial fishermen and environmentalists who have worked for years to bring the dams down in a region already suffering through intense drought and dwindling water supplies.
Coho salmon from the river are listed as threatened under federal and California law, and their population has fallen by anywhere from 52% to 95%. Spring chinook salmon, once the Klamath Basin's largest run, have dwindled by 98%. Fall chinook, the last to persist in any significant numbers, have been so meager in the past few years that the Yurok Tribe canceled fishing last year for the first time in memory.
In 2017, they bought fish at a grocery store for their annual salmon festival. In recent years, as many as 90% of juvenile salmon sampled tested positive for a disease that flourishes when river flows are low. Project proponents have thus far overcome opposition to the plan. Some local and state officials worry about flood control and residents who live around a large reservoir created by one of the dams have unsuccessfully sued to stop the project.
The dams don't store agricultural water, aren't used for flood control and aren't part of the 200,000-acre Klamath Project.If the dams remained, power company PacifiCorp would likely have to spend hundreds of millions of dollars to retrofit the structures to comply with today's environmental laws. As it is, the utility has said the electricity generated by the dams no longer makes up a significant part of its power portfolio.
The original demolition proposal foundered after regulators initially balked at allowing PacifiCorp to completely exit the project. A historic deal reached in 2020 made Oregon and California equal partners in the demolition with a nonprofit entity called the Klamath River Renewal Corporation, which will oversee the project. That deal also added $45 million to the project's $450 million budget after concerns that the available funds weren't enough to cover any overruns.
Oregon, California and PacifiCorp, which operates the hydroelectric dams and is owned by billionaire Warren Buffett's company Berkshire Hathaway, each provided one-third of the additional funds.
Some critics have said governors in Oregon and California were irresponsible to assume financial responsibility for cost overruns and object that part of the project is financed by a voter-approved California water bond.
The United Way of the Klamath Basin is recruiting a minimum of 10 more volunteers to help allocate funds raised in its annual community campaign among its 15 member agencies and the 32 program services they provide according to a release.
United Way agencies complete a 14 page application every year as well as provide a copy of their annual audit and federal tax return in order to receive funds.
United Way volunteers are divided into six teams with each team charged to visit two or three of the agencies seeking funds.
As part of the process, volunteers will visit two or three of the agencies seeking funds, meet those in charge, and learn how the United Way funds will be used to better serve people in need. According to a release, volunteers will make a consensus recommendation for the United Way board of directors on how best to allocate United Way funds.
Volunteers participating in the process so far include team leaders: Phil Hull, Klamath County Fire District #1; Juan Maldonado, Klamath Falls Toyota; Ruth Olsen, Ross Ragland Theater; Teresa Miles, Umpqua Bank; Don McDonnell and Mandi Clark with the Oregon Institute of Technology.

Kenneth Charles Juttner was sentenced Thursday to 350 months in state prison — nearly 30 years — after he pleaded guilty to four counts of first degree sex abuse involving Klamath County children.
In 2020, Juttner was being investigated by Naval Criminal Investigation Services in Seattle on an unrelated case involving juveniles.
According to the Klamath County District Attorney's Office, "during this investigation, Juttner disclosed his abuse of several victims in Klamath County." Juttner told NCIS investigators he had sexually abused at least five children between March 2007 and January 2011 in Klamath County.
The children ranged in age from 3-9 years old during the time of their abuse. The Klamath County Sheriff's Office conducted a local investigation and was able to confirm the identities of the victims in Klamath County.
During the sergeant's subsequent investigation, three victims chose to proceed with prosecution. While none of them had previously disclosed their abuse, all indicated they had struggled emotionally and psychologically throughout their lives and continue dealing with the trauma. Juttner was charged in Klamath County with one count of sodomy in the first degree and four counts of sex abuse in the first degree, based on his admissions and the statements of three victims.
Judge Marci Adkisson acknowledged the victims for their strength in their willingness to come forward and hold Juttner accountable for his actions.
Century 21 Real Estate recently recognized sales affiliate Stacey Moyles of Klamath Falls with the CENTURY 21 award for quality service and production in 2021.
The annual award is based on results from the CENTURY 21 quality service survey, which is emailed to consumers immediately after the purchase or sale of a home. To earn the CENTURY 21 Quality Service Pinnacle Producer Award, an agent must receive completed customer surveys for at least 80 percent of their transactions for a calendar year, with an average survey score of at least 95 percent or better for two consecutive years.
Moyles will receive a customized glass trophy, in addition to being recognized at the CENTURY 21 global conference.
U.S. national champions and medalists will be featured in Klamath Ice Sports 19th annual figure skating spectacular, GOTTA SKATE, which is set for Saturday, March 5th at the Bill Collier Ice Arena.
The three-time U.S. women's champion, World silver medalist and Olympian, Ashley Wagner, will be joined by U.S. junior and senior men's champion, Max Aaron.
Polina Edmunds, a U.S. junior ladies champion, national senior ladies silver medalist and Olympian, will also be featured.
Ashley Wagner is making her first appearance in Klamath Falls in this year's skating show while Max Aaron and Polina Edmunds each made their local skating debut here two seasons ago.
Around the state of Oregon
Governor Kate Brown is lifting the state's COVID-19 emergency declaration effective April 1st. Brown made the announcement yesterday, saying declining case numbers and hospitalizations from the Omicron wave are allowing for the change.
Brown says it doesn't mean the pandemic is over, but Oregonians are learning to live with the virus. She says people need to remain vigilant, continue getting vaccinated and boosted, wear masks when necessary, and stay home when sick.
Suspect Arrested In Sunday Night Medford Stabbing Incident
A suspect is in custody Sunday night, and two people have been taken to the hospital after a possible stabbing near the Medford Library.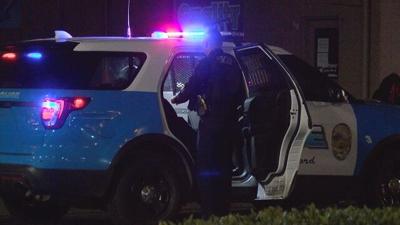 Medford Police have confirmed that the victims who were taken to the hospital sustained non-life threatening injures, but would not confirm any specifics. Authorities state that a weapon has not been found yet, but detectives are on the scene and conducting an investigation.
Around 9:30 p.m., dispatched received a call regarding a possible stabbing near the Medford Library. Moments later, dispatched stated that there could be a second victim as well.
This is ongoing investigation and more news will be released.
I-5 Mile Post 70 Truck Crash near Sunny Valley
ODOT issued Expected delays 12 miles north of Grants Pass Saturday as tow and ODOT crews removed a crashed semi truck and trailer that crashed on the curves coming into the Sunny Valley. ODOT: SW Oregon
Oregon Republican State Senator Dallas Heard has been excluded from the Capitol building for not wearing a mask on the Senate floor.
Senators approved a rule that requires masks on the floor. Heard says it's a protest to show what children are going through in school. Heard can take part in online hearings, but unless he agrees to wearing a mask, he's not allowed in the Capitol building.
Police Search For Victim's Roommate In Albany Homicide
A 42-year-old woman, the roommate of a 75-year-old man whose death was ruled a homicide, is wanted for questioning in the case, Albany police officials said.
Elvin "Al" Pierce was found dead by officers around 9:10 p.m. Friday after a 911 caller reported a man was unconscious and not breathing. Investigators at that time said the circumstances surrounding his death were suspicious.
APD said Pierce's roommate, 42-year-old Elizabeth Nicole Tyler Jimenez, wasn't there at the home when officers found Pierce dead and they don't know where she is.
Authorities did not specifically state whether Jimenez is a suspect or if there are any charges against her.
Pierce's car, a tan 2004 Buick Park Avenue with Oregon license plate 081FAX, is also missing.
Jimenez, who investigators believe is currently without a job, is described as often visiting local soup kitchens. She also has skills as a masseuse and a seamstress, officials said.
Anyone with information is urged to contact APD at 541-917-7680 or APD Lt. Buck Pearce at 541-917-3209.
$62 million in Oregon SNAP emergency food benefits to be distributed in March
Oregonians who receive SNAP benefits through the Supplemental Nutrition Assistance Program will also get emergency allotments again this March.
Since the pandemic hit in March 2020, the federal government has approved emergency food allowances each month. Jake Sunderland with Oregon Department of Human Services said in March, about 386,000 SNAP households will receive nearly $62 million in extra food benefits.
"We know that many rely on these additional food benefits to get enough healthy food for themselves and their families," he said. "We also know that many Oregonians are struggling to meet their basic needs and we encourage them to contact our partners at 211 1or the Oregon Food Bank for support."
Current SNAP households will receive emergency benefits on March 11. Emergency allotments will be issued March 31 or April 2 for households who did not receive benefits in the first monthly issuance.
Most Oregonians who receive SNAP benefits will continue to receive increased emergency food benefits in March
Find resources to meet your basic needs: Dial 2-1-1, or text your zip code to 898-211, www.211info.org
More information about emergency allotments is available at https://www.oregon.gov/dhs/ASSISTANCE/FOOD-BENEFITS/Pages/Emergency-Allotments.aspx.
Questions about your SNAP benefits should be directed to the ONE Customer Service Center at 1-800-699-9075.
Body Recovered At Cape Arago State Park
Crews recovered a body below the cliffs at Cape Arago State Park Sunday. Charleston Fire and Rescue officials said this was an "unfortunate recovery process." They said the operation ran smoothly and safely.
This recovery took the effort of federal, state and local governments, according to officials. In addition to Charleston Fire, the U.S. Coast Guard, Oregon State Police, and Coos County Sheriff's Office were also involved in the task.
Oregon Legislators Would Get Even Higher Salaries Than Originally Estimated If A Bill Raising Salaries Passes
Oregon legislators would make almost $63,500, if they vote to tie their salaries to the state's average wage, according to an updated report from legislative analysts. That's $6,000 more than what was originally calculated under terms of the proposed legislative raise.
A Senate committee advanced Senate Bill 1566 on Tuesday, with proponents arguing that higher wages would improve diversity in the Legislature and reduce turnover. At that time, the legislative analysts said passing it would result in paying lawmakers $58,500 beginning in January 2023. They now are paid slightly less than $33,000.
Their new salary would increase every two years if average wages in Oregon increase, but it couldn't decrease more than 2% in a year, even if average wages fall. The Senate president and House speaker receive twice the salary as other lawmakers.
An updated analysis posted Thursday shows that the average salary in Oregon in 2021 was actually $63,464, so lawmaker salary would be set at that amount beginning in January 2023 if the bill passses.
The higher wage also means more total cost to taxpayers, requiring an extra $1.7 million to cover the first six months of 2023 and then $7.1 million in the two-year budget cycle that begins in July 2023.
Only California, Illinois, Massachusetts, Michigan, New York, Ohio and Pennsylvania pay their legislators more than $63,000, according to the National Conference of State Legislatures. Legislatures in those states run full time, while the Oregon Legislature is in session for just more than one-quarter of the days in a two-year period.
The pay increase proposal is awaiting a hearing before the Legislature's budget-writing committee.
Democrats in the Oregon Legislature are announcing a 400-million dollar package to address homelessness.
One-hundred-65-million dollars would be spent on additional shelter capacity, rapid rehousing, and housing stability programs. Another 215-million dollars would go toward affordable housing, and 20-million dollars would go toward helping make homeownership attainable for working families. The money comes from a revenue surplus and is one of the Governor's top priorities.