The latest and most comprehensive coverage of local News, Sports, Business, and Community News stories in the Klamath Basin, Southern Oregon and around the state of Oregon from Wynne Broadcasting's KFLS News/Talk 1450AM / 102.5FM, The Herald & News, and BasinLife.com, and powered by Mick Insurance, your local health and Medicare agents.
Monday, February 21, 2022
Klamath Basin Weather
Monday, Washington's Birthday Snow showers. High near 35. West wind 10 to 15 mph, with gusts as high as 23 mph. Chance of precipitation is 90%. Total daytime snow accumulation of 1 to 2 inches possible.Overnight more snow flurries with a low around 19. Chance of precipitation is 60%. New snow accumulation of less than a half inch possible.

Tuesday A 20 percent chance of snow showers before 10am. Mostly cloudy, then gradually becoming sunny, with a high near 35. North northwest wind 6 to 9 mph. Clear overnight, with a low around 7 degrees.
Wednesday Sunny, with a high near 37. North wind around 7 mph.
Thursday Mostly sunny, with a high near 43.
Friday Sunny, with a high near 45.
Saturday Mostly sunny, with a high near 51.
Today's Headlines
Earlier this month, a federal judge approved the sale of the Eternal Hills Cemetery to second-highest bidder from a previous auction.
U.S. Bankruptcy Judge Thomas Renn signed the Feb. 8 order, which approved the cemetery's sale to a company called Eternal Hills Memorial Association, Inc., at a cost of $225,000.
The transfer of the property is in the final stages of being completed, said Klamath County Commissioner Derrick DeGroot. Leadership from the company was in Klamath Falls last week to look over the property and meet with community leaders, DeGroot said, adding that he was "very excited." Degroot said he felt the company had a great plan to rehabilitate the cemetery, which would involve collaborating with members of the local community who want to see the dilapidated space be rehabilitated.
Eternal Hills Memorial Association, Inc. was originally outbid in a July 2020 telephone auction by a family trust backed by the cemetery's former owner — Robert Alan Gordon — kicking off several more months of legal challenges in an already years-long case that began after the property fell into bankruptcy and disrepair under Gordon's care.
In June 2021, Judge Renn ruled that neither Gordon nor his trust could own the property, because neither could obtain the proper state licensing needed to run a cemetery. At the time, a separate court order required the trust to sell the property to a qualified buyer within 60 days — a deadline which was extended multiple times over the past year.
The principal place of business is listed as an address in Maryland and the company's president is listed as John L. Yeatman at the same address. Guy Saxton, of a Pennsylvania address, is listed as the secretary. No contact information is listed. While their addresses may be out-of-state, further data from the secretary of state's office shows that Yeatman and Saxton own other funeral businesses in Southern Oregon.
The pair are listed with the same titles for the O'Hair & Ward's Funeral Chapel in downtown Klamath Falls and the Litwiller-Simonsen Funeral Home in Ashland.
The February 15 U.S. Drought Monitor map continues to place the entire Klamath Basin in some form of drought and remains largely unchanged since last month's update.
Much of the Upper Klamath Lake watershed remains in D4 (exceptional) drought, while the Lost River Subbasin remains in D3 (extreme) drought. An area of D3 on the northwest flank of the Upper Basin has expanded. The Lower Klamath Basin remains in a mix of D2, D1 (moderate) and D0 (abnormally dry) drought, with the lowest-intensity drought occurring along the coast and the lowest reaches of the Klamath River. An area of D3 still exists near the Trinity Alps, and D2 has expanded into eastern Del Norte County.
Precipitation across the Klamath Basin has essentially flat-lined since the beginning of January. As of February 16, the basin has received, on average, 17.3 inches of precipitation since October 1, 2021. That's 79% of the median amount of precipitation accumulated by this time in the water year over the period of record, a decline from last month's near-normal conditions.
Precipitation accumulation in the Klamath still sits above what it was at this time during the 2020 water year but has begun to dip below 2021 levels.
Karen Spencer, manager of Collier Memorial State Park, grew up visiting the locally beloved recreation area situated in a lush forest where crystal-clear Spring Creek empties into the Williamson River.
The Two Four Two Fire, which started just upriver on Labor Day of 2020, ripped through the park and closed it to most visitors for months. Collier staff have been working over the past year with state agencies, private contractors and the Klamath Tribes to salvage dead trees, replant ground vegetation and protect cultural resources.
The Collier Logging Museum and the Williamson River and Spring Creek day use areas have since reopened, and Spencer said the park plans to have its campground up and running by the beginning of July. All that's left to do in the short-term is clean up fire debris at the campground and to repave the roads and trails it damaged, she said.
Longtime parkgoers eager to return to Collier will encounter an ecosystem wildly altered. But Spencer said it's on the come-up: Stands of dense trees have become meadows, emerging in the spring with berries, wild rye and small conifers planted by volunteers last October.
COUNTRY Financial announced Lost River Junior and Senior High School as a recipient of an Operation Helping Heroes award.
Representative Gary Cheyne presented a $1,000 donation to Principal Jamie Ongman last month as part of the award. Cheyne was able to provide the gift through a COUNTRY Financial program called Operation Helping Heroes. The funds will be used to purchase a poster printer, which will assist art students as well as be used to create promotional materials for school activities.
Cheyne felt connected to LRHS, because many his clients attended the school or have students enrolled there. Additionally, his assistant Kathy Neese is a LRHS graduate. In addition to the donation, Cheyne and his team brought pizza and delivered survival kits and other surprises to show their appreciation. COUNTRY Financial has donated more than $4 million since 2020.
The Operation Helping Heroes program was created in 2015 to support nonprofit events and programs that benefit active-duty service members, veterans and their families. Later, the program expanded to include first responders and teachers.
Public Health officials are urging local parents and guardians to have their children vaccinated for COVID-19 as cases of the disease are prevalent among area youth.
Between Jan. 28 and Feb. 5, health officials are reporting that at least 58 Josephine County residents under age 11 tested positive for COVID-19, including two children less than a year old.
For residents age 19 and younger, COVID-19 cases reached a high of 254 for the week of Jan. 16-22, up from 21 during the week of Nov. 21-27, 2021.
All people in Oregon age 5 and older are eligible for a free COVID-19 vaccine. Those 12 and older are eligible for boosters five months after an mRNA vaccine (Pfizer or Moderna) or two months after the Johnson & Johnson vaccine.
COVID-19 ranks as one of the top 10 causes of death for children ages 5-11, according to the Centers for Disease Control and Prevention.
Oregon Lawmakers Have Two Weeks Left – GOP continues to push back on legislation mandating overtime pay for agricultural workers
The clock is ticking for Oregon lawmakers to get bills past the finish line with just over two weeks left in the 35-day short session. This week, many bills cleared their first chamber vote, with legislation related to voting rights, housing, worker compensation, and wildfires moving forward.
The legislature also saw familiar tactics between Republicans and Democrats as the GOP continued to push back on legislation mandating overtime pay for agricultural workers. The House bill to give farmworkers overtime pay is this session's most controversial bill.
Lawmakers voted along party lines Monday to move the bill out of committee. It will soon go to the House floor for a vote, after a brief pit stop in the House Revenue Committee. Republicans continue to push back against the bill, saying giving employees overtime pay could further burden farm owners.
And, in protest this week, Republicans brought back a tactic they've used in previous sessions — a quirk in the Oregon constitution that requires all bills be read in their entirety before any floor votes.
Oregon and Washington Lawmakers Discuss Replacing Interstate Bridge
There's been talk of replacing the Interstate Bridge for years, but previous attempts between Oregon and Washington failed. The Interstate 5 crossing over the Columbia River turned 105 years old last week.
In the last few years, there's been a renewed effort to move forward on a replacement for the bridge that provides a critical connection between our two states.
Washington Gov. Jay Inslee signed 28 bills into law Wednesday morning, including a measure that would revive plans to replace the aging Interstate 5 bridge over the Columbia River.
The new law calls for an inventory by the Washington State Department of Transportation of all previous work toward a bridge replacement. That inventory will be due back to the state Legislature in December.
"We see that inventory as really informing our work going forward," said state Sen. Annette Cleveland, D-Vancouver, who sponsored Senate Bill 5806.
It also sends a message that Washington is ready to restart the process, which in the past has turned divisive.
"We recognize that there are other needs and challenges that must also be discussed and met," said Cleveland. "But I think it's monumental that we were able to agree that we need to find a solution first and foremost for replacing that I-5 bridge."
Disputes over public transportation across the bridge soured the failed Columbia River Crossing project between Oregon and Washington four years ago.
"We still have a lot of work to do," said Cleveland. "We intend to spend the summer reaching out and looking at where there is agreement."
And while Washingtonians celebrated the new measure, Oregon lawmakers sent a more muted response.
The I-5 bridge was not included as a potential project in the $8.2 billion transportation package proposal unveiled this week in Salem.
In Washington, a $16 billion infrastructure package for the whole state is now slated to include $1 billion for the Interstate Bridge.
Excessive Electricity Use Triggered Transformer Explosions That Tipped Off Oregon Police to Cannabis Ring
The U.S. Attorney's Office for Oregon announced Friday the indictment of Fayao "Paul" Rong, a 51-year-old Houston man, on two counts of conspiracy to manufacture and possess cannabis with intent to distribute.
The enormous amount of electricity used by Rong's indoor cannabis grows tipped off Oregon State Police.
"The Rong organization takedown followed a 14-month investigation by [Oregon State Police] initiated after the agency learned of excessive electricity use at the various properties, which, in several instances, resulted in transformer explosions," the U.S. Attorney's Office said in a statement. "Investigators believe that, in a 12-month period beginning August 2020, Rong trafficked more than $13.2 million in black market marijuana."
Federal prosecutors allege Rong purchased "numerous" houses in Oregon, which he converted into indoor cannabis grow operations, and led an organization that grew, harvested and transported cannabis to states where its possession is not legal. (Prosecutors did not specify which states, or how many, they believe Rong shipped the cannabis to.)
During a raid in September led by Oregon State Police's Northwest Region Marijuana Team and the U.S. Drug Enforcement Administration, law enforcement executed search warrants on 25 Oregon residences, as well as Rong's home in Houston. During the investigation, prosecutors allege, they seized more than 33,000 plants, 1,800 pounds of packaged cannabis and nearly $600,000 in cash.
Federal prosecutors in Oregon have asked the court to seize 16 properties worth approximately $6.5 million where they believe drug ring grew cannabis.
Law enforcement arrested Rong in Houston. Following his Feb. 18 appearance in Texas federal court, the judge ordered Rong released from custody pending his appearance in Oregon District Court. He faces life in prison if convicted.
More than a dozen law enforcement agencies—local, state and federal—assisted: the Portland Police Bureau, the Oregon Department of Justice, the Central Oregon Drug Enforcement Team, sheriff's offices in Multnomah, Linn, Polk, Marion, Clatsop and Yamhill counties, as well as the FBI, the U.S. Marshals Service and the U.S. Immigration and Customs Enforcement's Homeland Security Investigations unit.
Lawmakers Considering Plan To Give $600 Stimulus Checks To Oregon Families
Oregon Democrats reintroduced a bill that would provide a one-time payment of $600 to low-income workers across the state. The bill which is yet to be passed will focus on 260,000 persons who applied for earned income tax credits on their 2020 tax returns.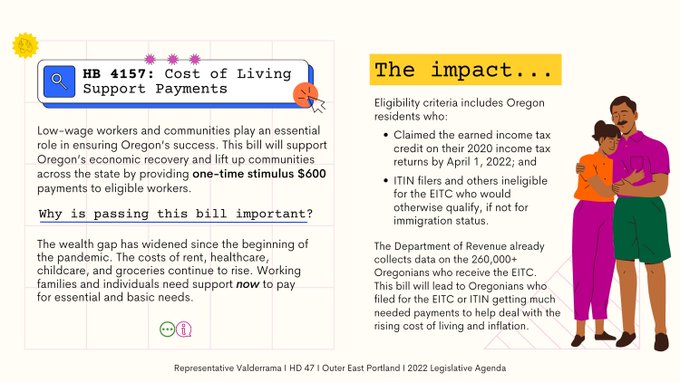 The proposed bill would take the place of a different plan introduced earlier this session that would have provided workers with payouts of up to $1,000. Now the one-time payments have been brought down to $600 that's now estimated to cost the state $180 million.
Rep. Andrea Valderrama, who introduced the new plan said that the original bill was dropped because forcing workers to apply for the money may cause payments to be delayed until 2023 or 2024.
"We know that working and low-wage families need this funding now. We know the cost of living is sky-high, the revenue forecast (last week) told us that. Workers need to be able to afford the rising cost of groceries, prescriptions, childcare, and all of those things. Residents who file taxes with an individual taxpayer identification number (ITIN), and without a Social Security number, would also qualify for a payment".
Under the new proposal, as long as they applied for the earned income tax credit on their 2020 state filing, taxpayers would receive a check.
Oregon Seafood Processors To Receive Federal Funds To Help With Pandemic Expenses
Seafood processors in Oregon will soon receive more than $1.5 million in federal funding. The money will go to pay for expenses incurred during the COVID-19 pandemic.
The money is an important step in reimbursing the many costs associated with the pandemic, according to Lori Steele with the West Coast Seafood Processors Association.
"Expenses like equipment, PPE, COVID-19 testing, quarantining, retrofitting the processing facilities," Steele says. "So the expenses were on the order of millions of dollars."
The money was secured by U.S. Senators Jeff Merkley and Ron Wyden. It's part of a larger investment by the US Department of Agriculture.
Approximately $50 million is going to 24 different states to support the seafood industry. In Oregon, the money will be distributed by the state's agriculture department.
In Southern Oregon, processors are located in Brookings, Coos Bay and Charleston. California and Washington also received funding from the USDA.

The Oregon Racing Commission voted to deny The Flying Lark's applications for gaming machines on Thursday afternoon, despite commissioners unanimously noting that they disagreed with a recent Department of Justice opinion that the gambling venture violated Oregon's constitution.
Meeting in executive session, the ORC said that they felt bound to abide by the DOJ opinion despite their individual disagreements. The DOJ's opinion was backed by a letter from Governor Kate Brown on Wednesday — addressed to each of the commissioners and letting them know, in no uncertain terms, that they should follow state's legal counsel or get out of the way.
Dutch Bros co-founder Travis Boersma, the backer behind The Flying Lark, said during public comments on the session that the DOJ opinion was "deeply flawed." Boersma indicated that he would lay off 200 employees at the end of this month due to the decision.
Regardless, he said that he'll personally fund horse racing at Grants Pass Downs for the next three seasons.
On Thursday, February 17, 2022 at approximately 11:45 AM, Oregon State Police Troopers and emergency personnel responded to a vehicle versus motorcycle crash on Highway 66 near milepost 2.
Preliminary investigation revealed an eastbound Chevy Equinox, operated by Taylor Emily Cranfield (25) of Seattle, WA, was turning left into a driveway, located near the crest of a hill. A Yamaha FSZ motorcycle, operated by Madrik Pergin Heatherstone (36) of Ashland, was traveling westbound and collided with the right front of the Chevy. Speed is being investigated as a contributing factor.
Madrik Pergin Heatherstone sustained fatal injuries and was pronounced deceased.
Cranfield was not injured. Hwy 66 as closed for approximately 2 hours.
Animal Crossings Being Considered for Southern Oregon's I-5 Corridor
The Southern Oregon Wildlife Crossing Coalition is hoping to conduct a feasibility study to determine the best locations to build bridges or tunnels for wildlife crossings.
"Depending on the types of species that you're trying to get across the road, these can be as complex as a large, naturally planted bridge, or as simple as a small steel or concrete culvert going under the road," says Rachel Wheat with the Oregon Department of Fish and Wildlife. She says while drivers kill animals regularly, roadways like I-5 disrupt the ecosystem in bigger ways.
"These transportation corridors fragment wildlife habitat and makes them difficult to access the places that they need to fulfill their basic life history" Wheat says. "To access food and shelter and opportunities to reproduce and raise young."
There are many places in Southern Oregon between Ashland and the California border where there are increased animal-vehicle collisions.
"We are looking at seven sites," says Amy Amrhein, the volunteer coordinator with the Southern Oregon Wildlife Crossing Coalition. "They don't all have to be big. Some of them can be small. Neil Creek is a fish passage. So again, there are all kinds of different animals that we are looking at and want to help cross."
The creation of wildlife crossings is dependent on the passage of HB 4130 by the Oregon legislature. The bill would allocate $7 million to wildlife-friendly infrastructure projects.
Medford Man Died in Snowmobile Crash at Diamond Lake
A Douglas County Sheriff's Office report said at about 7:45 a.m. 65-year old Donald Webster was riding a rented snowmobile leading other members of his party. Webster's snowmobile went off the trail into a group of trees on a sharp corner at high speeds.
The victim was declared deceased at the scene by first responders. Webster was wearing a helmet at the time of the crash and was the only occupant of the snowmobile.
Josephine County Sherriff's Office — URGENT- MISSING AS OF 2/3/2022
After leaving Patty's l Restaurant in Gold Hill, 80 year old Donald Stockwell was supposed to return to his home in Grants Pass, but he never arrived at his destination.
Family members suspect that Donald may have been exhibiting confusion and memory loss recently, which often go hand in hand with things like dementia.
Donald was last seen driving a white four-door GMC crew cab, Oregon license plate # 851LVC. He is 6'0″ tall, weighs approximately 240 pounds, and has grey hair and a full beard. If you have seen Donald or his vehicle since February 3rd, please call the Josephine County Sheriff's Office at 541-474-5123