The latest and most comprehensive coverage of local News, Sports, Business, and Community News stories in the Klamath Basin, Southern Oregon and around the state of Oregon from Wynne Broadcasting's KFLS News/Talk 1450AM / 102.5FM, The Herald & News, and BasinLife.com, and powered by Mick Insurance, your local health and Medicare agents.
Tuesday, September 21, 2021
Klamath Basin Weather
Today Sunny, with a high near 84. Northeast wind 5 to 7 mph. Overnight, mostly cloudy with a low around 46.
Wednesday Mostly sunny, with a high near 78.
Thursday Sunny, with a high near 81.
Friday Sunny, with a high near 87
Saturday Sunny, with a high near 85.
Today's Headlines
The Klamath County School District Board of Directors will send a second resolution to Gov. Kate Brown urging the state to change COVID-19 requirements to recommendations and allow the district to work directly with Klamath County Public Health to determine the appropriate mitigation strategies for its schools.
The resolution, which is similar to a resolution approved and sent to the state on Aug. 19, reiterates the need for local control to best educate students throughout the geographically and culturally diverse county school district. It will be sent to the governor, the Oregon Department of Education, and the Oregon Health Authority.
KCSD board member Marc Staunton, who represents the south county, brought up the need to continue to push against state mandates.
Board members John Rademacher, Steve Lowell and Jill O'Donnell also expressed support, and the board unanimously approved the updated resolution at its Aug. 16 meeting.
After the first resolution was sent to the state, KCSD Superintendent Glen Szymoniak was one of two superintendents invited to a meeting with Oregon Department of Education leaders to talk about local control mitigation strategies. Though that meeting did not result in any immediate action, it is a good sign that the state is discussing the needs of local school districts, Szymoniak said.
South Central Oregon Fire Management Partnership is moving to Industrial Fire Precaution Level III effective this morning.
Fire Danger remains "Extreme" and Public Use Restrictions and Regulated Use Closures are still in effect. Commercial woodcutters and other members of industry are reminded of their responsibility to stay informed of current IFPLs and all restrictions that apply to activities conducted on public lands. Failure to comply with precautionary fire requirements may result in the issuance of a Violation Notice.
Despite recent rains, fuels are still extremely dry and can carry fire quickly. Fire restrictions are still in place on federal, state and private wildlands in Klamath and Lake counties. All open fires, campfires, and charcoal use are prohibited, restricting smoking to enclosed vehicles only, and prohibiting motor vehicle use except on designated roads and trails.
There are 25 new COVID-19 related deaths in Oregon, raising the state's death toll to 3,594. Oregon Health Authority reported 3,359 new confirmed and presumptive cases of COVID-19 as of yesterday bringing the state total to 313,161.
The new confirmed and presumptive COVID-19 cases reported today are in the following counties: Baker (26), Benton (74), Clackamas (258), Clatsop (15), Columbia (40), Coos (59), Crook (3), Curry (5), Deschutes (225), Douglas (115), Gilliam (1), Grant (3), Harney (18), Hood River (15), Jackson (226), Jefferson (32), Josephine (127), Klamath (56), Lake (16), Lane (363), Lincoln (35), Linn (171), Malheur (38), Marion (398), Morrow (14), Multnomah (413), Polk (55), Tillamook (19), Umatilla (49), Union (67), Wallowa (7), Wasco (23), Washington (313) and Yamhill (80).
The number of hospitalized patients with COVID-19 across Oregon is 968, which is one fewer than yesterday. There are 278 COVID-19 patients in intensive care unit beds, which is one more than yesterday. 25 new deaths and 3,349 new cases reported today include data recorded by counties for the 3-day period between Friday, Sept. 17 and Sunday, Sept. 19.
In the summer of 2020, after racial justice protests roiled Klamath Falls and many other American cities, the Klamath Falls City Council created a task force to examine local issues of racial and social fairness and advise city government on ways to make the city more equitable.
Last week, the mayor and city council decided not to continue the group. The city's former liaison to the task force – former assistant to the city manager Eric Osterberg – has criticized the decision, saying failing to continue the task force's work will make it harder to make needed changes in Klamath Falls.
Osterberg, who is Black, is calling out the move by the council and mayor to not form a permanent equity committee. Osterberg took a job as city manager in Ferguson, Missouri last month. He said one of the last tasks he completed before departing his role at the city was conducting a community survey about broad perceptions of the community and status of parks and recreation.
Through the survey, Osterberg learned that 40 to 45% of people who participated in the survey indicated that they don't feel welcome in Klamath Falls.
COUGAR PEAK FIRE UPDATE

Lakeview Ore. – The precipitation from past days and cooler weather have helped firefighters make great strides toward containment of the Cougar Peak Fire. Resources continue to mop-up as large fuels across the fire area continue to smolder and put-up smoke. Suppression repairs to dozer line berms and backhaul of equipment has started in contained areas across the fire.
Yesterday, crews worked to finish line construction on the south-western side and continued mop-up. Along the western edge fire, managers continue to assess options for line and mop-up along the 3910 road. There is still a fair amount of heat in the area and as the humidity continues to drop, and temperatures rise, expect to see more smoke. Firefighters will continue to spend a considerable amount of effort along the western edge.
On the north end of the fire, along the sage and grasslands where access by vehicle is difficult, fire crews walked and cold trailed the line. Very little heat was found. Along the eastern edge down to the southeast corner, mop-up and suppression repairs continue.
Today, crews continue mop-up and are on the lookout for hot spots. Crews are using extra caution looking for weakened standing or leaning snag trees. Fallers and equipment are cutting down snags and hazard trees close to the roadways and in areas firefighters are working.
Safety is the primary concern on any incident. Resources on the Cougar Peak Fire have done an extraordinary job keeping an exceptional safety record. Thank you to all the firefighters and keep up the good work!
Today's Operational update, by Operations Section Chief Rod Bonacker, can be found on the "Cougar Peak Fire 2021" Facebook page.
Acreage: 91,392
Containment: 49%
Cause: Undetermined
Fire Information: (541) 900-5788 (8:00 am to 8:00 pm)
E-mail: 2021.cougarpeak@firenet.gov
Information websites:
Facebook: "Cougar Peak Fire 2021"
Inciweb: https://inciweb.nwcg.gov/incident/7835/
People wanting to learn more about the complex story of the "prison within a prison" at the Tule Lake National Monument can do so through ranger-led tours.
Visits to the prison were halted while repairs were being made to the 1943 building, one of the few remaining structures from the World War II camp. At its peak, Tule Lake had 18,789 people of Japanese descent, two-thirds of them U.S. citizens, incarcerated at the camp near Newell.
The stockage was built at the Tule Lake Segregation Center in 1944. Ranger-guided tours explain how people from two families, one that was incarcerated at the camp and another of local farmers who lived nearby, were key figures in the prison's history.
Arrangements for ranger-guided tours of the Tule Lake Segregation Camp prison, which must be made at least two weeks in advance, can be made by calling the Tule Lake National Monument office at 530-260-0537 or Angela Sutton at 530-667-8119.
Around the state of Oregon
At Oregon's Capitol hundreds gathered to protest Gov. Kate Brown's COVID-19 vaccine and mask mandates Saturday.
People at the rally lined both sides of Court Street in front of the Capitol building, and filled the first block of the mall during about two hours of speeches, then marched through downtown Salem during the peaceful event.
Protesters identified themselves as health care workers, teachers, emergency services workers and state employees. Gov. Kate Brown has ordered those groups to be vaccinated by Oct. 18. She ordered a statewide outdoor mask mandate on Aug. 24.
The rally was organized by Oregonians for Medical Freedom, a political action committee that works to protect vaccine exemptions. The Oregon Health Authority has reiterated that, even with the arrival of the highly contagious delta variant, the vaccines have continued to prove highly effective in preventing severe COVID-19 illness, hospitalizations and deaths.
Quite a display of protest when an employee of a public school district located southwest of Portland was placed on leave last Friday after showing up to work wearing blackface, according to district officials.
Newberg Public Schools said the employee was removed from school and placed on administrative leave by the district's Human Resources department. The Newberg Graphic reported Monday that the employee was a special education assistant at Mabel Rush Elementary School, who showed up "calling herself Rosa Parks" in protest against the state's vaccine mandate for K-12 school staff.
Over the past several months, Newberg Public Schools has become a flashpoint for culture war issues in Oregon. In August, the school board narrowly voted to ban "political symbols," including Black Lives Matter and Pride flags, which received condemnation from the Oregon State Board of Education.
In 2021, approximately 800,000 acres have burned across Oregon. In 2020, we watched as a million acres burned within just one week. While the weekend rain was welcome, we need more soaking days and nights to put an end to this year's fire danger.
New significant fire potential will be low today and through much of the workweek due to the wet weather received over the weekend. Fire danger will rise a bit during the week but no critical weather patterns are expected.
Despite recent rains, fuels are still extremely dry and can carry fire quickly. Fire restrictions are still in place on federal, state and private wildlands in Klamath and Lake counties. All open fires, campfires, and charcoal use are prohibited, restricting smoking to enclosed vehicles only, and prohibiting motor vehicle use except on designated roads and trails.
Cougar Peak Fire is 90,784 acres and 49% contained. There are now 13 active uncontained fires and complexes in the Pacific Northwest — 6 in Washington and 7 in Oregon.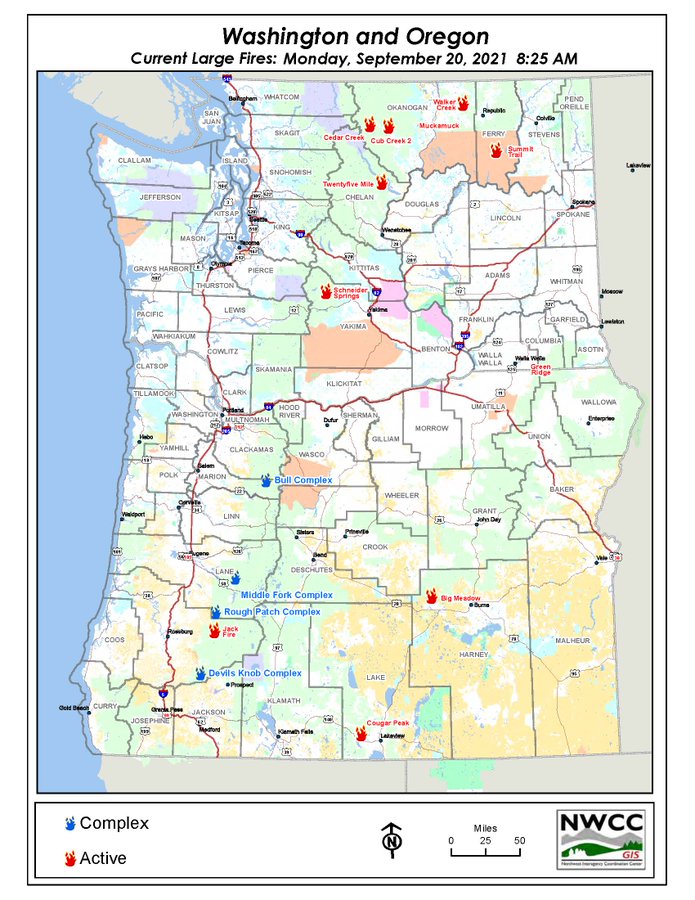 South Central Oregon Fire Management Partnership is moving to Industrial Fire Precaution Level III effective this morning. Fire Danger remains "Extreme" and Public Use Restrictions and Regulated Use Closures are still in effect. Commercial woodcutters and other members of industry are reminded of their responsibility to stay informed of current IFPLs and all restrictions that apply to activities conducted on public lands. Failure to comply with precautionary fire requirements may result in the issuance of a Violation Notice.
Oregon Shakespeare Festival Struggling Financially Amid COVID Restrictions
After being closed for more than 15 months, the Oregon Shakespeare Festival restarted performances in early July but it's still struggling to recover amid COVID restrictions drastically limiting their productions.
COVID guidelines are the biggest limiting factor for OSF that they have to follow with actors and staff being confined to a single pod or group. That factor has cut down the number of different shows OSF can run at one time from their usual average of five to currently just one.
"The safety protocols that we have to follow backstage literally means that we cannot do what we normally do," OSF Executive Director David Schmitz said. "Because normally what happens is an actor is involved in multiple shows and multiples casts. And even the backstage of our stage is interconnected so we literally could not operate."
Because of COVID restrictions, OSF can only run one show at a time, whereas during a normal season they would be running an average of five different shows at once.
Schmitz said OSF's one show currently running, The Music and Life of Fannie Lou Hamer, is only bringing in about 15 percent of the revenue a single show would bring in during a non-pandemic production. Two factors leading to that decline are OSF's limit of 50-percent capacity and most of their shows being cancelled this summer because of bad air quality.
According to OSF's recent financial study, in 2019 the festival had an economic impact of $120 million. The Oregon Shakespeare Festival attracts around 120,000 tourists to Ashland during an average 8-month season, which is more than a third of the city's total visitors each year.
By the time it reopened this July, there were no statewide capacity limits in place. But OSF has instituted its own limit of 50-percent capacity at its outdoor Allen Elizabethan Theatre. It's also requiring proof of vaccination or a recent negative COVID test for audience members and requires them to wear a mask during the entire performance.
Schmitz said the reaction to their COVID guidelines has been overwhelmingly positive.
"We've gotten a lot of phone calls from folks thanking us for taking their safety very seriously," Schmitz said. "It's a distinct minority of folks that have decided that they are not willing to do a COVID test or get a shot or wear a mask. It's really quite a small minority."
After the showing of Fannie, OSF will have the first holiday-themed production in its history, which will be a comedy called It's Christmas, Carol! This will be the first time OSF has productions during the winter season because of the schedule change caused by the pandemic.
Schmitz said OSF hopes to get back to their usual production schedule of five different shows running at once by this coming spring.
On September 2, 2021, Sr. Trooper Baimbridge responded to a report of a dead bull elk in the 2800 Block of Mehl Creek Road, Elkton, Oregon. The bull had the head removed and the meat removed.
The elk had been shot by a rifle during the bow season. The investigation revealed that Jase Billman (20) shot the bull from the roadway with a .270 caliber rifle then enlisted the help of 3 friends and family to pack it out. Jase was issued a citation for Unlawful Take of Bull Elk and his rifle was seized along with the antlers and meat from the bull. The meat was able to be salvaged. Two other individuals were issued citations for Aiding in a Wildlife Offense.
Deer Creek, near LaPine, has run dry after several illegal marijuana grows cropped up in the neighborhood last spring, stealing water from both the stream and nearby aquifers and throwing farmer's future in doubt.
An illegal marijuana grow near Bonanza and yet another near Malin both used illegally obtained free water. From dusty towns to forests in the U.S. West, illegal marijuana growers are taking water in uncontrolled amounts when there often isn't enough to go around for even licensed users. Conflicts about water have long existed, but illegal marijuana farms — which proliferate despite legalization in many Western states — are adding strain during a severe drought.
Some jurisdictions are fighting back. California's Siskiyou County Board of Supervisors in May banned trucks carrying 100 gallons or more of water from using roads leading to arid tracts where some 2,000 illegal marijuana grows were purportedly using millions of gallons of water daily. Marijuana has been grown for decades in southern Oregon, but the recent explosion of huge illegal grows has shocked residents.
Campfire Restrictions Reduced on Wild Portion of Lower Rogue River Beginning September 21
SW Oregon—Thanks to widespread rain over the weekend, officials with the Bureau of Land Management Medford District, Rogue River-Siskiyou National Forest and Oregon Department of Forestry Southwest Oregon District are decreasing fire restrictions on those lands located within the boundaries of the Wild section of the Rogue National Wild and Scenic River. Campfires are still prohibited at this time; however, charcoal briquettes can be used within a fire pan. The Wild section flows from Grave Creek to the mouth of Watson Creek.
Effective 12:01 a.m. on Tuesday, September 21, 2021, Stage 2 Fire restrictions include:
Campfires, including stove fires and warming fires are prohibited. Portable cooking stoves using commercially produced pressurized liquid or gas may be used. Cooking areas must be naturally free of vegetation.
Charcoal briquettes can be used within a raised fire pan or similar device that will contain fire and ashes only on areas free of vegetation that lie between water and high water mark. Ashes must be hauled out.
As a preventative measure, travelers are required to carry one shovel and a bucket.
Smoking will be prohibited, except in boats on the water and on sand and gravel bars between the river and the high water mark that are free of vegetation.
The BLM administers the stretch of the river between Grave Creek and Marial, which is protected from fire by ODF Southwest. The Forest Service manages from Marial and downriver to the mouth of Watson Creek.
The RRSNF website has more information and the full Order at: https://www.fs.usda.gov/alerts/rogue-siskiyou/alerts-notices
Interested in more information regarding fire safety notifications and regulations on public lands in southwest Oregon? Helpful sites include:
Discounted or Free Phone or High-Speed Internet Service For Eligible Oregonians –
National Lifeline Awareness Week runs September 20-24, 2021
In celebration of National Lifeline Awareness Week, the Oregon Public Utility Commission is reminding Oregonians about Lifeline, a federal and state government program that provides discounted or free phone or high-speed internet service to qualifying low-income households.
Oregon Lifeline is currently offering a monthly discount up to $15.25 for phone service or $19.25 per month for high-speed internet service through participating service providers. Lifeline also offers free wireless voice minutes and data service from Access Wireless, Assurance Wireless, or enTouch Wireless. Oregon residents on federally-recognized Tribal lands may qualify for an additional $25 discount each month.
"We want to encourage all eligible Oregonians to take advantage of Oregon Lifeline services," said Megan Decker, PUC Chair. "This program helps eligible residents stay connected and provides access to local emergency services, healthcare, jobs, education, and other important resources."
Oregonians receiving benefits from select public assistance programs such as Medicaid or the Supplemental Nutrition Assistance Program (SNAP) may qualify for Oregon Lifeline, which is limited to one person per household for either the discounted or free service.
For additional information about the Oregon Lifeline program, call 1-800-848-4442, weekdays between 9 a.m. and 4 p.m., or view details online at: https://www.oregon.gov/puc/Pages/Oregon-Lifeline.aspx.
The Oregon Public Utility Commission (PUC) regulates customer rates and services of the state's investor-owned electric, natural gas and telephone utilities, as well as select water companies. The PUC mission is to ensure Oregon utility customers have access to safe, reliable, and high quality utility services at just and reasonable rates, which is accomplished through thorough analysis and independent decision-making conducted in an open and fair process. Oregon Public Utility Commission
Open enrollment for 2022 health coverage extended: Nov. 1 to Jan. 15
(Salem) – On Friday, the federal government announced the extension of the annual open enrollment period to purchase private health insurance for the 2022 plan year from Nov. 1 to Jan. 15.
Along with the extension, Oregonians will have the opportunity to access the most amount of financial savings that have ever been available through the Oregon Health Insurance Marketplace due to the American Rescue Plan.
The American Rescue Plan initiated additional savings by removing the upper income limit to qualify for financial assistance, and also decreased the amount of premium that consumers are responsible to pay before tax credits are available.
More than 80 percent of Oregonians have been determined to be eligible for financial help through the Marketplace since April 1 when American Rescue Plan provisions took effect.
Oregonians are receiving an average of $437 per month in premium tax credits to reduce their monthly premium under the expanded eligibility.
The Oregon Health Insurance Marketplace offers a quick snapshot of the plans and savings to eligible Oregonians. The tool, available at OregonHealthCare.gov/WindowShop, has been updated to correctly calculate additional savings now available to people shopping through the Marketplace. The window shopping tool will be enhanced again this Fall to allow Oregonians to determine if their preferred providers are covered by each plan. Oregonians will also be able to see if their prescription drugs are covered and what the estimated costs will be for prescriptions on each plan. Enhancements will be live in the tool in October.
Still need health coverage for 2021? You may be able to enroll under a special enrollment period. Start at OregonHealthCare.gov to get to the right application or to find an insurance agent or community partner organization to help complete the application and enroll. Insurance agents and community partners provide local, one-on-one assistance at no charge. This help is available virtually, on the phone, and in person following safety protocols.
The Oregon Health Insurance Marketplace, a part of state government, helps people get health insurance when they do not have job-based coverage, and do not qualify for the Oregon Health Plan or another program. The Marketplace is the state-level partner to HealthCare.gov. For more information, go to OregonHealthCare.gov.
DAS Publishes Annual Maximum Rent Increase for 2022
Salem, OR – The Oregon Department of Administrative Services last week published the annual maximum rent increase allowed by statute for calendar year 2022. The DAS Office of Economic Analysis has calculated the maximum percentage as 9.9%.
Following the passage of SB 608 in the 2019 legislative session, Oregon law requires DAS to calculate and post to its website, by September 30 of each year, the maximum annual rent increase percentage allowed by statute for the following calendar year. Per statute, OEA calculates this amount as 7% plus the Consumer Price Index for All Urban Consumers, West Region (All Items), as most recently published by the Bureau of Labor Statistics.
The allowable rent increase percentage for the 2022 calendar year is 9.9%. DAS will calculate and post the percentage for the 2023 calendar year by Sept. 30, 2022.
Information about the maximum annual rent increase percentage, as well as the provisions of ORS 90.323 and 90.600 (statutes governing rent increases), can be found on the OEA website.
For information on the new law, please see the full text of SB 608 at the link below. DAS does not provide legal advice regarding other provisions of SB 608.
Links:
Oregon Jobs Information Shifting Due to Pandemic
Oregon employers have been struggling to find workers all year due to the pandemic. There are many reasons for the state's labor shortage. Some workers are staying home to care for the kids; some don't want to work because they fear exposure to COVID-19; others don't feel they need to work after pocketing last year's stimulus money; some were still collecting expanded jobless benefits.
Above all, though, there's a simple mismatch between supply and demand. Oregon's job openings have been soaring even as the number of people looking for jobs has fallen.
That means that Oregon's job market is tighter now than it was in the winter of 2020, before the pandemic hit, when the jobless rate was near an all-time low.
The state's employers had nearly 98,000 openings last spring, according to a quarterly survey by the Oregon Employment Department. That's nearly double the number of openings just three months earlier and the highest tally, by far, in the eight years the department has been conducting the survey.
Oregon's jobless rate was in steep decline during the same period, from 10.3% in June 2020 to 5.6% this past June.
The number of job vacancies nearly doubled while the jobless rate fell by nearly half. Last spring, Oregon had 1.3 unemployed people for every open job. That's an extremely tight labor market by historical standards. Over the prior eight years, a stretch that included some of Oregon's strongest job growth on record, the average was 2.6 unemployed people per open job.
Complicating matters, Oregon's job openings aren't distributed equally.
Health care and hospitality had the most openings in the spring of any sectors, according to Anna Johnson with the employment department, each reporting around 20,000. That exacerbated the labor squeeze by amping up competition for workers within those industries.
Oregon's jobless rate continued to fall over the summer, dropping to 4.9% in August, suggesting that the job market remains tight.
Updated job vacancy data won't be available until October, but last month's job figures suggest that health care employment has been flat all year. The job vacancy data tells us that's not because the field has stopped hiring, instead, the issue seems to be that health care employers simply can't fill their open positions with qualified workers.
The job shortages have squeezed all kinds of employers, limiting hospital capacity, prompting restaurants to close early, and constraining electronics production, Oregon's largest export. The upside, for workers, is that the labor squeeze is prompting employers to pay more.
Oregon's average private-sector wage in August was $30.48 an hour, up 10.1% from February 2020, the last month before the pandemic. That's averaged out. Most jobs in Oregon really only pay minimum wage to $15 an hour now as employers have upped starting wages to attract employees.
Median household income ranges from a high of $82,819 in Washington County to a low of $39,579 in Wheeler County. Oregon's urban counties tend to have higher median household incomes than rural counties.
Household income can vary a lot depending on the age, race, and ethnicity of the householder. The location makes a difference too, as median incomes vary a lot by county, and households in urban counties generally have higher incomes than households in rural counties.
UPDATE: Fatal Crash on Hwy 126W Near Walton
On Monday, September 20, 2021 at approximately 7:14 AM, Oregon State Troopers and emergency personnel responded to a four-vehicle crash on Hwy 126W near milepost 37.
Preliminary investigation revealed a Kenworth log truck, operated by Shane McVay (64) of Eugene, was eastbound when the loaded trailer tipped over. The trailer struck a westbound Toyota Prius, operated by Sarah Susman (25) of Springfield and a Dodge Ram towing a boat, operated by Randall Tokich (70) of Eugene. The Dodge Ram then struck an eastbound Ford Mustang, operated by Jordyn Tippett (20) of Coquille.
Susman sustained fatal injuries and was pronounced deceased. McVay and Tippett were transported to Sacred Heart Medical Center at Riverbend with injuries. Tokich had minor injuries.
Hwy 126W is still currently closed. OSP was assisted by Lane County Sheriff's Office and ODOT. Oregon State Police
Police Seeking Help to Find Albany Home Invader That Sexually Assaulted 2 Children
Police are looking for a man who broke into an Albany home early Monday morning and sexually assaulted two children.
Just after 4 a.m., according to officials, a stepmother returned to her home on SE Jackson Street and found the front door open. Inside, she found the other parent asleep and heard noises coming from the children's bedroom.
When she checked on them, she found a man sexually assaulting them. The invader reportedly pushed past the woman and ran from the home.
Police said the suspect has been described as white, about 5 feet 7 inches tall and having short blonde hair. He is reportedly in his late 20s to 30s and was wearing a blue shirt and black sweatpants.
The woman told police she didn't recognize the man and police were unable to locate him. Police said the victims were taken to Samaritan Albany General Hospital and then to ABC House, a child advocacy center.
If you have any information, contact detectives at 541-917-7686.
Newberg Elementary School Teacher Showed Up To School In Blackface To Protest Vaccine Mandate
An elementary school teacher in Newberg, Oregon, showed up to school in blackface last week and claimed to be portraying Rosa Parks to protest a COVID-19 vaccine mandate, according to the Newberg Graphic.
The state of Oregon imposed a vaccine mandate in August for K-12 teachers, saying they must be fully vaccinated by October 18.
The Newberg School District released a statement on Monday saying the district takes all incidents of racism seriously. The district said the teacher has been placed on administrative leave, though it's unclear from the district's statement if the teacher is being paid while on leave.
"Last Friday, one of our employees reported for work in Blackface. The employee was removed from the location, and HR has placed the employee on administrative leave," according to the statement. "The administration of Newberg Public Schools condemns all expressions of racism."
"The employee was removed from the location, and HR has placed the employee on administrative leave," the statement read. "The administration of Newberg Public Schools condemns all acts of racism."
The blackface incident is a part of a pattern of racist incidents in the school district.
Just last week a group of parents alerted the school district about a group chat that several students were in called "Slave Trade" where students would jokingly bid money on their Black classmates, called for their deaths, and asked for "another Holocaust."
The news of the "Slave Trade" game occurred hours before the Newberg school board went over a new ban on "controversial political symbols" in its schools, including Black Lives Matter and LGBT pride flags.