The latest and most comprehensive coverage of local News, Sports, Business, and Community News stories in the Klamath Basin, Southern Oregon and around the state of Oregon from Wynne Broadcasting's KFLS News/Talk 1450AM / 102.5FM, The Herald & News, and BasinLife.com, and powered by Mick Insurance, your local health and Medicare agents.
Wednesday, July 14, 2021
Klamath Basin Weather

Air Quality Alert
Red Flag Warning until July 14, 08:00PM
Today Patchy smoke, sunny and hot, with a high near 97. Overnight smokey skies with a low around 57. Northwest wind 10 to 15 mph becoming light north northwest after midnight. Winds could gust as high as 23 mph.

Thursday Sunny, with a high near 90.
Friday Sunny, with a high near 86.
Saturday Sunny, with a high near 88.
Today's Headlines
The Bootleg Fire, burning near Bly and Sprague River and now into Lake County, is the nation's largest wildfire.
Around 2 or 3PM yesterday the wind and fire picked up again, moving quickly. It started spreading fiercely to the north and east, as it has been wont to do since it started July 6 on Fuego Mountain. It grew by more than three miles, fueled by extreme drought conditions, single digit humidity and high temperatures. The Bootleg Fire burned another 50,000 acres yesterday. Infrared mapping shows the fire size at 212,377 acres. Containment stands at 5%. There are now 1338 firefighters assigned to this fire.
Inciweb: inciweb.nwcg.gov/incident/7609/
Facebook: www.facebook.com/BootlegFireInfo
The weather forecast shows little signs of relief. The National Weather Service issued a red flag warning through 8:00 p.m. on Wednesday. A heat advisory has also been issued until 8:00 p.m. on Tuesday. Fire managers noted the potential for rapid spread in the coming days.
A new fire started in the Moccasin Hills area yesterday and led to the evacuation of several residents. Local firefighters, both structural and wildland crews, and air support teamed up and quickly suppressed the five-acre fire. On the southern edge of the fire, crews were successful in keeping the main fire out of populated areas. The fire burned mostly toward the southeast yesterday.
Crews built six miles of dozer line toward Obenchain Reservoir. Firefighters continued to connect and improve dozer lines, install hose lays to extinguish hot spots near structures and along the control, and assess and remove fire damaged trees. The fire is impacting a high-voltage transmission line.
Fire officials and representatives with the power companies are working together on plans to safely re-energize the lines as soon as possible. Fire crews on the North Zone of the fire identified and began to suppress three new fires totaling 150 acres in the Summer Lake area. These crews also built dozer line and set up hose lays to keep the fire west of Forest Road 28. On the fire's western flank, crews made good progress in improving dozer line and extinguishing hot spots.
Last night, crews continued preparations for burn-out operations down the western slope of Fuego Mountain. Along the northern flank, crews are scouting new locations for safe, effective primary and secondary containment lines. Yesterday, structural fire crews identified and extinguished spot fires around structures. Firefighters on the northeast side of the fire helped safeguard 11 people when winds pushed the fire toward them. Residents and firefighters retreated into a meadow, a safety zone. Once the fire passed, firefighters returned to the area and continued firefighting around the structures.
These firefighters also assisted residents in two vehicles when they became trapped by the fire and were unable to escape because of downed trees. The firefighters removed the trees from the roadway, allowing the group to safely escape. Other crews extinguished small fires around structures along the fire's south end.
The emergency closure of the Bootleg Fire area on the Fremont-Winema National Forest was expanded for the second time in a week due to increased fire activity and movement.
Additionally, the Lake County Sheriff's Office of Emergency Management has now identified areas for evacuation readiness in western Lake County due to the fire moving towards Lakeview, and is notifying residents and recreating public in the Level 3 area South of the Sycan River, south of Forest Roads 3239 and 28, and the Gearhart Wilderness west of Forest Road 3372 in Lake County.
Level 2 areas include the Sycan Marsh area, Chocktoot Creek Drainage area, west of Forest Road 28 and east of Forest Road 3372, north of Forest Road 34, and through the area that includes Corral Creek Campground and Mitchell Monument.
Level 1 areas include from the northeast at the Lake County line, through the Yamsay Mountain Recreation Area, extending east to the south of Thompson Reservoir to Winter Rim Recreation Area, then south near the Forest Boundary, then following Chewaucan Road south to Forest Road 34.
The expanded forest closure order is on National Forest System lands south of Silver Lake Road between U.S. Highway 97 and Oregon State Highway 31; west of Oregon State Highway 31 and U.S. Highway 395; north of the Oregon-California Stateline; northeast of Willow Valley Road, Langell Valley Road, Bly Mountain Cutoff Road, Oregon State Highway 140 and Sprague River Road to U.S. Highway 97; and east of U.S. Highway 97 between Chiloquin and Silver Lake Road. Residents and Forest visitors are asked to avoid the fire area and related roads while suppression activities continue.
Anyone driving in the area should watch for increased traffic and vehicles associated with wildland firefighting. Violations of the closure order are punishable by a fine of not more than $5,000 for an individual or $10,000 for an organization, or imprisonment of not more than 6 months or both.
A single-story house caught fire Tuesday afternoon in downtown Klamath Falls, and was seriously damaged. No one was injured in the fire.
The fire's cause is still under investigation but was "looking like an accidental fire," said Chad Tramp, the fire marshal for Klamath County Fire District 1. The house, 2046 Reclamation Avenue, faces an unnamed alley near the intersection of Reclamation Avenue and East Main Street. The structure was "well damaged," Tramp said. At the time of the fire, the occupant wasn't home and wasn't injured.
There are three new COVID-19 related deaths in Oregon, raising the state's death toll to 2,800, the Oregon Health Authority reported at 12:01 today. Oregon Health Authority reported 340 new confirmed and presumptive cases of COVID-19 as of 12:01 a.m. today, bringing the state total to 211,065.
The number of hospitalized patients with COVID-19 across Oregon is 111, which is two more than yesterday. There are 30 COVID-19 patients in intensive care unit (ICU) beds, which is one more than yesterday. Jackson country reported 48 news cases yesterday, Klamath county reported 15 and Lake county reported 4.
Vintage garments will be the focus of a special tour offered this month at the Baldwin Hotel Museum. Dresses, hats and accessories dating from the late 1800s to the mid-1900s will be featured.
The tour will be offered on two consecutive Saturdays, July 17 and 24. The tour will cover all four floors of the hotel. Reservations are required for the hour-long tour. Cost is $5 per person. "The clothing collection at the Baldwin is extensive, but spends most of its time sitting in storage," said Kamela Harrington, a museum attendant who will lead the tours. "This is a rare chance for people to see what fashions were popular in Klamath Falls a century or more ago."
To make a reservation, call the Klamath County Museum at (541) 882-1000.
Around the state of Oregon
Oregon's unemployment rate dropped from 5.8% in May, as revised, to 5.6% in June. Oregon's unemployment rate has gradually declined each month this year, after ending last year at 6.3%.
Meanwhile, the U.S. unemployment rate ticked up from 5.8% in May to 5.9% in June. Despite the recent declines in Oregon's unemployment rate, a large group of the unemployed have had difficulty regaining employment. The number of Oregonians unemployed for 52 weeks or more remains elevated at about 40,000 in June, compared with an average of about 8,000 during the three years prior to the recession.
In Oregon, nonfarm payroll employment grew by 7,500 in June, following monthly gains averaging 10,100 in the prior five months. Monthly gains in June were largest in health care and social assistance (+2,400 jobs); other services (+1,700); transportation, warehousing, and utilities (+1,000); leisure and hospitality (+1,000); and wholesale trade (+800). Only one major industry shed more than 300 jobs in June: construction (-900).
The Tennant Fire in Siskiyou County is now 100 percent contained after burning 10,580 acres. The news reflects exceptional progress made on multiple fires in the area, as fire crews start to wrap up their efforts on fires that once threatened entire communities.
Fire crews are staying around the Tennant Fire to continue patrols, mop up hot spots, and conduct suppression repair in the area for the near future. Also fire crews are buttoning up their efforts on the much larger Lava Fire, with full containment anticipated by the end of the day. Officials say that neither aerial or ground reconnaissance have spotted evidence of fire growth or spotting as crews continue to patrol the fire's perimeter. The Lava Fire currently covers 26,162 acres and is considered 77 percent contained.
Jackson County Fair Opens Today
Rides are all set up and ready to welcome people back to the Jackson County Fair for the first time in two years.
EXPERIENCE THE FAIR – Entertainment all day! Amusement rides, fun games, and your favorite carnival food!
The Jackson County Expo director Helen Funk says they are bringing back old favorites like the "Super Slide" and hoping to create some new favorites as well.
The "Freak Out" is one of the fair newest rides, it was purchased just before the pandemic began and is now ready for the 2021 season. Another new attraction at the fair this year is "Rigs on the Rogue."
"Right here in the valley, we have some of the most different types of vehicles, both big and small, and you can visit them at the, on the floor of the Event Center," Funk said.
Other new events include a farm life petting zoom from Cave Junction and a pirate who is bringing his trained parrot for an educational and entertaining interaction with guests.
People can purchase tickets online in advance or at the gate during the fair. For 25 dollars you can have a week-long season pass. All admission tickets include free access to the live concerts that will be happening throughout the week. The fair begins July 14th and runs through July 18th.
FOR MORE INFO: https://attheexpo.com/
WILDFIRE UPDATES
The Pacific Northwest will stay warm and dry into Wednesday evening with poor to moderate overnight relative humidity recoveries on the east side of the region. A broad upper-level trough will approach on Wednesday, bringing gusty winds through Cascade gaps and across the east side basins Wednesday and Thursday. Low humidity levels will also persist through Thursday afternoon east of the Cascades. The system will reduce temperatures toward seasonal normals into the weekend. No significant precipitation is expected with the system

With fire danger above average in most areas, hot, dry and breezy conditions will maintain the elevated potential for new significant fire development east of the Cascades and in southwestern Oregon. Potential could moderate some toward the end of the week if cooler weather arrives as anticipated.
Overnight west of the Cascades temperatures and humidities improved while the east side of the geographic area continued to experience above-average temperatures accompanied with low relative humidities. Skies were clear away from large fires and winds were light to moderate. Large fires experienced moderate growth. Initial attack activity was light with significant spread on some new incidents.
Air Quality Advisories Due To Wildfire Smoke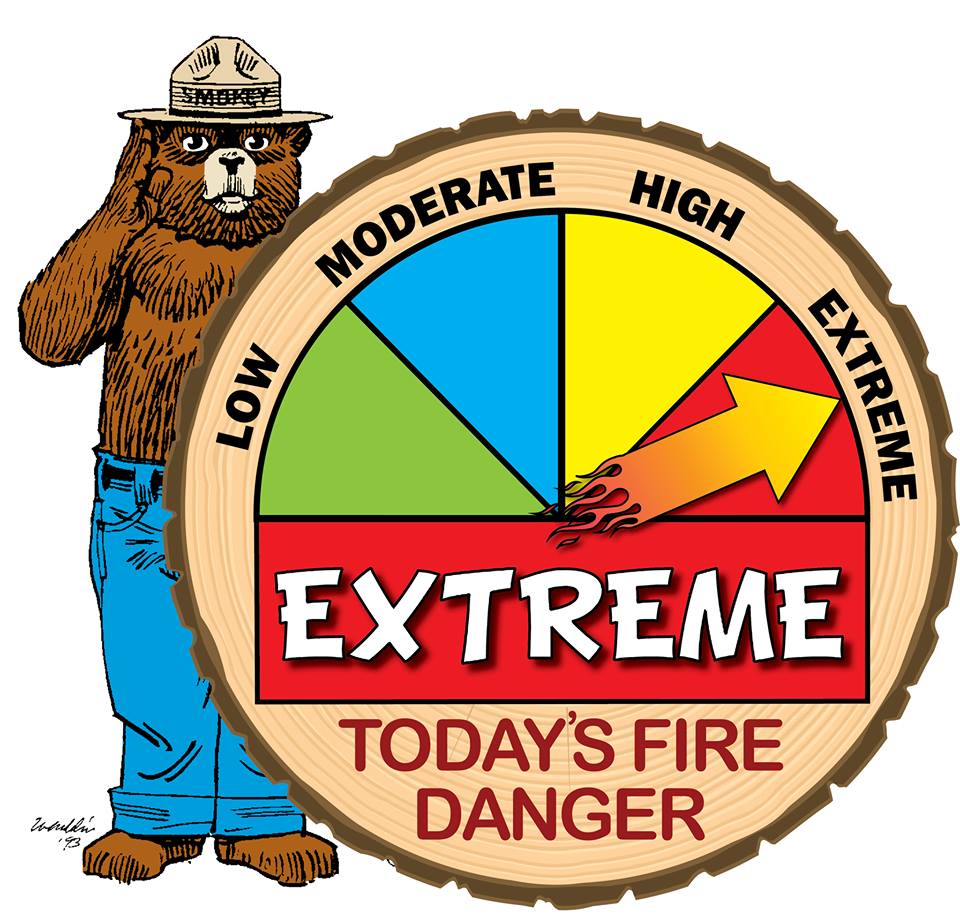 The Oregon Department of Environmental Quality (DEQ) issued an air quality advisory for Jackson County today due to wildfire smoke from the Bootleg Fire in Klamath County and the Jack Fire in Douglas County. DEQ expects the air quality advisory will be in place through Friday.
A press release from Jackson County Public Health noted that wildfire smoke is a complex mixture of air pollutants that are harmful to human health. Exposure to air pollutants in wildfire smoke can irritate the lungs, cause inflammation, alter immune function, and increase susceptibility to respiratory infections. Smoke levels can quickly rise and fall depending on weather factors that include wind direction and how much smoke is produced from the wildfire. Therefore, people need to be observant of the air quality during wildfire season.
Populations known to be vulnerable to wildfire smoke exposures include:
Children less than 18 years;
Adults age 65 years or older;
Pregnant women;
People with chronic health conditions such as heart or lung disease, including asthma and
diabetes;
Outdoor workers;
People of low socioeconomic status, including those who are homeless and with limited access
to medical care.
People who have had COVID-19 and are recovering from the virus.
During a wildfire smoke event, Jackson County Public Health Officials advise people to take the following precautions:
Be aware of smoke concentrations in your area and avoid the places with the highest concentrations.
Avoid strenuous outdoor activity in smoky conditions.
Stay indoors with doors and windows closed. This reduces exposure to particulate matter in the air.
Use air conditioning to keep your home cool if it becomes too warm.
Other sources of particles within the home should be reduced or eliminated: smoking, using gas, woodburning stoves or furnaces, aerosol sprays, frying or broiling meat, burning candles or incense, vacuuming.
High-efficiency particulate air (HEPA) filters and Electro-static precipitator (ESP) filters can help provide protection. The HEPA filters trap or remove harmful particles in the air.
When riding in a car, keep the windows and vents closed; turn the air conditioning on to recirculate.
Drink lots of water – staying hydrated can keep your airways moist, which will help reduce symptoms of respiratory irritation such as scratchy throat, running nose, and coughing.
People exposed to smoky conditions and who suffer from asthma or other respiratory problems should follow their breathing management plans or contact their healthcare providers.
If you must be outdoors when air quality is poor, wearing a special mask called a "particulate respirator" can also help protect your lungs from wildfire smoke. You will want to choose a mask called a "particulate respirator" that has the word NIOSH" and either "N95" or "P100" printed on it. Masks that are not NIOSH-certified may not offer protection from small particulate matter, even if properly worn.
Many people will find it difficult to use particulate respirators. It is important to make sure the respirator fits properly and that air does not leak around the sides. It is impossible to get a good seal on individuals with facial hair. If it does not fit properly, the respirator will not provide full protection and may offer the wearer a false sense of protection. Ashland Smoke Wise has information on how to wear an N95 or P100 particulate respirator properly. These masks are not designed to fit young children. In an occupational setting, particulate respirators require fit testing, ensuring a proper fit.
Particulate respirators can make breathing more difficult and lead to increased breathing rate and heart rate. They can also contribute to heat stress. Because of this, particulate respirators used by those with heart and respiratory diseases should only be done under a doctor's supervision. Even healthy adults may find that the increased effort required for breathing makes it uncomfortable to wear a respirator for more than short periods.
Check DEQ's Air Quality Index (AQI) to see real-time air monitoring data from monitors placed around Oregon. DEQ also has a mobile app for the AQI, search for OregonAir in your app store.
Rogue Valley Sees Increase In Crimes During Summer Months
Jackson County Sheriff's Sergeant Ben Weaver said there's a wide range of calls they get but there's a few they see more often in the summer compared to other months in the year.
The majority of service calls in the Rogue Valley aren't for violent crimes but officers are urging the community to be aware of what crimes are most commonly reported and where those crimes occur so they can stay vigilant.
"We're responding to disorderly conduct calls and domestic assaults, as well as any confrontations on the outlines of the county," said Weaver.
He said oftentimes those can be found at the lake, boat ramps, or any place you might find people recreating. However, confrontational and domestic calls aren't the only calls that see a shift to those locations. Weaver said they often respond to property crimes at these locations as well.
"These crimes are taking place in situations of opportunities and just the circumstances where people are leaving things of value in their cars out in the open," said Weaver.
Oregon Arts Commission partners with The Ford Family Foundation to create a statewide Artist Registry
Ensuring artists' access to funding opportunities and building a case for more artist resources are the goals of a new statewide Artist Registry created by the Oregon Arts Commission in partnership with The Ford Family Foundation.
Professional artists from across Oregon are encouraged to sign up for the registry by completing a brief survey about themselves and their artistic practice. The hope is to reach and connect with as many Oregon artists as possible, including those who haven't previously accessed funding programs.
"We know there are many more working artists throughout the state than we currently have in our database," said Eleanor Sandys, the Arts Commission's Interim Visual Arts Coordinator. "Our hope is to update and expand our artist network so that we can better support the diverse artists in Oregon's many communities."
"We're pleased to continue a longstanding partnership with the Arts Commission to reach and support the growth of the artists of Oregon," said Anne Kubisch, president of The Ford Family Foundation.
Once established, the Artist Registry will allow the Arts Commission and The Ford Family Foundation, as well as other funding partners, to distribute information about upcoming funding opportunities. It also will create more comprehensive data about Oregon artists for planning and advocacy purposes.
While the Artist Registry will remain open, artists are strongly encouraged to sign up by Sept. 30 to establish a base registry.
Oregon Arts Commission
The Oregon Arts Commission provides leadership, funding and arts programs through its grants, special initiatives and services. Nine commissioners, appointed by the Governor, determine arts needs and establish policies for public support of the arts. The Arts Commission became part of Business Oregon (formerly Oregon Economic and Community Development Department) in 1993, in recognition of the expanding role the arts play in the broader social, economic and educational arenas of Oregon communities. In 2003, the Oregon legislature moved the operations of the Oregon Cultural Trust to the Arts Commission, streamlining operations and making use of the Commission's expertise in grantmaking, arts and cultural information and community cultural development.

The Arts Commission is supported with general funds appropriated by the Oregon legislature and with federal funds from the National Endowment for the Arts as well as funds from the Oregon Cultural Trust. More information about the Oregon Arts Commission is available online at: www.oregonartscommission.org.
Transportation Secretary Pete Buttigieg Visits Oregon For An Infrastructure Tour Today
Congressman Peter DeFazio is bringing U.S. Transportation Secretary Pete Buttigieg to Oregon for an infrastructure tour on Wednesday.
DeFazio is the Chair of the House Transportation and Infrastructure Committee.
A release said the two will travel to Corvallis and the Eugene/Springfield area to highlight the benefits that infrastructure investments provide to the economy, job creation, transportation safety and the fight against climate change.
The release said the DeFazio-authored INVEST in America Act will create "…good-paying jobs to rebuild and reimagine America's surface transportation and water infrastructure".
In a statement, DeFazio said the INVEST act would make historic investments in transit and electric buses as well as reduce local air pollution.
Buttigieg and DeFazio will first stop in Corvallis for a road safety event at the South Gate Plaza Crosswalk and then will tour the Lane Transit District's new electric buses in Eugene.