The latest and most comprehensive coverage of local News, Sports, Business, and Community News stories in the Klamath Basin, Southern Oregon and around the state of Oregon from Wynne Broadcasting's KFLS News/Talk 1450AM / 102.5FM, The Herald & News, and BasinLife.com, and powered by Mick Insurance, your local health and Medicare agents.
Wednesday, June 9, 2021
Klamath Basin Weather
Today A 40% chance of showers and thunderstorms after 11am, then partly sunny, with a high near 62. Overnight a chance of showers and thunderstorms, with a low around 39.
Thursday Sunny, with a high near 63.
Friday A 40% chance of rain.
Saturday Mostly sunny, with a high near 79.
Sunday A slight chance of showers after 11am. Mostly sunny, with a high near 85.
Today's Headlines
Investigators have identified 37-year-old Joshua Michael McMahan as the driver of the 2001 white Subaru Legacy that struck a Klamath Falls man causing serious injuries late Saturday night.
48-year-old Alfonso Lopez, was found lying on the ground off the roadway, near a chain-link fence. Officers discovered Lopez was suffering from significant injuries due to the incident. Medical personnel arrived on scene, treated Lopez, and transported him to Sky Lakes Medical Center for further evaluation. Lopez was later life- flighted to St. Charles Hospital for specialized treatment where he remains in stable condition.
The impact threw Lopez some 20 yards from the point of impact.
Investigators located McMahan on Monday, June 7th, in the 1700 block of Worden Ave. in Klamath Falls, and took him into custody without incident. McMahan was lodged at the Klamath County Jail for Assault II, Felony Hit & Run and Reckless Driving. He is lodged in the county jail.
Klamath County remains one of the few counties in the state- and the nation- under strict Covid regulations from the governor's office.
Jackson, Douglas, and Klamath counties remain in the high risk category in the immediate region. Lake County has been moved to lower as has Lane County.
As Oregon moves closer to lifting COVID-19 related restrictions statewide and reopening the economy, Gov. Kate Brown announced Tuesday that 21 of the state's 36 counties will increase capacity in restaurants, gyms, indoor entertainment venues and retail stores beginning on Friday.
For more than a year Oregon has faced some of the nation's strictest safety measures — county risk levels, mask requirements inside and outside, limited gatherings and restaurants closed for indoor dining. But as vaccination numbers increase, restrictions have been loosened as the state shifts from emergency response to pandemic recovery.
Last month, Brown set statewide and county vaccination targets, with the hope of reopening the state's economy by the end of June.
County risk level changes are updated each week, based on vaccination rates or declining case rates and positivity rates. On Tuesday, Brown announced that three counties — Lane, Coos and Wasco — would be joining 18 other counties in the lowest risk level.
There are six new COVID-19 related deaths in Oregon, raising the state's death toll to 2,700, the Oregon Health Authority reported today. Oregon Health Authority reported 307 new confirmed and presumptive cases of COVID-19 as of today, bringing the state total to 203,671.
The new confirmed and presumptive COVID-19 cases reported today are in the following counties: Baker (3), Benton (5), Clackamas (35), Clatsop (6), Columbia (6), Coos (4), Crook (4), Curry (1), Deschutes (8), Douglas (21), Harney (3), Hood River (1), Jackson (18), Jefferson (3), Josephine (7), Klamath (3), Lane (27), Linn (12), Malheur (3), Marion (35), Multnomah (31), Polk (4), Umatilla (14), Union (3), Wasco (1), Washington (45), Yamhill (4).
Oregon has now administered a total of 2,305,442 first and second doses of Pfizer, 1,645,747 first and second doses of Moderna and 151,144 single doses of Johnson & Johnson COVID-19 vaccines. As of today, 1,951,646 people have completed a COVID-19 vaccine series. There are 2,292,591 people who have had at least one dose. The number of adult Oregonians needing vaccinations to reach the 70% threshold is 106,455.
According to Governor Kate Brown, 67.1% of Oregonians 18+ are now vaccinated with a first dose—which means we need 97,168 more people to get their shot. Once we cross 70% statewide, we can begin to more fully reopen our economy.
A man who was reported missing from the Klamath Falls area in April was discovered dead, the Klamath County Sheriff's Office confirmed on Monday.
31-year-old Benjamin "Buttons" Mowery was out of contact with friends and family for an unknown amount of time, though he may have been sighted in Klamath Falls on March 24. The sheriff's office confirmed that he had been reported missing on April 6.
At that time that Mowery's vehicle had been discovered burned with no sign of Mowery in or near the vehicle.
In a statement issued on Monday, KCSO said only that investigators had located and confirmed Mowery's death. There was no further information about the circumstances, which the agency said are still under investigation.
"Mr. Mowery's family has been notified and our thoughts are with them at this difficult time," KCSO said.
Anyone with information about Mowery's death is asked to contact the Klamath County Sheriff's Office at 541-883-5130, or through the KCSO tip line at 541-8505380.
Man arrested in Klamath County with 87 pounds of meth
Methamphetamine and cocaine were found during a traffic stop along Highway 97 in Klamath County over the weekend, according to Oregon State Police.
The traffic stop occurred Saturday, at about 12:19 a.m., on Highway 97 near milepost 287. OSP said a trooper from the Klamath Falls Area Command stopped an SUV for speeding.
The trooper noticed signs of criminal activity during the stop and a consent search was conducted, according to OSP. The trooper located about 87.1 pounds of meth and about 2.2 pounds of cocaine concealed in the vehicle.
The driver, identified by OSP as 42-year-old Pablo Carmona-Carmona, from Yakima, Washington, was arrested. He was booked into the Klamath County Jail for unlawful possession, manufacture and delivery of methamphetamine, and unlawful possession and delivery of cocaine.
HealthyKlamath.org has announced these upcoming community events:
Join Healthy Klamath, Blue Zones, and Klamath Tree League on June 12th 10-11am for an arboretum cleanup on Bryant Williams Dr (above OIT).
The next virtual Diabetes Prevention Program at Sky Lakes Wellness Center starts June 12th, call 541-274-2770 to enroll or refer clients.
Visit https://www.healthyklamath.org/KlamathTrailsChallenge to learn more about the Klamath Trails Challenge happening now through September 9th.
Oregon Tech will require students and employees to have received the COVID-19 vaccine to return to campus for the fall semester, the university's president announced Wednesday.
The announcement, coupled with a similar one from Eastern Oregon University, means all of Oregon's publicly funded universities will now require the COVID-19 vaccination for returning students as well as faculty and staff.
The schools will have a process for students to get legal exemptions. Students who attend class fully online and who don't engage in any on-campus activities will not be required to be vaccinated.
Fall classes will begin on September 29. Oregon Tech joins a growing list of higher education institutions across the country and state that will require the vaccine. According to a Chronicle of Higher Education report tracking college vaccination plans, 470 campuses across the U.S. are planning on requiring the vaccine as of Friday afternoon.
The Klamath Falls city police department is seeking help in locating a vehicle, and identifying the driver involved in a hit and run of a pedestrian which occurred Saturday night, June 5.
The incident occurred in the area of Crater Lake Parkway and Main Street. The vehicle is described as a white 2000-2004 Subaru Legacy which should have damage to the passenger side at a minimum. The victim of the accident sustained serious injuries. They are asking that persons with information regarding the incident contact Detective Sergeant Gregg Wheat at 541-883-5336, call 911, or contact the Anonymous Tip Line 541-883-5334.
Henley Road, between Homedale Road and Highway 39, will be closed from 5 a.m. on Monday, June 7 until 6 p.m. pm Friday, June 11 as BNSF crews replace a railroad crossing.
Matney Way, at the intersection of Highway 39 and Cheyne Road, will be closed from 5 a.m. on Monday, June 7 until 6 p.m. on Tuesday, June 8. Flaggers will be on site and detours will be posted. Motorists should use alternative routes. For additional questions or concerns, please contact Ryan Hamilton or Jeremy Morris with Klamath County Public Works at 541-883-4696
In the city, Streets Division crews will be performing work June 7th through June 11th, 2021 during the hours of 4:00 a.m. to 4:30 p.m.
Asphalt Crew will be performing prep work and asphalt overlays at the following locations: 6/7 – Upham St. and Worden Ave. (Intersection) 6/8 – Siskiyou St. (from Prescott St. to Van Ness Ave) 6/9 – Siskiyou St. (from Prescott St. to Iowa) 6/10 – Siskiyou St. (from Iowa St. to Van Ness Ave)
Paint Crew will be performing painting of crosswalks, parking Ts and legends at the following locations: 6/8 – 6/11 North 5th and North 6th (from Pine St. to Shasta Way) along with parking Ts on Main St. and Klamath Ave.
Sign maintenance and sweeping will be performed 6/7 – 6/11 throughout the City as needed. Detours and signage will be in place where needed.
Streets Staff thanks our citizens in advance for proceeding with caution in areas where crews are working. Work may be delayed or cancelled due to weather, equipment breakdown or unexpected emergencies. If you would like more information about this topic, please call City Public Works Department at (541) 883-5385.
Wondering what your kids should do this summer, after spending most of the school year at home?
Come and rediscover and redefine summer with us! Klamath Falls City Schools has reimagined summer. Gayle Yamasaki, summer school co-coordinator, said the district will host more than 45 Summer Camps this year, employing more than 90 adults and student helpers and partnering with community-based organizations and small businesses.
From June 14 to August 20 Klamath Falls City Schools will offer — free to Klamath County (priority to KFCS students and families) — camps for grades K-12. All programs are free and people can enroll in as many as they like. Enrollment opened May 31.
EAGLERIDGE HIGH SCHOOL MEETING NOTICE
The Board of Directors of EagleRidge High School, an Oregon Nonprofit Corporation, will hold a Board Meeting on Wednesday, June 16, 2021, at 4:00 pm via Zoom.
The meeting agenda includes discussion and approval of 2021-2022 Budget, Academic Calendar and Instructional Minutes; the Student Investment Account budget; and review of the insurance renewal. The Executive Director will speak to the just completed school year, summer school and projects for the next school year. The Board may also consider other business brought before the board.
EagleRidge High School was established to create and implement an autonomous, high achieving and equitable small high school in collaboration with the Klamath Falls City School District pursuant to the Oregon Charter School law. The meeting will be conducted in accordance with the Oregon Public Meetings law.
Around the state of Oregon
Summer is still officially a couple of weeks away but we're already in wildfire season here in the Pacific Northwest. Just last week we saw a fire break out it in the Columbia Gorge. Luckily, it was quickly contained.
Oregon, and much of the Pacific Northwest, is heading into fire season very dry. In fact, we just saw the driest meteorological spring on record. That goes from March 1 to May 31. Because of the lack of rainfall, we're expected to see an active season, according to Eric Wise, a fire meteorologist with the Northwest Interagency Coordination Center.
But it's not just how dry things are over on the east side of the state that is a concern heading into the summer months. Crews will be paying close attention to storms coming up from an active monsoon season, where storms could produce severe thunderstorms that could lead to wildfires.
Oregon Vaccination Lottery to Adjust Its $1 Million Jackpot After Dismal Results So Far
The number of Oregonians getting vaccinated against COVID-19 has nose-dived since Gov. Kate Brown announced a $1 million lottery for vaccinated residents a few weeks ago.
The state says it's now looking at ways to spark more enthusiasm – and inoculations among those still unvaccinated – in the three weeks left before the drawing is held.
Charles Boyle, a governor's spokesman, said in an email that the governor's office is "exploring options for drawings earlier in the month to continue to generate excitement throughout the next several weeks."
Brown also hinted at a news conference Friday that more prizes may be added to the offerings in coming days, though she hasn't yet shared any details.
"We have more surprises in the works that you'll hear about soon," Brown said. "So if you haven't yet been vaccinated, now is the time. You never know, you may just walk into a vaccine clinic or a pharmacy to get your vaccine and find out you're a winner."
Oregon is among one of at least nine states – including Washington last week – drumming up lotteries in hopes of elevating immunization numbers that have plummeted in the late spring nationwide. Most are offering to make at least one person in each of their borders a millionaire – but only if they're vaccinated against COVID-19.
New Mexico has taken it a step further by putting up the largest-in-the-nation prize: $5 million.
Brown announced May 21 that Oregon is offering a $1 million jackpot, three dozen awards of $10,000 doled out to one person in each of the state's counties, and five scholarships of $100,000 for youth for college or vocational school.
But unlike other states that started their drawings within a week or two of their announcements and that are holding drawings weekly or even daily, Oregon will draw all its winners on one day, June 28, which is more than five weeks after Brown announced the lottery's creation.
Officials estimate it could be another week beyond that date before they announce the winners.
State officials seem to have acknowledged that delayed timeline might have put a damper on the initial zeal and urgency to go out and get vaccinated as soon as possible.
"The 'Take Your Shot Oregon' campaign was designed for simplicity, so that there would be a significant period of time to incentivize vaccinations prior to June 28," said Boyle, before adding that the state might tweak that strategy to award some new prizes soon.
The lottery, he cautioned, is one of many strategies the state is using to increase inoculations.
"No individual strategy is expected to have a singularly massive impact or to wholly reverse vaccination rate trends," Boyle said. "Each strategy adds a little energy to the overall effort."
So far, the day-to-day number of newly vaccinated people in Oregon has been disappointing.
While Oregon was administering about 17,000 shots as of mid-week last week – about half of the number it was administering when Brown announced the lottery – that includes shots for people who already opted to get vaccinated and are receiving a second dose.
The key metric to watch to gauge the lottery's performance is the number of unvaccinated people receiving their first shots.
The seven-day average of adults receiving their first shots has gone from about 9,000 the day before Brown announced the lottery to 6,700 nearly two weeks later. (Because state officials say it can take up to five days for vaccinations to be entered into the system, The Oregonian/OregonLive isn't using the last five days of data.)
The decline in newly vaccinated people stands at about 25%. And that drop-off means it's taking longer for Oregon to hit a separate benchmark established by Brown to lift nearly all coronavirus restrictions, including wearing masks in most settings.
States across the county launched similar lotteries in the face of declines, and none has yet seen stellar results.
David Baden, chief financial officer at the Oregon Health Authority, said even though vaccination rates have decelerated, there is some data to suggest that the state's "Take Your Shot" campaign might be having some positive effect: Oregon's vaccination rates aren't decelerating as swiftly as other states, boosting the state's rankings.
A few weeks ago, Oregon was 23rd nationally for the percentage of its population at least partially vaccinated, Baden said. On Monday, it stood at 17th.
The end result? Baden said because there's still a few weeks left before the June 28 drawing, he's holding off on reaching conclusions about the lottery's success. "The simple answer is, 'I don't know because we don't ask everyone who comes in,'" Baden said, "'Why did you get vaccinated?'"
Galice Resort in Merlin, Oregon Destroyed by Fire
On Tuesday, June 8th at approximately 10:45 a.m., Oregon Department of Forestry Southwest Oregon District resources responded to a structure fire at the Galice Resort alongside Rural Metro Fire – Josephine County. The fire originated in the building, but quickly spread to the wildland, igniting five small fires around the property.
Five ODF engines, a Type 2 helicopter, and an air attack plane were all dispatched immediately. Engines and firefighters on the ground worked quickly to line and mop up the fires; accumulatively, 1/10 of an acre burned. Windy conditions contributed to the fire spreading beyond the structure, causing concern for nearby houses directly across the street; however, all fires were extinguished well before reaching those areas.
As a precaution, residents self-evacuated. ODF resources will remain on the scene to ensure any additional hotspots are found and extinguished. Meanwhile, the type 2 helicopter performed more than 20 bucket drops on the building itself, helping structural engines to extinguish the flames.
The resort's restaurant, store and boat shed burned, while the lodge may have been less impacted, authorities said.
The resort that has been serving the community for over four decades is now burnt to the ground. Community members say they don't know what will come next. "I would say the building is a total loss," said Jes Webb with Rural Metro Fire.
Rural Metro firefighters will be investigating the cause of the fire. ODF is thankful to our partner agencies, including Rural Metro Fire, County Fire Department – Josephine County, Grants Pass Fire Rescue, Rogue River Fire District, Josephine County Sheriff's Office, Oregon State Police and Josephine County Public Works. Our strong partnerships allow us to tackle these complex incidents quickly, safely and effectively.
Fire updates are always available online at www.swofire.com. #swofire2021 #SWOFire #fireseason2021
Shooting Incident in Selma
On June 7, 2021 at 4:26PM the Josephine County Sheriff's Office received a 911 call reporting shots fired in the 3000 block of Lakeshore Drive, Selma, Oregon. Josephine County Deputies and Troopers from the Oregon State Police responded and located a male adult with a gunshot wound to the chest. The male was transported to Rogue Regional Hospital in Medford, Oregon by Mercy Flights where he underwent surgery to address his injuries.
The Josephine County Major Crimes Team consisting of members from the Josephine County Sheriff's Office, Oregon State Police, Grants Pass Department of Public Safety and the Josephine County District Attorney's Office was activated. The investigation culminated with the arrest of a 37-year-old female, Ricki Warren on charges of Assault I, Unlawful Use of a Firearm, Felon in Possession of a Firearm.
Ms. Warren is currently lodged in the Josephine County Jail. As the investigation is ongoing, no further details will be released at this time and all future inquiries should be directed to the Josephine County District Attorney's Office. CASE NUMBER: 21001122 — Josephine Co. Sheriff's Office
Authorities Seek To Identify Remains Of Man Found On The Greenway After Almeda Fire
Jackson County Sheriff's Office (JCSO) announced today that it is working alongside the Oregon State Police (OSP) Medical Examiner Division and Ashland Police Department (APD) to identify the remains of the final unidentified victim of the Almeda fire (aka Glendower fire).
Sketches have been released for remains on man found on the Greenway after Almeda fire (Courtesy: Jackson County Sheriff's Office
According to a press release from the department, on September 8, 2020, the remains of an unidentified black male were found at the 8.9-mile marker of the Bear Creek Greenway in Jackson County between Ashland and Talent, Ore.

The victim was an adult male, approximately 5'8" – 5'11" with black hair and brown eyes. Eyeglass frames and a multi-tool were found near the remains.
The OSP Medical Examiner Division is attempting to obtain a positive scientific identification of the victim while working with the DNA technology company, Parabon Nanolabs to process potential DNA matches and create the attached victim composite. APD is heading the criminal homicide investigation.

JCSO is actively running down missing person leads and assisting state ME's as needed. The University of North Texas Center for Human Identification (UNTCHI) will process DNA comparisons of missing persons.
For further information contact the OSP Medical Examiner's office at (971) 673-8200. For information on the criminal homicide investigation call APD at (541) 488-2211. If you have information regarding missing persons fitting the composite description please call JCSO at (541) 774-6800.
Joseph Canyon Fire Ignited by Lightning has Burned 7,575 Acres Since Friday
Firefighters have established 20% containment on the Joseph Canyon Fire burning in rugged terrain in northeastern Oregon where the state borders Idaho and Washington.
But the fire had grown to 7,575 acres as of noon Tuesday, June 8. The fire was ignited by a lightning storm and discovered June 4.
"Located 23 miles southwest of Lewiston, ID, the blaze began on Vale Bureau of Land Management lands, but soon crossed over into Washington state lands protected by Oregon Department of Forestry," according to the latest report from fire managers. "Three large airtankers dropped retardant along the perimeter of the Joseph Canyon Fire Friday to slow the fire growth. In addition to firefighter delivery, three Type 2 helicopters were used to drop water on hot spots."
The fire had spread over 2,500 acres by that afternoon.
"Cooler temperatures, reduced wind and moister air slowed the fire on Sunday and Monday, while crews made significant progress in containment," according to fire managers.
Oregon State Fire Marshal announces 2021 Sparky Award Recipients
The Office of the Oregon State Fire Marshal (OSFM) is excited to announce the 2021 Gold and Silver Sparky Award recipients. Every year the OSFM awards the Golden Sparky award to a fire service member and the Silver Sparky award to a public member for the contributions to fire prevention and fire safety.
This year's Golden Sparky was awarded to Firefighter John Rossi, a Public Information Officer with Mt. Angel Fire. Rossi's public information and education work has elevated the community and the region's fire prevention and preparedness efforts.
"He spends countless hours installing smoke alarms for those that need it the most," Oregon Fire Marshal Mariana Ruiz-Temple said. "John's commitment to his community and service to others shines through in his work through his tireless dedication to community prevention efforts.
Rossi has created a social media following that has allowed for great reach in the community to educate on various topics, including smoke alarms, defensible space, and burn bans.
This year, Kris Babbs, the president of Keep Oregon Green, was awarded the Silver Sparky. Keep Oregon Green is a non-profit that focuses on fire prevention across the state of Oregon. Babbs puts in countless hours and possesses a remarkable dedication to prevent fires across the state. In addition, Babbs leadership has elevated relationships among state and federal agencies. Her projects have brought OSFM and the fire service into the conversation and leveraged our programs and footprint in Oregon to further prevention and life safety.
"Oregon has never needed such an important leader in this space now and into our future," Ruiz-Temple said. "I want to thank Kris for being a friend to OSFM, the fire service, and for being a strong partner."
ABOUT THE SPARKY AWARDS
The Sparky Award is the highest award presented by the Office of the Oregon State Fire Marshal and been awarded to a member of the fire service and a member of the public every year since 1977. The award honors the efforts in fire prevention and fire safety education in the state of Oregon. – Oregon State Fire Marshal
Oregon Lawmakers Approve Bill To Expand Affordable Housing Development
The Oregon Legislature has approved a bill aimed at increasing Oregon's supply of affordable housing.
Senate Bill 8, introduced by Senate President Peter Courtney, D-Salem, makes it easier for affordable housing to be built in cities across Oregon by removing barriers faced by developers, cities and nonprofits.
The bill expands where affordable housing can be built by allowing such developments to be sited on land zoned for commercial uses or that is owned by public or religious entities. It also increases the impact of housing investments by allowing affordable housing to be developed at greater densities on land already zoned for residential uses.
"The housing crisis isn't just about the affordability of housing," Courtney said. "If the only apartment you can afford is two towns over and a 70-minute car ride to your work, I don't think we've solved the problem. SB 8 is about building affordable housing where people want to live."
The bill passed the Senate on a 25-5 vote and now heads to the governor's desk for her signature.
Oregon State Song Gets New Lyrics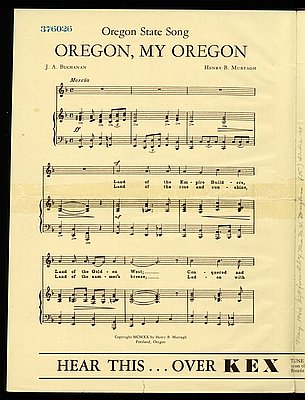 The Oregon Legislature on Monday approved changes to the lyrics of Oregon's state song to make them more inclusive and to remove racist language.
House Concurrent Resolution 11 modifies the lyrics, while keeping the same music of "Oregon, My Oregon," to reflect the "significant cultural, historical, economic and societal evolution in Oregon" since the state song was adopted in 1927.
The change replaces the first verse of the song, which referred to Oregon as "conquered and held by free men; fairest and the best," with new lyrics emphasizing Oregon's natural beauty and "rolling rivers."
Along with other small changes throughout, a line in the second verse that described Oregon as "blest by the blood of martyrs" will now be sung, "blessed by the love of freedom."
The state song was written more than 100 years ago. In 1919, the Society of Oregon Composers held a contest for poets to submit their compositions "in which the beauties and the merits of the state are extolled," according to an Oregonian article at the time. The winning song "would be used at all public, patriotic and social gatherings."
The winning entry was No. 163, written by judge and former state representative J.A. Buchanan of Astoria. Henry Bernard Murtagh composed the music, and "Oregon, My Oregon" became the official state song by a legislative vote in 1927.
Many Oregonians may not realize the state even has a state song. It's not often sung, though it is performed during opening ceremonies for each legislative session.
The new lyrics were proposed by Beaverton resident Amy Shapiro. For years, Shapiro has been trying to get legislators to change the song, which she first hesitated to sing with her students when she worked as a music teacher and choir director at Portland Jewish Academy 30 years ago.
"The changes we have proposed are small but they are profound," Shapiro wrote in testimony submitted for the measure. "Outdated, misleading and offensive words glorifying oppression and murder are replaced with inspiring words glorifying Oregon's natural beauty – majestic mountains, forests and rivers – as well as our love of freedom."
Among those who submitted testimony in favor of changing the lyrics was Kim Stafford, Oregon's Poet Laureate from 2018 to 2020.
OHA Announces New Section and Manager for Psilocybin Programs
Angie Allbee, former OHA policy advisor, to lead Psilocybin Services Section
The Oregon Health Authority's Public Health Division has a new section to oversee the state's new psilocybin services program, and a new manager to lead it.
Angie Allbee, who has served as senior policy advisor for OHA Government Relations, based in the External Relations Division, since 2018, has been named manager for the Psilocybin Services Section.
The section, created to develop and administer psilocybin services programs as directed with the passage of Measure 109 last November, will be part of the Center for Health Protection, which houses programs that oversee health care facilities and licensing, and environmental health and regulation.
"We're all very familiar with Angie's hard work and commitment to public health from her current and soon-to-be-past role as the Public Health Division's legislative senior policy advisor," said Andre Ourso, J.D., administrator of the Center for Health Protection. "I'm looking forward to working with Angie in building the new section and implementing Measure 109."
Allbee begins her work as section manager on June 1. She's says she's honored to lead the new program she hopes will bring innovative therapies to Oregonians with mental health conditions.
"I am excited to help move the agency closer to our strategic plan goal of eliminating health inequities while creating safe, effective and accessible psilocybin services in Oregon," she said.
A Oregon Psilocybin Advisory Board will make recommendations to OHA and the Psilocybin Services Section on available scientific studies and research on the safety and efficacy of psilocybin in treating mental health conditions. The board also will make recommendations on the requirements, specifications and guidelines for providing psilocybin services in Oregon.
Allbee has worked on shaping legislative policy for almost a decade. In addition to serving as senior policy adviser for OHA Government Relations for three legislative sessions, she has served in policy roles with the Oregon Department of Human Services (ODHS), Oregon Criminal Justice Commission, Oregon House Majority Office and Oregon Legislative Assembly.
Prior to her policy work in Oregon, Allbee spent nearly a decade in the non-profit sector engaging with a diverse range of clients, including older adults, individuals experiencing disabilities, refugees, asylees, veterans and survivors of domestic violence and sexual assault—work she says "taught me that healing is an essential part of experiencing a healthy, joyful life."
"Psilocybin therapy offers another option for healing that has been used for centuries by indigenous and tribal communities, and has generated a growing body of research over many decades," she added. "I am honored to be part of this very important work and to ensure safe, effective and equitable access to psilocybin therapy in Oregon."
Allbee has recently served on the Board of Advisors for the Voxapod Menstrual Equity Project and worked with community members in rural St. Thomas, Jamaica, to secure infrastructure for the Access to Safe Drinking Water Project. She received her Executive Master of Public Administration degree from the Hatfield School of Government in the College of Urban and Public Affairs at Portland State University.
Investigation Continues Into Human Remains Found On Saturday in Douglas County
The investigation continues into human remains found on Saturday near the base of Mt. Nebo, along the Interstate Five southbound onramp at exit 124 in Roseburg.
Saturday detectives from Oregon State Police, Douglas County Sheriff's Office Search and Rescue crews and County Medical Examiner Craig Kinney spent hours combing the area.
Along with searching next to the freeway, some involved climbed to the first terrace of the hillside.
This is not the first-time human remains have been found in that area.
On June 6th, 2018, workers with the Oregon Department of Transportation were performing maintenance operations along the northbound offramp of the same interchange when they located a nearly full human skull.
In December of 2019, OSP said that DNA testing determined the remains were those of Scotty Evenson, who would have been 44 years of age at the time they were discovered. OSP said Evenson, who was from Myrtle Creek, had been reported as missing at some point in the past on a Facebook post, but never to police.
Oregon DHS Looking For Missing Clackamas Teen
The Oregon Department of Human Services Child Welfare Division is asking for the public's help locating a Clackamas teenager who has been missing since last week.
DHS says ShaNai K. Daniels, 16, who is a foster child, went missing from the Clackamas area on June 4 and is believed to be in danger. According to DHS, Daniels is suspected to be attempting to fly to Newark, New Jersey, out of the Portland International Airport. She may also be in Salem.
Daniels is described as 5 feet 2 inches tall, 133 pounds, with brown eyes and black hair.
Anyone who has information about ShaNai's whereabouts is asked to call 911 or local law enforcement.
Mild Weather Helps Slow Eastern Oregon Fire Near Joseph That Has Burned Over 4,000 Acres
Cooler temperatures and less wind are helping firefighters tackle a blaze that has consumed 4,000 acres between remote eastern Oregon and Washington since Friday.
The Joseph Canyon fire remains 0% contained, but milder weather has helped firefighters slow its spread, officials said in a statement Monday.
Six specialized crews, 12 fire engines and seven helicopters were fighting the blaze, with additional resources and firefighters on the way, said Larisa Bogardus, public affairs officer with the U.S. Bureau of Land Management.
The Joseph County fire was one of several blazes that started Thursday night and Friday morning when thunderstorms passed through the region. The Washington Department of Natural Resources spotted the fire Friday morning when lightning struck, starting flames that spread through the canyon's dry, grassy vegetation and crossed the border from Wallowa County.
The blaze is about 23 miles southwest of Lewiston, Idaho, and is burning in the Nez Perce Precious Lands Wildlife Area, Héte'wits Wétes, an area in Wallowa County protected by the Oregon Department of Forestry.
The fire nearly doubled in size between late Saturday and Sunday morning, when "extreme winds" limited firefighters' ability to attack the blaze by air. Cooler temperatures and less windy conditions helped firefighters limit the spread of the fire to 300 acres Sunday.
The area's steep, rugged terrain remains their biggest challenge, officials said.
No structures had been threatened or destroyed Sunday afternoon and no livestock had been killed, but ranchers were moving cattle away from the fire, Bogardus said.
Oregon's fire season is off to an early start, with dry spring weather leaving most of the state in a drought. This has firefighters and emergency preparedness officials on high alert heading into summer.
More than 1 million acres burned in September when a succession of fires swept through nearly every part of the state and choked much of Oregon in smoke. About 10% of the state's residents were subject to an evacuation warning at some point that month.