The latest and most comprehensive coverage of local News, Sports, Business, and Community News stories in the Klamath Basin, Southern Oregon and around the state of Oregon from Wynne Broadcasting's KFLS News/Talk 1450AM / 102.5FM, The Herald & News, and BasinLife.com, and powered by Mick Insurance, your local health and Medicare agents.
Wednesday, April 28, 2021
Klamath Basin Weather
Today Sunny, with a high near 75. Overnight, clear with a low around 42. Light and variable wind.
Thursday Mostly sunny, with a high near 82. Partly cloudy overnight with a low around 44.
Friday Mostly sunny, with a high near 76.
Saturday Sunny, with a high near 69.
Sunday Sunny, with a high near 65.
Monday Sunny, with a high near 70.
Today's Headlines
Klamath County will have no indoor dining and other restrictions will take place on Friday.
Oregon Gov. Kate Brown said Tuesday rising COVID-19 hospitalizations threaten to overwhelm doctors and she is moving 15 counties into extreme risk category, which imposes restrictions including banning indoor restaurant dining.
Some of the state's biggest cities, including Portland, Salem, Bend and Eugene, are in the counties that will be in the most dire category, effective Friday.
The move comes, ironically, as the supply of vaccines is exceeding demand. "There are appointments available right now all across the state," Brown said.
The restaurant industry objected to the move. The Oregon Restaurant & Lodging Association has said the state has lost more than 1,000 food service businesses since the COVID-19 pandemic began. Brown's office said she is partnering with lawmakers to approve a $20 million small business emergency relief package to immediately support impacted businesses in extreme risk counties through the commercial rent relief program.
There are two new COVID-19 related deaths in Oregon, raising the state's death toll to 2,488. Oregon Health Authority reported 740 new confirmed and presumptive cases of COVID-19 as of yesterday, bringing the state total to 182,040.
The new confirmed and presumptive COVID-19 cases reported today are in the following counties: Baker (5), Benton (16), Clackamas (64), Clatsop (8), Columbia (10), Coos (6), Crook (9), Curry (4), Deschutes (80), Douglas (15), Grant (7), Harney (5), Hood River (1), Jackson (29), Jefferson (3), Josephine (8), Klamath (45), Lake (4), Lane (67), Lincoln (3), Linn (23), Malheur (8), Marion (48), Multnomah (116), Polk (8), Tillamook (2), Umatilla (15), Wallowa (2), Wasco (4), Washington (114) and Yamhill (11).
OHA reported that 28,212 new doses of COVID-19 vaccinations were added to the state immunization registry. Of this total, 16,907 doses were administered on April 26 and 11,305 were administered on previous days but were entered into the vaccine registry on April 26. The seven-day running average is now 34,529 doses per day. The number of hospitalized patients with COVID-19 across Oregon is 328, which is nine more than yesterday.
There are 71 COVID-19 patients in intensive care unit (ICU) beds, which is six less than yesterday.
Despite multiple southern Oregon counties moving to Extreme Risk restrictions on Friday, state education officials say that schools do not necessarily need to reduce their current levels of in-person learning.
Local districts have been transitioning to full-time (or nearly full-time) learning in the classroom over the past several months, after Oregon officials embraced new CDC guidelines to reduce spacing requirements.
The Medford School District welcomed back its final group of older students on April 12. The long process of bringing more students into the classroom started at a time before COVID-19 case rates began rising again, in what Governor Brown has called a "fourth wave" of the virus. Jackson County Public Health said on Tuesday that there were 600 new cases over the last two weeks, marking a case rate not seen since the beginning of January.
Regardless, state education officials said that the rise in case rates won't necessarily require any changes at southern Oregon schools.
More than 1 million Oregonians have been vaccinated against Covid-19, and still some locals hold onto concerns about receiving a shot meant to protect them and those around them who could be exposed to the coronavirus.
Klamath County Public Health anticipates that by mid May Johnson and Johnson allotments will increase. Officials are hopeful young people between 16 and 18 continue to get Pfizer, older adults get Moderna and agricultural workers get the Johnson and Johnson vaccine.
Lake County Public Health Chief Executive Officer, Charlie Tviet says he finds that people are concerned about the science behind some of the vaccines, "and the Johnson and Johnson seems to be a good alternative." Tveit adds that as far as he knows, those needing second doses of either Pfizer or Moderna continue to show up to get their shots to ensure full immunization.
Jackson County Public Health Medical Director, Dr. Jim Shames says Jackson County has seen a drop in people showing up for second dose appointments.
Klamath Farming Region Diverts Water From The Klamath River Because of Drought
The federal government is strictly curtailing irrigation this year in an attempt to protect endangered fish important to Indigenous tribes. Farmers say this will make it all but impossible to farm, while tribal groups say the plan doesn't go far enough to save their fisheries.
In mid-April, a farming region in southern Oregon began to release water from the Klamath River into its irrigation canals. According to the local water authority, this was a standard move to jumpstart the farming season during one of the driest seasons in recent memory.
According to the federal government, it was an illegal maneuver that could further jeopardize the survival of multiple endangered species and food sources important to Indigenous tribes and fisheries in the region.
Because of severe drought conditions in the region and low snowpack levels, the Upper Klamath Lake—a large, natural reservoir of freshwater that drains into the Klamath River—has experienced historically low inflow this year. That means there's not enough water to go around for everyone who needs it: tribes that depend on the lake to sustain culturally important species of suckerfish, commercial and tribal fisheries downstream who depend on flow from the lake to support salmon populations, and farmers and ranchers who rely on irrigation to harvest crops.
On April 14, the Bureau of Reclamation (USBR), a federal agency that oversees the Klamath irrigation project, announced that farmers would only get 33,000 acre-feet of water this year due to drought conditions—the lowest allotment in its history. The project spans from southern Oregon to northern California. For context, farmers say they need 400,000 acre-feet in drought years. That didn't stop the Klamath Drainage District (KDD) in southern Oregon—a public entity contracted to deliver water in the region—from turning on the spigot for its constituents two days later.
"We tried to hold off [diversion] as long as we could," said district manager Scott White. White said the district board faced immense pressure to divert water from farmers in the region dealing with low soil moisture. "Our landowners were just champing at the bit."
White said that the district was accessing water from the Klamath River through a state water permit rather than through the federal government's allocation, which he claimed was standard operating procedure. The federal government doesn't see it that way. In a letter addressed to the district shared with The Counter, USBR ordered White to stop making the diversions, which it called unlawful.
"[The] water that is currently in the Klamath River is committed to satisfying the Endangered Species Act (ESA), an obligation that supersedes irrigation deliveries and rights," the agency wrote. "Therefore, KDD's diversion of water … is contrary to the ESA and may subject KDD to legal action if it does not immediately cease diversions."
The releases mean that there's less water to go around for everyone else who needs it, in a year where there was already little to begin with. According to a USBR spokesperson, the agency is making up for the diversions by releasing more water from the lake. However, tribes and commercial fishermen downriver are worried that prolonged diversions will reduce river flow long-term, in turn exacerbating poor environmental conditions and further harming salmon populations that they depend on for food, income, and ceremonial practices.
"It felt very, very disappointing that individuals would take actions, such as to illegally divert water, when there is so much pain being felt throughout the basin for communities who aren't getting the flows or the water levels necessary for their communities," said Frankie Myers, vice-chairman of the Yurok tribe. "It felt like a pretty selfish act."
Salmon are a culturally and economically important species for the Yurok. But poor river flow, pollution, disease, and dams that obstruct movement have all played a role in the decline of the Klamath River's salmon population.
Every year, a coalition of tribal representatives, fishermen, and community and environmental advocates sets catch limits on salmon in the region in order to maintain long-term viability. Three decades ago, Myers recalls, Yurok families could each harvest hundreds of fish from the Klamath River, enough to sustain themselves for a year. This year, he estimates that the tribe will be allocated the equivalent of one fish per person, raising concerns about food sovereignty. The water shortage also exacerbates the woes of non-tribal commercial fisheries. For years, the region has put in place strict quotas to conserve salmon populations. Earlier this month, the coalition closed off commercial fishing in the region completely.
On April 14, the Bureau of Reclamation (USBR), a federal agency that oversees the Klamath irrigation project announced that farmers would only get 33,000 acre-feet of water this year due to drought conditions—the lowest allotment since 2001.
"It's really a very sad situation," said Glen Spain, northwest regional director for the Pacific Coast Federation of Fishermen's Associations, which represents West Coast commercial fishermen. "I understand how people get desperate, but violating the law and stealing your neighbor's water is not the way to solve this problem."
Not only does the water shortage pit agricultural interests against the needs of communities downriver—the scarcity also puts the survival of different endangered species in conflict with one another.
Shortly before USBR announced this year's allocations, the Klamath Tribes—which are a separate tribal nation from the Yurok and have senior water rights in the Upper Klamath Lake—filed a lawsuit against the agency. The tribes are accusing USBR of letting the lake's water levels to fall below minimum thresholds required by the Endangered Species Act for two years in a row. This, in turn, puts two spiritually important suckerfish species, the C'waam and Koptu, at risk of extinction, the lawsuit reads. The tribes are demanding that USBR more than halve the average rate of water flow out of the lake until it recovers to a minimum threshold set by the Fish and Wildlife Service. That action, in turn, would mean less abundant flows for farmers and salmon fisheries downriver. Someone loses, no matter what.
"The Klamath Tribes certainly believe that everything should be done to satisfy all of the biological needs of all of the species," said Jay Weiner, attorney for the Klamath Tribes. Weiner points out that salmon are also significant for the Klamath Tribes, which retain fishing rights to them. "The difficulty we find ourselves in this particular year is that there is not enough water in the system to do that. And under those conditions, we believe that the needs of the C'waam and Koptu, as much more critically endangered and vulnerable species, need to come first."
Growing resentment from farmers has caused some to worry about potential violence this year. Last Thursday, the "People's Rights" group announced a call to farmers and ranchers in the basin to "STAND UP AND PROTECT YOUR PRIVATE PROPERTY, YOUR WATER!" People's Rights is the far-right militia group founded by Ammon Bundy, known for leading a takeover of a federal wildlife refuge in 2016.
"I'm worried about it," said Craig Tucker, a natural resources consultant for the Karuk tribe, another downriver community that depends on the salmon for food. "The politics here in the Klamath, just like in the rest of the country, are pretty volatile."
This year's water crisis just might spur some dialogue on what a sustainable level of farming in the region should look like in the long-term. Last Wednesday, in response to unprecedented water shortages in the West, the White House announced that it would create an interagency task force, led by Secretaries of the Interior Deb Haaland and Agriculture Tom Vilsack, to "explore opportunities to improve our nation's resilience to droughts."
Until then, the ongoing crisis may continue to raise tensions in the region, and even lead some to obtain limited water resources by any means necessary. As of today, according to live discharge data from the U.S. Geological Survey, the Klamath Drainage District continues to divert water from the river at a rate of 200 cubic feet per second.
The South Suburban Sanitary District Board announced Tuesday that it will lower the base sewer rates by 10% for fiscal year 2021-22, beginning July 1.
According to the district, the rate relief is possible because the board saved sufficient capital to build a majority of a planned recycled water project. While financial projections show the potential to reduce rates substantially post-project, the board felt it would be appropriate to provide the ratepayers some initial rate relief, according to the release.
Current post-project projections made by the board forecast an additional 20-25% rate reduction upon completion of the recycled water project.
Disposal of prescription drugs can be difficult. Annually, the Drug Enforcement Administration sponsors a "take back" day, which was Saturday.
There will be another "take back" day in October, but local residents don't need to hold on to unused or expired prescriptions.
Year-round drop-off kiosks are available at: Klamath Open Door, 2074 S 6th St., Klamath Falls; Klamath Tribal Health Pharmacy, 330 Chiloquin Blvd., Chiloquin, Sky Lakes Outpatient Pharmacy, 2865 Daggett Ave., Klamath Falls; and Sky Lakes Downtown Pharmacy 211 North 8th St., Klamath Falls
Around the state of Oregon
Indoor Dining Banned for 15 Counties With Oregon's Biggest Cities Starting Friday –Jackson, Josephine, Klamath counties back to 'Extreme Risk' status.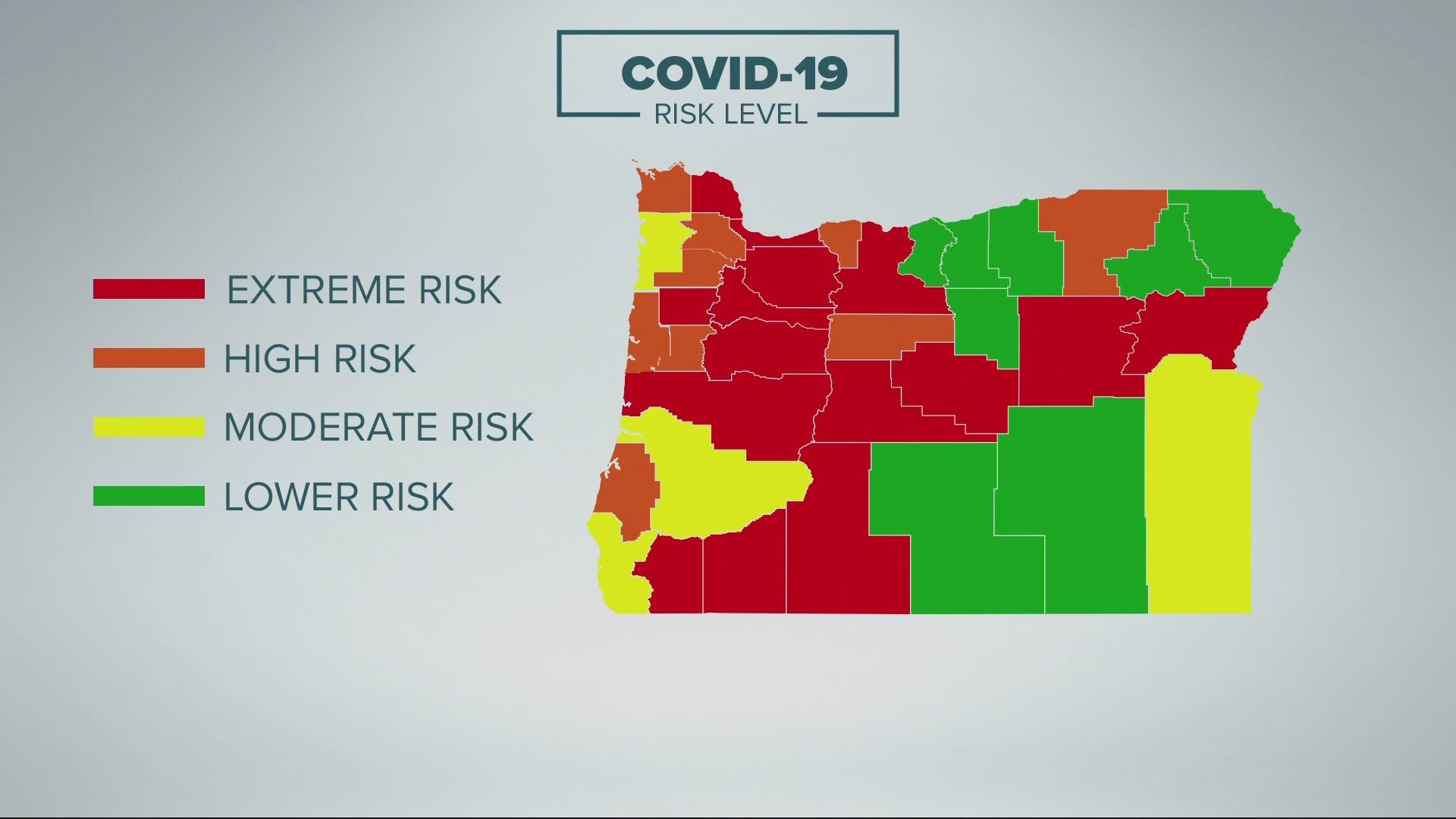 Some of the state's biggest cities, including Portland, Salem, Bend and Eugene, are in the counties that will be in the most dire category, effective Friday.
The move also severely limits the number of people in gyms, movie theaters, bowling alleys and indoor swimming pools.
"If we don't act now, doctors, nurses, hospitals, and other health care providers in Oregon will be stretched to their limits treating severe cases of COVID-19," Brown said in a statement.
Brown's decision comes, ironically, as the supply of vaccines is exceeding demand.
"There are appointments available right now all across the state," Brown said.
The restaurant industry objected to the move. The Oregon Restaurant & Lodging Association has said the state has lost more than 1,000 food service businesses since the COVID-19 pandemic began.
"The move by the governor's office is tone deaf and offensive to tens of thousands of Oregonians working in restaurants and bars across our state attempting to pay their bills," said Jason Brandt, president and CEO of the industry group.
Brown's office said she is partnering with lawmakers to approve a $20 million small business emergency relief package to immediately support impacted businesses in extreme risk counties through the commercial rent relief program.
The Oregon Health Authority says counties won't be moved into extreme risk unless the peak daily number of beds occupied by COVID-19 patients from the previous seven days is at least 300, with a 15% increase over the previous seven days.
The counties in the extreme risk category are: Baker, Clackamas, Columbia, Crook, Deschutes, Grant, Jackson, Josephine, Klamath, Lane, Linn, Marion, Multnomah, Polk and Wasco.
Updates to county risk levels next week will be announced on May 4. Counties that improve their COVID-19 metrics will have the opportunity to move to a lower risk level.
What's different this time around is Governor Brown says, for the next three weeks, the counties will have the ability to move out of the 'extreme risk' category every Friday, instead of every other Friday.
"The governor has committed to regularly reviewing the closures and limiting their duration if the pandemic trends improve. We will hold her at her word," Oregon Business & Industry said in a statement. "We urge Gov. Brown and the Legislature to act immediately to establish a fund to cover losses sustained by business owners in this latest round of closures and to provide a safety net for Oregonians about to lose their jobs – again."
"After conversations with legislative leaders, I am confident we can move quickly to bring relief to businesses and their employees in 'extreme risk' counties," Governor Brown said in a statement. "The vast majority of Oregon businesses have followed our health and safety guidance to protect Oregonians from COVID-19, even though doing so has come with an economic cost. This emergency aid will help businesses in 'extreme risk' counties.
The governor says a $20 million emergency relief package is in the works to help those businesses in 'extreme risk' counties. Governor Brown is also increasing the outside capacity for establishments to 100 people. It previously was 50.
Extreme Risk restrictions are most keenly felt by businesses like restaurants, where indoor dining will be prohibited on Friday, and on indoor gyms and fitness centers where capacity will be greatly restricted.
Becky Hultberg, president and CEO of the Oregon Association of Hospitals and Health Systems (OAHHS), released a statement praising the decision and echoing Brown's call for Oregonians to get vaccinated against the virus: However, Brown's announcement drew fire from the National Federation of Independent Business (NFIB), with the organization's Oregon state director Anthony Smith characterizing the heightened restrictions as both harmful to small businesses and ultimately ineffective for curbing COVID-19 cases:
U.S. health officials lifted an 11-day pause on COVID-19 vaccinations using Johnson & Johnson's single-dose shot on Friday, after scientific advisers decided its benefits outweigh a rare risk of blood clot.
The government uncovered 15 vaccine recipients who developed a highly unusual kind of blood clot out of nearly 8 million people given the J&J shot. All were women, most under age 50. Three died, and seven remain hospitalized. But ultimately, federal health officials decided that J&J's one-and-done vaccine is critical to fight the pandemic — and that the small clot risk could be handled with warnings to help younger women decide if they should use that shot or an alternative.
A Hillsboro man is facing federal charges in connection to the January 6th attack on the U.S. Capitol building.
The FBI says 62-year-old Reed Knox Christiansen made his first court appearance yesterday in Portland after being arrested on Sunday. Police say body camera footage shows Christiansen hitting and pushing officers and breaking metal barriers on the U.S. Capitol grounds during the January insurrection. He's facing five federal charges.
Seven people were injured when gunfire broke out at a Monday night vigil for a Gresham man who was killed at the same intersection the previous night.
On Sunday night, officers responded to reports of gunshots near Southeast 174th Avenue and Stark Street. Investigators found 22-year-old Alejandro Barajas suffering from fatal injuries. About 11:30 p.m. Monday night, as a group gathered for a vigil at the same location, a dark SUV drove past and opened fire on the crowd, police said. Members of the crowd shot back at the vehicle; seven people were injured.
The victims were taken to nearby hospitals and were expected to survive, police said.
Josephine County Seeks Citizens to Serve on COVID-19 Relief Funds Task Force
The Board of Josephine County Commissioners is seeking two residents of the county to serve on a new task force established to explore and prioritize the use of Federal funds recently made available to the county in response to the COVID-19 pandemic.
The board officially created the Josephine County COVID-19 Relief Funds Task Force April 22.
The group will make recommendations to the board about the use of funding allocated through the American Rescue Plan Act of 2021 and other legislation passed by Congress in response to the negative economic impacts of COVID-19.
Josephine County is expected to receive $17 million from the ARPA over the next two years.
The newly formed task force will consist of 11 members, including various Josephine County department directors, a member of the Board of Josephine County Commissioners, a member of the Josephine County Budget Committee, a member of the Collaborative Economic Development Committee and two other residents of Josephine County.
Applications for the task force will be reviewed immediately upon receipt. Those interested in applying can download the Advisory Committee Application for Board Appointment at http://www.co.josephine.or.us/Files/1.%20%20Application%20-%20Advisory%20Board%20(3).pdf. Copies will also be made available in the Board of Josephine County Commissioners office in the Josephine County Courthouse, 500 NW 6th St. in Grants Pass.
The deadline to submit is May 11. Those with questions should call the Board of Josephine County Commissioners office at (541) 474-5221.
Beaverton Company Buying Multiple Medford Motels To Convert To Housing
A Beaverton-based real estate firm is finishing up the purchase of a fourth hotel in Medford, promising to convert the buildings into long-term housing. Some of these sites are currently occupied by people displaced by the September wildfires.
Fortify Holdings purchased Inn at the Commons from the locally-owned Neuman Hotel Group early this year, with plans to transition the building into a 123-room apartment complex.
Inn at the Commons was just the beginning for Fortify Holdings in the Medford area. The company purchased America's Best Value Inn on N Riverside Avenue and Econo Lodge on S Riverside Avenue at the end of February. Sale of the Ramada on Biddle Road to Fortify was finalized on Friday.
For the Ramada and Econo Lodge properties, however, there is an added wrinkle — they are currently occupied by victims of the September wildfires.
The company has been working directly with Representative Pam Marsh on the topic of housing for wildfire victims, and displaced individuals will be able to continue living at the properties until there's a viable alternative. Rep. Marsh's office confirmed that they've been working closely on the issue.
The Ramada sale includes the attached Denny's and convention center. For the time being, Denny's will continue to operate as-is, though the fate of the convention center is currently undetermined.
Southern Oregon Speedway Getting Set to Open Again
After a long dormancy period starting in the fall of 2019, the Speedway in Southern Oregon is back to life.
In March of this year, Travis Hoppes and local racing legend Dane Smith were selected as new promoters for the Jackson County racing facility. Hoppes is an avid supporter and sponsor of several racing teams and events in the western United States.
"I received several phone calls and messages asking what Hoppes Motorsports could do to save the truck," says Hoppes. "I thought a little and started talking to some people. Then something led to something else and I put together a committee of people to support this large-scale effort."
Members of this newly established board include Dane Smith, who acts as president. Another longtime driver, Jon De Benedetti, is R. He will be on the board with Charles Snyder's son Precision Electric and Snyder Creek Development's local business owner Travis Snyder. Gage It Construction owners and local late model drivers Brian Bowman, Albert Gill and James Anderson will also join the board.
"The purpose of putting the board together was not to shut down the truck, but to fill the board with people who really wanted to help," Hoppes said. "But I also sought help from business owners and very smart people in the business. I know what it takes to create a successful racing facility for both drivers and fans, like-minded. I wanted a board for individual members. "
Many changes have been made, including a new truck logo, resized trucks, and a new pit area configuration. In addition, a new electronic scoring system has been installed to allow fans to follow MyRacePass.Races from the track will also be livestreamed thanks to SPEED SPORT TV affiliate IMCA.TV..
"I'm very excited about this new season and brand new chapter in the history of Southern Oregon Speedway," Hoppes said. "We want to be a welcome face for people who have been here for years and new fans who have never been here."
The track will host a test and tuning session on May 26th, with the first race of the track's season scheduled for May 29th. IMCA Modified, IMCA Northern Sports Mod, late model, Hornet will be operational on the first day.
OSU Researchers Warn 2021 Fire Season May be Worse Than 2020
Researchers at Oregon State University have homed in on the conditions that caused historically destructive Oregon wildfires in September and are warning similar conditions will exist during the upcoming fire season and beyond, partially due to climate change.
The study, co-authored by Larry O'Neill, associate professor in OSU's College of Earth, Ocean and Atmospheric Sciences and state climatologist for the Oregon Climate Service, found "unprecedented combination of strong easterly winds and low humidity coupled with prolonged drought conditions" produced the widespread and destructive wildfires last year.
While the conditions individually had been seen previously, the confluence of the conditions had not. O'Neill issued a grave warning for the upcoming season — one that may be reissued in future years due to climate change.
"The situation looks as bad or worse than last year," O'Neill said in a Monday press release. "Drought conditions have not recovered from last year, particularly in southern and eastern Oregon. Soil moistures remain low, and the vegetation fuel moisture has not recovered."
The 2020 fires were possibly the most widespread in well over a century.
"From Sept. 7 to 9, 2020, an estimated 11% of the Oregon Cascades burned in several large fires in western Oregon," according to the release. "The fires, which stretched from Clackamas County at the north to Douglas County at the south, burned more area of the Oregon Cascades than had burned in the previous 36 years combined and likely exceeded the area burned in any single year in at least the last 120 years, the researchers found."
O'Neill said the majority of major wildfires in western Oregon since the turn of the 20th century have occurred during warm, dry summers with considerable easterly winds.
"Forecasters can look for that combination of easterly winds and extremely dry landscapes and know that the fire risk will be greater," he said in the release. "That could allow for some preparation to reduce fire risk."
In addition to studying weather and climate data from 2020, researchers studied 13 other major wildfire events in western Oregon dating back to 1900. The scope of the research allowed the team to identify the trends. Of the 13 other historic fire events they examined, 10 were associated with hot, dry summers and all of them coincided with considerable easterly winds.
Researchers said climate change will increase air dryness in late summer and early fall in Oregon, a major factor in large wildfires. However, climate change is not expected to increase the strength or frequency of easterly winds.
"As the climate warms, the atmosphere will have a larger capacity to pull moisture from soils and forest vegetation than it does now, which will increase the severity of droughts and dryness of potential fire fuels," he said. "So when we do get these similar strong easterly wind events, those winds may be blowing over drier, more flammable fuels. The implication is that the fire risk throughout Oregon will probably increase significantly, and that we can also expect longer fire seasons, including in areas we typically think are not prone to extreme wildfire."
The study was published in Geophysical Research Letters with lead author John Abatzoglau, University of California, Merced; David Rupp of OSU's College of Earth, Ocean, and Atmospheric Sciences; and Mojtaba Sadegh of Boise State University.
Strike Over Wages and Benefits Continues At Oregon Institute Of Technology
Tuesday marked the second day of strikes at the Oregon Institute of Technology (OIT) in Wilsonville.
This is the first-ever faculty strike at a public university in the state of Oregon.
The faculty and school are at odds over wages, workload, and benefits, and have been negotiating for 16 months.
Some students showed up to classes on Monday, and in some cases teachers either walked out at the start or weren't there at all.
There are 158 faculty workers at the OIT's Wilsonville remote campus, with 97% voting on the matter of striking, and 92% of that group voted in support of a strike.
The school says they are staying open by bringing in adjunct staff, deans, and other qualified staff that isn't striking to lead the classes that professors walked out on.
Negotiations are scheduled to resume Wednesday and the school says they're trying to schedule another meeting with the union Tuesday night.