The latest and most comprehensive coverage of local News, Sports, Business, and Community News stories in the Klamath Basin, Southern Oregon and around the state of Oregon from Wynne Broadcasting's KFLS News/Talk 1450AM / 102.5FM, The Herald & News, and BasinLife.com, and powered by Mick Insurance.
Wednesday, March 31, 2021
Klamath Basin Weather
Today Sunny, with a high near 69.
Thursday Sunny, with a high near 69.
Friday Mostly sunny, with a high near 67.
Saturday Partly sunny, with a high near 67.
Sunday A slight chance of rain after 11am. Snow level 5400 feet rising to 6400 feet in the afternoon. Mostly sunny, with a high near 61.
Monday A chance of rain and snow. Snow level 4400 feet rising to 5300 feet in the afternoon. Mostly sunny, with a high near 55.
See Road Camera Views:
Lake of the Woods
Doak Mtn.
Hiway 97 at Chemult
Hiway 140 at Bly
Hiway 97 at GreenSprings Dr.
Hiway 97 at LaPine
Today's Headlines
Klamath Health Partnership will host a free, drive-thru COVID-19 vaccine event TODAY, at the Klamath County Fairgrounds.
The event is by appointment only beginning at 9 a.m. and will offer the one-dose Johnson & Johnson vaccine.
The event is open to everyone eligible under current Oregon Health Authority guidelines, which includes all groups in Phase 1A and groups 1-6 in Phase 1B. Any Klamath County resident, regardless of patient status, may register. You must pre-register to receive a vaccination.
For more information, please call 541-851-8110.
And don't forget the Sky Lakes COVID-19 vaccination clinics this week. Klamath County adults aged 45-64 with underlying health conditions are eligible.
First-dose shots will be given today at the Sky Lakes vaccination clinic on the fourth floor of the original medical center. On Saturday, April 3, COVID-19 first-dose vaccinations will be given at the Sky Lakes Collaborative Health Center.
Shots are by appointment only and can be scheduled by calling 1-833-606-4370. No walk-in slots or on-site appointments are available. The call center is open 8 a.m. to 4 p.m. weekdays
There are six new COVID-19 related deaths in Oregon, raising the state's death toll to 2,381, the Oregon Health Authority reported today. Oregon Health Authority reported 415 new confirmed and presumptive cases of COVID-19 today, bringing the state total to 164,570.
Klamath County reported 12 new cases.
The new confirmed and presumptive COVID-19 cases reported today are in the following counties: Baker (10), Benton (11), Clackamas (44), Clatsop (1), Columbia (8), Coos (5), Crook (6), Curry (7), Deschutes (11), Douglas (18), Grant (3), Harney (1), Jackson (31), Jefferson (1), Josephine (8), Klamath (12), Lake (3), Lane (15), Lincoln (1), Linn (8), Malheur (5), Marion (17), Morrow (1), Multnomah (78), Polk (12), Tillamook (5), Umatilla (9), Union (1), Wallowa (2), Washington (75) and Yamhill (6).
The number of hospitalized patients with COVID-19 across Oregon is 139, which is three fewer than yesterday. There are 35 COVID-19 patients in intensive care unit (ICU) beds, which is one fewer than yesterday. OHA reported that 31,616 new doses of COVID-19 vaccinations were added to the state immunization registry. To date, 1,130,805 doses of Pfizer, 1,081,900 doses of Moderna and 86,900 doses of Johnson & Johnson COVID-19 vaccines have been delivered to sites across Oregon.
The Klamath Lake Regional Housing Center, a nonprofit under the South Central Oregon Economic Development District is looking for homeowners in need of major home repairs.
KLRHC is under contract with Klamath County to manage the Community Development Block Grant Housing Rehabilitation Program. The parameters include that the homeowner identifies as low to moderate total family median income; the home is owner occupied; is a single-family residence; mobile/manufactured homes on private property only; resides in Klamath Falls, Keno, Malin, Merrill, Chemult, Gilchrist, Sprague River, Beatty, or Bly.
The eligible home repairs include septic/sewer repair and replacement; water lines repair and replacement; electrical upgrades; plumbing concerns within the home; roof repair and replacement; asbestos removal and abatement; foundation repairs and heating systems. The program offers up to $25,000 to complete the home repairs.
Those that do not qualify for the program are homeowners who have a lien against their home; the homeowner has a reverse mortgage; resides in a mobile/manufactured home in a park; there is a credit/collection concern; or is past due on their property taxes. For more information, contact Pamela Ruddock at 541-884-5593.
CHILOQUIN, Ore. – The Chiloquin Ridge Fire is currently burning on private lands and the Chiloquin Ranger District of the Fremont-Winema National Forest near Chiloquin Ridge Road east of Chiloquin.
The fire is estimated to be approximately 53 acres and was reported yesterday afternoon. The fire is 90 percent lined. The cause is currently under investigation. There are currently no road closures or evacuations in place. The fire is burning in mixed conifer and brush. Smoke is visible in the area and may become more visible as fuels burn within the fire interior.
Firefighting resources from Oregon Department of Forestry (ODF) Klamath-Lake District and Medford, local U.S. Forest Service firefighters, Chiloquin Fire District, Rocky Point Fire District and Fire District 1 responded to the fire Sunday evening and continue to fight the fire.
Winds contributed towards fire spread yesterday. However, as winds subsided overnight, firefighters were able to make good progress on the fire. Firefighters plan to start mop-up today. The public is encouraged to use caution with fire on private and wildlands. Spring winds can be erratic, dry out fuels and carry fire quickly. Conditions are also unseasonably dry this spring, with snowpack receding and long periods between storms.
This Chiloquin Ridge Fire is one of several fires that started in the South Central Oregon Fire Management Partnership area over weekend. Several of the fires were identified as debris burning piles that were carried by the wind due to dry conditions and gusty winds.
Area landowners must work with local fire departments for local burn permits and to follow local regulations and requirements. This can include only burning when weather conditions allow.
Start getting your little one prepared for kindergarten with a six-week prep course in the academic and social skills they'll need to thrive in school!
Countdown to Kindergarten is a new six-week series from the Klamath County Libraries, starting the week of April 26th and running through the first week in June.
We'll host the course at three of their branch libraries: Chiloquin Branch Library, 140 South First Street: Tuesdays at 2pm starting April 27th South Suburban Branch Library, 3625 Summers Lane in Klamath Falls: Wednesdays at 2pm starting April 28th and Malin Branch Library, 2307 Front Street: Thursdays at 2pm starting April 29th You only need to register once to attend all six classes! To register, call your preferred library: Chiloquin at 541-783-3315, South Suburban at 541-273-3679, and Malin at 541-723-5210.
Each 45- to 60-minute Countdown to Kindergarten "class" will help little ones develop academic and social skills – fine motor skills, early literacy, problem-solving and more – through group activities, interactive learning stations and art projects. We'll also provide take-home materials to help parents/caregivers reinforce the skills taught in class and to work on over the summer.
The program is limited to children who will be attending Kindergarten in fall 2021, and children attending both public/private as well as homeschool are welcome. An adult will need to be present in the library while Countdown to Kindergarten is in session.
Around the state of Oregon
Police Identify Two Young Men Found Dead In Burned Car Near Lake Selmac
On March 24th law enforcement responded to a call regarding a vehicle on fire in Selma about 6 miles up McMullen Creek Road on forest management property. Detectives responded to the scene and located two deceased persons in the burned vehicle.
The incident is being treated as homicide and is actively being investigated. Yesterday investigators were able to identify the two persons in the vehicle as Daniel T. Hill (24) from Josephine County and Paul M. Folk (26) from Josephine County.
Folk was previously reported as a missing person to the Grants Pass Department of Public Safety.
OSP is leading the homicide investigation with assistance from the Grants Pass Department of Public Safety, the Josephine County District Attorney's Office, and the Sheriff's Office.
A separate investigation is still ongoing for an officer-involved shooting that happened on March 25 at a staging area for the homicide scene.
Oregon Approves Grants to Cover Missed Rent for More Than 2,600 Businesses
Oregon plans to pay the outstanding rent of more than 2,600 businesses and then offer another round of aid to businesses in need next month.
Business Oregon, the state's economic development agency, will distribute nearly $50 million on April 12 to cover the missed rent of a combined 2,609 commercial tenants across the state, according to spokesperson Nathan Buehler. That's pending the receipt and approval of final documentation from those tenants and landlords.
The grants will be paid directly to landlords to bring their tenants current on rent by covering outstanding rent those tenants accumulated from March 1, 2020 to Feb. 28, 2021. The state offered grants of up to $100,000 per tenant, but the average grant request was $19,159.
Eighty-four landlords who applied for grants, 54 of whom are in the Portland area, indicated that they had individual tenants who owed more than $100,000 in missed rent, according to Buehler.
The grants are part of the state's $100 million commercial rent relief program, which lawmakers approved in January. Business Oregon, which is administering the fund, will reopen applications for another $42 million round in mid-April.
Nearly 88% of the applicants that applied for funding through the program earlier this month were approved, pending final confirmation of their documentation.
Applicants in most parts of the state were approved for funding as long as they met the necessary requirements, but Business Oregon only funded 80% of applicants from the Portland area. That's because the state is working to distribute grants equitably across the state.
Business Oregon held a lottery to determine which eligible applicants to approve. Those that weren't approved initially will automatically be considered along with new applicants during the second round of funding in April.
While the vast majority of applicants were approved, it is still unclear how many business owners across the state are behind on rent due to the pandemic.
Melanie Marconi, the owner of Vida, a coworking space in Northeast Portland, told lawmakers earlier this month that her landlord had not applied for the funds, even though she had fallen significantly behind on rent. Other business owners have raised similar concerns.
While both landlords and tenants must participate in Oregon's application process, landlords must submit the initial application. Landlords who accept the funding must also sign an agreement forgiving any outstanding penalties or interest and promising not to evict their tenants.
Oregon OSHA has fined Kevista Coffee in Bend $27,470 for violating three standards designed to protect employees from the coronavirus disease.
In one of the violations, the company willfully continued to potentially expose workers to the virus, despite a public health order limiting the capacity of indoor dining to zero in an "extreme risk" county. The citation resulted from an inspection launched in response to multiple complaints about Kevista.
The inspection documented the fact that the company, operating in Deschutes County, willfully began allowing indoor dining beginning on Dec. 3, 2020, and thereafter. During that time, Deschutes County was designated an "extreme risk" for transmission of the disease.
During the inspection, the owners of Kevista – Krista and Kevin Lauinger – said they chose to re-open the coffee shop even though they were aware that it went against workplace health requirements.
Using his discretionary authority under state law, Oregon OSHA Administrator Michael Wood imposed a $26,700 penalty for the willful violation. That is three times the minimum penalty for such a violation. The decision reflects the need to ensure a more appropriate deterrent effect where employers insist on disregarding health and safety standards.
For the first time in a year, since Covid-19 began spreading across the United States forcing Americans to stay home, retail alcohol sales have fallen.
That's according to newly released data from Nielsen, which reported that total sales declined 1.9% for the week ending March 13.
This time a year ago, consumers stockpiled alcohol as shelter-in-place orders were implemented across several US states and bars and restaurants were closed or reduced service. As a result, retail alcohol sales shot up as much as 55% in March 2020 with spirits, wine and beer among the top sellers.
Wine sales fell 8% for the week ending March 13, with spirits flat and beer sales slightly higher thanks to the continued popularity of spiked seltzers. If Nielsen excluded seltzer sales from its beer measurement, that category would have fallen more than 2% for the week. Perhaps more notably, total alcohol sales for the week would have fallen 3% if not for hard seltzers.
Portland Man Sentenced to Federal Prison for Bank Fraud Scheme Involving Minors
A Portland, Oregon man was sentenced to federal prison today for a bank fraud scheme whereby he would recruit others, including minors, to deposit fraudulent checks into their personal bank accounts and withdraw cash, announced Acting U.S. Attorney Scott Erik Asphaug.
Marcus Raiford, 22, was sentenced to 12 months and one day in federal prison and five years' supervised release. He was also ordered to pay $75,681 in restitution.
According to court documents, beginning in August 2017 and continuing until at least September 2018, Raiford and others recruited individuals, primarily minors, young adults, and students at various local high schools, to deposit counterfeit checks at banks and credit unions throughout the Portland Metropolitan Area. Raiford and his accomplices used social media platforms, including Snapchat and Instagram, to recruit the minors and young adults, promising significant cash payments in exchange for their participation in the scheme.
Individuals recruited by Raiford and his accomplices were instructed to open accounts at various banks or use existing accounts to deposit counterfeit checks made payable to the recruits. The recruits were told they worked for a company that held inactive investments and accounts in need of liquidation, thereby concealing the scheme. In some instances, the recruits were told they needed to deposit the counterfeit checks to help the company avoid tax liability.
Raiford and others requested the recruits' identification, ATM card, and pin number so counterfeit checks could be made payable to them and deposited into their accounts. Raiford and his accomplices then withdrew the money from ATMs or made point of sale purchases with the ATM cards at various commercial businesses. Over the course of the conspiracy, Raiford and his accomplices deposited more than $150,000 in counterfeit checks.
On December 19, 2018, a federal grand jury in Portland returned a 14-count indictment charging Raiford and his accomplices with conspiring to commit bank fraud, bank fraud, and money laundering. On August 26, 2020, Raiford pleaded guilty to the conspiracy charge.
This case was investigated by the Portland Police Bureau with assistance from Homeland Security Investigations and the Vancouver Police Department. It was prosecuted by Rachel K. Sowray, Special Assistant U.S. Attorney for the District of Oregon. — U.S. Attorney's Office – District of Oregon
Mass Stranding of Velella Creatures On the Coast Due to Ocean Warming
New research reveals the stranding of purple jellyfish-like creatures called Velella is likely tied to warmer oceans.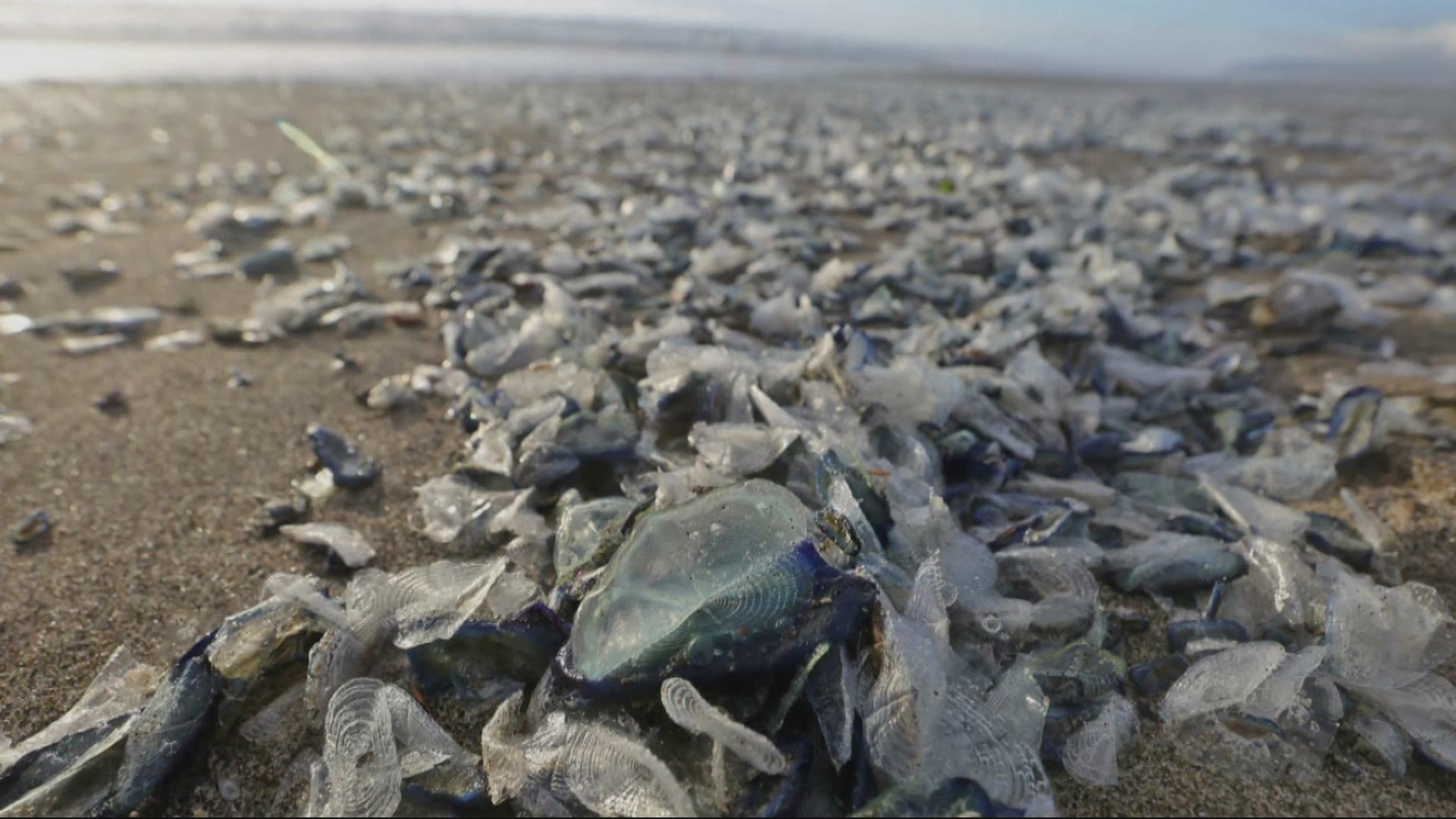 For visitors to the Oregon Coast, it's often a mystery: a purple goo on the beach that seems to stretch on forever. It appears during the spring. But not every spring.
That goo is actually millions of tiny jellyfish-looking sea creatures called Velella velella, also known as by-the-wind sailors.
"They kind of look like little spinning tops littering the beaches," explained University of Washington marine biology professor Julia Parrish, who has been studying the creatures for years.
Ocean and wind conditions have to come together just right to blow these creatures onto shore, but Parrish wondered why in recent years we've seen so many of them wash ashore from Washington all the way down into California.
"That's a lot of real estate," Parrish said. "And that is a gazillion jellyfish."
Parrish discovered the big stranding happened the same years the marine heat wave occurred, also known as the warm blob. It was an area of unusually warm water that also stretched from Washington down to California.
"For the ocean, it was downright hot," said Parrish.
It's the same blob scientists now believe caused the mass die off of seabirds. The birds died due to starvation. The fish the birds needed to eat were not there.
Interestingly enough, Velella's favorite food is fish eggs and baby fish.
"So, if there are more Velella, they're scarfing down the early stages of fish that are important to the ecosystem," said Parrish.
There are still a lot of unknowns when it comes to impacts of warmer oceans. But, it appears some creatures, like Velella, are emerging the winners.
"Everywhere in the northern hemisphere this jellyfish occurs and when it's warmer we see more of them," explained Parrish. "So, we expect if the ocean warms, we're going to see more of these guys everywhere."
Which means other sea creatures will come out the losers. And that's something that is not a mystery.
"Velella is the signal, it's the sentinel telling us there's been a shift," said Parrish. "So, maybe we should spend a little more time out there figuring out what's going on."
SALEM, Oregon — The Oregon State Parks and Recreation Commission will convene April 13-14 via conference call.
On April 13, commissioners will attend a virtual work training session from 9-10:30 a.m.
On April 14, commissioners will convene an executive session at 8:30 a.m. to discuss real estate and legal issues. Executive sessions are closed to the public. A business meeting will begin at 9 a.m. and will be open to the public.
Anyone may listen to the business meeting; instructions on how to attend will be posted on the commission web page prior to the meeting. The agenda also includes a time for public comment. Registration is required to speak at the meeting, and is available online at bit.ly/registeraprilcommission. Time per speaker is limited to three minutes. Please submit written public comments by 5 p.m. April 12 to chris.havel@oregon.gov.
The full agenda and supporting documents are posted on the commission web page. Notable requests:
Approve plans to solicit bids for a forest thinning project at Silver Falls State Park to improve safety and forest health on 103 acres (about 1 percent of the park's 9,000 acres). The ground-based logging operation will remove pockets of fire-damaged trees that burned in the 2020 Beachie Fire, as well as remove trees around the youth camp buildings and area where volunteer park hosts camp.
Accept a $70,000 donation from View the Future to replace a temporary bridge along the Oregon Coast Trail near Yachats.
Adopt amendments to OAR 736-024-0015 that restrict motor vehicles on two sections of beach in southern Tillamook County.
Distribute $9.3 million in grant funding to 35 applicants that qualify for the All-Terrain Vehicle Grant Program.
Approve a rule that would create an advisory council to the Office of Outdoor Recreation.
Anyone needing special accommodations to join the meeting should contact Denise Warburton, commission assistant, at least three days in advance: denise.warburton@oregon.gov or 503-986-0719. People who plan to present oral testimony are asked to email a copy of their statement to Warburton in advance.