The latest and most comprehensive coverage of local News, Sports, Business, and Community News stories in the Klamath Basin, Southern Oregon and around the state of Oregon from Wynne Broadcasting's KFLS News/Talk 1450AM / 102.5FM, The Herald & News, and BasinLife.com, and powered by Mick Insurance.
Wednesday, February 24, 2021
Klamath Basin Weather
Today Sunny, with a high near 43. Clear skies overnight with a low of 20.
Thursday Mostly sunny, with a high near 48.
Friday A slight chance of snow showers. Mostly sunny, with a high near 43.
See Road Camera Views:
Lake of the Woods
Doak Mtn.
Hiway 97 at Chemult
Hiway 140 at Bly
Hiway 97 at GreenSprings Dr.
Hiway 97 at LaPine
Today's Headlines
Yesterday on Hiway 140 near Lake of the Woods Resort, at approximately 2:45 P.M., Oregon State Police Troopers and emergency personnel responded to a two vehicle crash near milepost 36.
Preliminary investigation revealed a Toyota SR5 pickup, operated by Paula West (64) of Klamath Falls, was eastbound when it lost control and collided with a westbound Dodge Grand Caravan operated by Mary Wolf (63) of Chiloquin.
West was transported to the hospital.
Wolf sustained fatal injuries and was pronounced deceased.
There were two passengers in the Dodge – David Burton (37) of Chiloquin was transported to the hospital and a juvenile female was transported, by air ambulance, to the hospital.
OSP was assisted by Rocky Point Fire and EMS, Klamath County Fire District 4, and ODOT.
Klamath County Public Health officials report six new cases of COVID-19 on Tuesday. The local case count is 2,768. This week's total is 15. The reporting week runs from Sunday through Saturday.
Sky Lakes Medical Center will schedule appointments Wednesday, Feb. 24, for vaccination clinics to be held in the coming days.
Those 70 and older may schedule appointments for Thursday and Friday this week, and those qualifying under Phases 1-A and 1-B, group 1 can schedule an appointment for Monday. Appointments must be made it advance by calling 1-833-606-4370 beginning at 8 a.m. Wednesday. Sky Lakes will continue making appointments throughout the week until it is out of doses.
Oregon reports 528 new confirmed and presumptive COVID-19 cases, 8 new deaths
There are eight new COVID-19 related deaths in Oregon, raising the state's death toll to 2,162. The Oregon Health Authority reported 528 new confirmed and presumptive cases of COVID-19 bringing the state total to 153,645.
The new confirmed and presumptive COVID-19 cases reported today are in the following counties: Baker (5), Benton (17), Clackamas (47), Clatsop (4), Columbia (12), Coos (11), Crook (6), Curry (3), Deschutes (34), Douglas (29), Grant (1), Harney (4), Hood River (2), Jackson (46), Jefferson (9), Josephine (17), Klamath (6), Lane (40), Lincoln (3), Linn (8), Malheur (5), Marion (37), Morrow (4), Multnomah (55), Polk (12), Tillamook (2), Umatilla (20), Union (5), Washington (64) and Yamhill (15).
Most Oregon counties can reopen, expand indoor dining under new risk levels
Oregon Governor Kate Brown adjusted the county coronavirus risk levels in the state on Tuesday — and 31 counties are now out of the highest risk level.
Among the changes for the Portland metro area, Washington and Clackamas both moved to the 'moderate' risk level, which increases capacity for indoor restaurants, gyms, and other entertainment businesses. This new category for those counties would allow for 50% capacity in those indoor venues, or 100 people, whichever is smaller.
With Tuesday's announcement, most Oregon counties will be able to offer indoor dining again as they move out of the state's 'extreme' coronavirus risk level starting on Friday. In all, 31 of the state's 36 counties are no longer in the highest COVID-19 risk level.
Vaccinations in Oregon
Today, OHA reported that 14,917 new doses of COVID-19 vaccinations were added to the state immunization registry. Of this total, 9,235 doses were administered on Feb. 22 and 5,682 were administered on previous days but were entered into the vaccine registry on Feb. 22.
Cumulative daily totals can take several days to finalize because providers have 72 hours to report doses administered and technical challenges have caused many providers to lag in their reporting. OHA has been providing technical support to vaccination sites to improve the timeliness of their data entry into the state's ALERT Immunization Information System (IIS).
Oregon has now administered a cumulative total of 836,075 first and second doses of COVID-19 vaccines. To date, 1,092,385 doses of vaccine have been delivered to sites across Oregon.
These data are preliminary and subject to change. OHA's dashboards provide regularly updated vaccination data, and Oregon's dashboard has been updated today.
Local public health officials report that nearby Jackson County will be moving into the "High Risk category" from "Extreme Risk" under Oregon's coronavirus guidance.
This change is anticipated to go into effect on Friday, February 26. Jackson County Public Health said that the move to a lower risk level is prompted by a decrease in the COVID-19 case rate to below 200 cases per 100,000 population. For the two weeks from February 7 through February 20, Jackson County had a case rate of 174.9 cases per 100,000 population.
What will change under the High-Risk level?
Eating and Drinking Establishments: Indoor dining is allowed. Indoor not to exceed 25% maximum capacity occupancy or 50 people, whichever is smaller. Outdoor dining not to exceed 75 people maximum. Indoor and outdoor seating: 6 people per party and per table maximum, limit 2 households. 11:00 pm closing time.
Indoor Entertainment Establishments: Maximum 25% occupancy or 50 people total, whichever is smaller. 11:00 pm closing time.
Indoor Recreation & Fitness: Maximum 25% occupancy or 50 people total, whichever is smaller. Indoor full-contact sports prohibited.
Social and At-Home Gathering Size (Indoor): Maximum 6 people. Recommended limited: 2 household
Social and At-Home Gathering Size (Outdoor): Maximum 8 people.
A Klamath Falls man is facing a slew of charges after he allegedly kept his girlfriend against her will for three days while he beat her, raped her and threatened to kill her.
David Garcia, 32, allegedly sprayed the woman with bear mace and beat her with his fists and a pistol. The ordeal happened Feb.18-20, according to court records. According to Klamath County District Attorney Eve Costello, Garcia then tried to contact the woman multiple times from the Klamath County Jail. Garcia is charged with two counts of kidnapping, four counts of unlawful use of a weapon, four counts of coercion, strangulation, three counts of assault, use of tear gas/mace, two counts of menacing, sodomy, sexual abuse and rape. He is currently held in the Klamath County Jail.
Oregon Institute of Technology will prepare to conduct in-person instruction in on its Klamath Falls campus for the fall term, which will begin September 29.
In a release, the college said it "understands the importance of communicating its plans as early as possible, as it stays flexible and nimble, to ensure students and their families have the latest information for decisions on enrollment, housing, and other aspects of university life." Oregon Tech has utilized a hybrid system of classes since April 2020, with both in-person and remote learning. Hybrid delivery will continue through spring and summer terms, according to the university.
Around the state of Oregon
Multiple people have been hospitalized after a shooting at a motel in Roseburg, according to the Roseburg Police Department.
The agency said that 911 dispatchers started receiving multiple reports of a shooting just before 3 p.m. on Monday, coming from the Budget 16 Motel at 1067 NE Stephens Street. Officers from the Roseburg Police Department and several other agencies responded to the scene. Police said that there were multiple victims, some with serious injuries. They were being taken to Mercy Medical Center for treatment, but their names and conditions are being withheld at this time.
The suspected shooter is in custody and is also being treated for injuries, according to police.
Deputy-Involved Shooting in Eagle Point Leaves One Person Dead After Domestic Call
On 02/23/21 at 19:21 hours Jackson County Sheriff's Office deputies and Eagle Point Police responded to a domestic disturbance in the 100 block of Idlewood Dr in Eagle Point. Prior to the arrival of law enforcement, the male half of the disturbance left the location along with another male in an SUV.
A few minutes later the SUV was stopped by police on Stevens Road near Idlewood in the parking lot of the church at that location. At 1936 hours one of the involved deputies advised shots were fired.
One male from the suspect vehicle is deceased. The other male is being treated at a local hospital. One JCSO deputy was struck by a bullet fired by a subject in the SUV. The injury was minor.
The case is now a Major Assault Death Investigation Unit (MADIU) call out and Oregon State Police is the lead agency.
No further details will be released at this time. Further releases will be coordinated with MADIAU and the Jackson County District Attorneys Office. JCSO Case #21-997 Jackson Co. Sheriff's Office
Southern Oregon I-5 Shooter Pleads Guilty
The former UPS driver accused of shooting at drivers along I-5 in southern Oregon entered guilty pleas on 15 counts, the Jackson County District Attorney's Office said on Tuesday.
State troopers arrested 49-year-old Kenneth Ayers in August following a string of shootings along the Interstate corridor between Douglas, Josephine, and Jackson counties — one of which injured a woman near Central Point.
A grand jury indicted Ayers on a total of 34 counts in December. On Tuesday, Ayers agreed to plead guilty on three counts of Attempted Murder in the Second Degree, five counts of Unlawful Use of a Weapon, two counts of Criminal Mischief in the First Degree, three counts of Recklessly Endangering Another Person, and two counts of Criminal Mischief in the Second Degree.
Oregon State Police investigated eight separate shootings between Central Point and Roseburg, stretching between May and August of 2020. During the investigation, a number of victims told police that they had been driving near a semi-truck when the shootings happened — some identifying a UPS double or triple trailer.
On August 19, a woman was shot in the shoulder while driving on I-5 northwest of Central Point. Witnesses said that a UPS truck had been getting on the freeway at the same time.
State troopers later stopped a UPS truck in Douglas County, identifying the driver as Ayers. He was employed as a UPS truck driver at the time of the shootings.
Before May of 2020, Ayers drove a route for UPS that took him north of Roseburg, investigators said. He was put onto a route south of Roseburg around the same time that the first known shooting occurred.
Though the shootings took place in three separate counties, Ayers agreed to have all of the charges tried in Jackson County. His plea on Tuesday included charges stemming from Jackson, Josephine, and Douglas counties.
A sentencing hearing has been scheduled for March 2 at 11 a.m.
211 flooded with calls as Oregon seniors 70+ become eligible for COVID-19 vaccine
Seniors report waiting on the phone with 211 for more than two hours to get information or help to book an appointment for the COVID-19 vaccine. On Monday, seniors ages 70 and older became eligible for the vaccine. 211's CEO said at one point 900 callers were in the queue. On Tuesday, the call center was shut down for part of the day to give staff time to return calls to people who opted for a callback.
Deadline Extended for SNAP Recipients to Request Food Replacement Due to Storm
Deadline to apply: March 5, 2021 SNAP recipients living in one of the nine counties below who experienced food loss or had to destroy food due to the recent power outages can apply for replacement food benefits. Replacement benefits are available for regular and emergency SNAP allotments.
Counties with an extended deadline:
Benton
Clackamas
Hood River
Linn
Marion
Multnomah
Polk
Yamhill
Washington
"We appreciate the ability to extend the deadline for Oregonians to request replacement benefits," said Self-Sufficiency Programs Director Dan Haun. "This extension is critical as many people are still without power or assessing the ability to provide food for their households."
How to apply
"We encourage SNAP recipients applying for replacement benefits to stay home and make their request by phone or email. The health and safety of Oregonians and staff is still a top priority, and we want to limit in-person visits to reduce exposure to COVID-19," director Haun stated.
More information is available online at https://www.oregon.gov/dhs/ASSISTANCE/FOOD-BENEFITS/Pages/Replacement%20-Benefits.aspx.
Administered by ODHS, SNAP is a federal program that provides food assistance to approximately 1 million eligible, low-income families and individuals in Oregon, including many older adults and people with disabilities. Oregonians in need can apply for benefits, including SNAP, child care, cash assistance, and Medicaid. Learn more at https://govstatus.egov.com/or-dhs-benefits. For local resources in your area, such as food or shelter, please call 2-1-1 or reach out to the state's Aging and Disability Resource Connection (ADRC) at 1-855-ORE-ADRC or 1-855-673-2372. Oregon Department of Human Services
Oregon OSHA Fines Restaurant in Florence for Willfully Exposing Workers to COVID-19
Oregon OSHA has fined The New Blue Hen, a restaurant in Florence, $17,800 for willfully continuing to potentially expose workers to the coronavirus disease. The business did so despite knowing it was violating a public health order limiting the capacity for indoor dining to zero in an "extreme risk" county.
The fine was the result of an inspection opened in response to multiple complaints about The New Blue Hen. The inspection was carried out despite several people – including one carrying a firearm – who blocked the business' entrance and threatened compliance officers.
Using his discretionary authority under state law, Oregon OSHA Administrator Michael Wood imposed a $17,800 penalty, which is twice the minimum penalty for a willful violation. The decision reflects the need to ensure a more appropriate deterrent effect where employers insist on disregarding public health measures.
Such willful behavior puts employees at risk and enables the employer to achieve a competitive advantage over businesses that choose to comply with workplace health and safety standards.
"Most employers are choosing to do the right thing," Wood said, "even as they face very real economic hardships. As for those relatively few employers who are working against our shared project to defeat this disease, we will continue our enforcement work in the interest of accountability."
Oregon OSHA cited one violation of the division's temporary rule to address COVID-19 risks in the workplace:
In allowing indoor dining, The New Blue Hen purposely chose to disregard capacity limitations imposed by the Oregon Health Authority (OHA) for such establishments in a county designated as Extreme Risk. It was a willful violation. Oregon OSHA proposed a discretionary penalty of $17,800.
Because of safety concerns, two compliance officers were assigned to open the inspection. When they arrived at the restaurant Jan. 4, they were met by several people standing outside the entrance of the business, one of whom carried a firearm.
The compliance officers identified themselves and asked to speak with the business owner. They were threatened and told to leave. The officers politely left. As the officers walked to their cars, the people outside the entrance followed them. The people shouted at the officers as the officers left the parking lot.
The inspection of The New Blue Hen – doing business as Little Brown Hen – found the employer committing the violation beginning on or about Dec. 26, 2020, and continuing to do so afterward. The inspection included visual confirmation of indoor dining and a Jan. 5 phone interview with owner Stacey Brown, who said she understood the public health rules regarding the spread of the disease in Lane County.
Employers have 30 days to appeal citations.
In addition to its enforcement activities, Oregon OSHA offers employers and workers a variety of consultation, information, and education resources addressing COVID-19.
Oregon OSHA, a division of the Department of Consumer and Business Services, enforces the state's workplace safety and health rules and works to improve workplace safety and health for all Oregon workers. For more information, visit osha.oregon.gov.
Oregon Dept. of Consumer & Business Services is Oregon's largest business regulatory and consumer protection agency. For more information, go to www.dcbs.oregon.gov.
Gun Sales in Oregon on The Rise
The pandemic and protests have made 2020 a banner year for gun sales in Oregon, according to the National Instant Criminal Background Check System, which tracks criminal background checks of gun applicants.
Gun sales are not tracked, but the background checks required for most gun sales are. Still, not every background check results in a gun sale, and some sales are made without going through background checks. For example, guns sold between family members do not require a background check, according to federal guidelines.
In 2020, Oregon sold more than 516,000 guns and performed background checks for those sales. In the United States, 39.6 million gun background checks were done in 2020, compared to 23.1 million in 2015.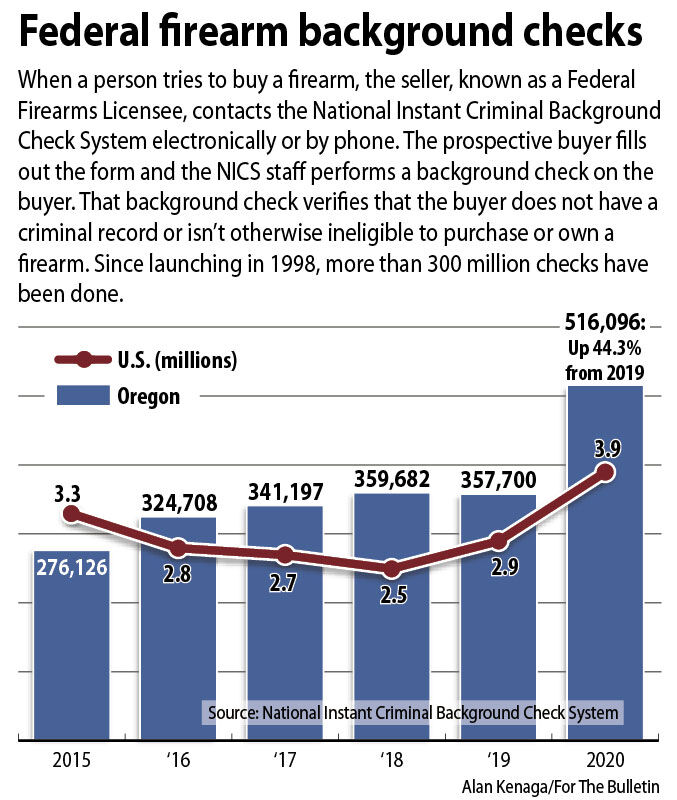 With so many purchases, the state, which performs its own background checks, is backlogged. In 2019, there were 276,912 background check requests, compared to 2020 when there were 418,061 requests .
A handful of Democratic lawmakers have now put forward a bill in the Oregon Legislature that would close this loophole. It's often called the Charleston loophole because Dylann Roof was able to buy a gun that way, and then murder nine Black people at the Emanuel African Methodist Episcopal Church in Charleston, South Carolina, in 2015.
So many people are buying guns in Oregon these days that the state police are often unable to complete background checks in time, allowing the sales to proceed if the deadline isn't met.
In Oregon, it's up to the state police to do a background check. And they are warning that they are overwhelmed.
In 2019, the Oregon State Police completed 276,912 background checks, said Maj. Tom Worthy of the state troopers. In 2020, that total rose by 51% to 418,061.
"We saw exponential growth that we've never seen before," Worthy told a committee of the Oregon Legislature on Thursday. "I can tell you that the unit is not staffed for that volume, and it would be impossible for us to stay current based on our current employees that we have."
Nationwide, gun sales hit a historic high in January as violent riots hit the U.S. Capitol and a new president took over, continuing a record-setting surge that began as the coronavirus pandemic took hold in early 2020.
Under Oregon law, if state police fail to provide a gun dealer with an approval number or notify that the purchaser is disqualified from obtaining a firearm before the close of the gun dealer's next business day, the dealer may deliver the firearm to the purchaser.
This bill amends that, saying plainly that the dealer may not transfer a firearm unless the dealer receives a unique approval number from the state police.
The bill generated almost 300 pieces of written testimony either praising or denouncing the measure.
That backlog is mostly due to near hits on the National Instant Criminal Background Check System because of incorrect information, missing information or invalid government-issued identification or missing information, Capt. Timothy Fox, an Oregon State Police government and media relations officer, said in an email.
Jefferson County District Attorney Steven Leriche said he was not aware of increased crime being associated with increased firearm sales. But he did say there is a correlation between drug and alcohol use and gun ownership and serious crimes.
"Guns themselves are generally not my worry," Leriche said. "The combination of drugs being plentiful and guns being plentiful, that's a worry. We've had five murders so far and at least two involve a firearm."
According to the FBI data, there was a 44% increase in firearm background checks in Oregon from 2019 to 2020 and an 86.9% increase from 2015 to 2020.
Realtor Group Says Housing Crisis in Oregon Severe
The Oregon Association of Realtors is sounding the alarm about the state's housing situation.
The group says things weren't good before the pandemic, and they've only gotten worse since.
Pre-coronavirus, nearly half of the population was putting more than 30% of their monthly income toward the rent or the mortgage. After the virus hit, unemployment doubled, making it impossible for many people to keep up.
"After the initial spike in tenants who were unable to pay rent, the rate has gone down some, but in January of 2021, it was still nearly four times the rate of March 2020," said Drew Coleman, president of Oregon Association of Realtors. "This indicates that even as households regain employment or receive unemployment checks, the cost burden of housing remains extremely severe."
Experts say the high cost of housing is driven mostly by low supply. They say one home needs to be built for every 10 now in existence to drive prices down.
Cold-Stunned Sea Turtle Gets Help at Oregon Coast Aquarium
A sea turtle found stranded and dangerously cold along the Oregon Coast has been given a second shot at life.
The young adult female loggerhead turtle was found earlier this month on Nelscott Beach near Lincoln City, the Oregon Coast Aquarium said. The Marine Mammal Stranding Network helped get the turtle to the aquarium, where experts leaped into action to try to save its life.
Most turtles stranded on the Oregon Coast are stunned by the cold ocean water and this was no exception: the aquarium said this turtle's body temperature was 50 degrees. A healthy temperature for a turtle is about 75 degrees.
Bringing a turtle back to a safe temperature is a delicate process. Using water baths, the Oregon Coast Aquarium slowly raised this turtle's temperature by about five degrees per day and monitored its progress around-the-clock. They took blood samples and X-rays and as the turtle warmed up, she started to get her appetite back.
A close-up image of a female loggerhead turtle rescued after becoming stranded along the Oregon Coast, February 2021. (Oregon Coast Aquarium)
At that point, experts decided she was ready for the next steps in returning to normal life. With the help of the non-profit organization Turtle Fly Too, the turtle was flown to SeaWorld San Diego where she could continue being rehabilitated in a large outdoor pool. She will continue to be monitored with the goal of being released back into the wild.
The Oregon Coast Aquarium said the odds of saving a stranded turtle are often low and the successful rescue of even one endangered loggerhead turtle is a win for the entire species.
If you find a sea turtle on the beach, experts say you should note its location, stay nearby to observe it and then contact the Oregon State Police tipline at 800.452.7888 or the Marine Mammal Stranding Network at 1.866.767.6114.
The U.S. Interior Department is delaying the Trump administration's last-minute roll-back of federal protections for the northern spotted owl.
On Monday, federal officials said the changes will be reviewed, delaying their effective date from March 16 to April 15. On Jan. 15, just days before leaving office, the Trump administration published a final rule revising protections for the northern spotted owl. The rule lifted critical-habitat protections for the bird from 3.4 million acres in Oregon, Washington and California. The U.S. Fish and Wildlife's had proposed a more modest revision, seeking to remove critical habitat status from a little over 200,000 acres in 15 counties in Oregon. Earlier this month, Western Democrats led by Oregon Sens. Ron Wyden and Jeff Merkley requested an immediate federal review into the decision.
An Oregon man is in the record books for a rather untoward achievement.
The man, unnamed pending criminal charges, had a blood alcohol content of point-seven-seven, more than nine times the legal limit. He was arrested Friday after a short police chase ended with a car crash about 125 miles southeast of Portland. While there are no official records, the man's BAC seems to be far and away the highest. A woman, also from Oregon, came close in 2007 with a point-seven-two.
A far-right senator who has rebelled against coronavirus restrictions and supported protesters who stormed the Oregon Capitol has been elected chairman of the state Republican Party, showing how the GOP is taking a harder-line shift in some states and continuing to support former President Donald Trump.
The ascendancy of state Sen. Dallas Heard reflects the bitter frustration felt by Republicans in Oregon, where Democrats dominate the Legislature, governor's office and other statewide offices. Some even want their rural, conservative counties to become part of neighboring Idaho, where the GOP is dominant.