Fresh ideas for a fun fiesta menu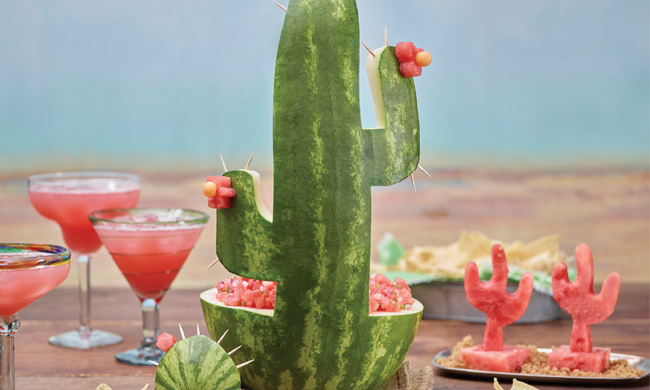 There's no better way to spice up a party than by using unexpected ingredients in fun, flavorful dishes, and drinks. For your next fiesta, celebrate a star of the party with sweet and juicy watermelon.
Not only does versatile watermelon lend a unique taste to your menu, it's a healthy ingredient that provides natural hydration with 92 percent water content, along with the antioxidant lycopene and the amino acid citrulline.
These recipes show how, with a little creative carving, you can use the whole melon, including flesh, juice and rind, for big value and zero waste.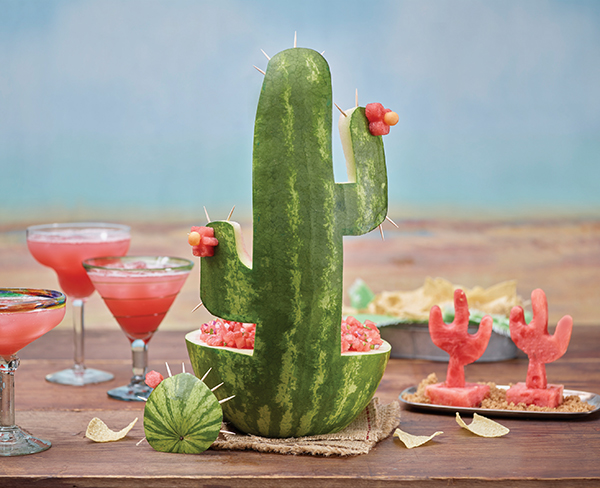 Find more fiesta-ready recipes at watermelon.org.

Cactus Carving
Medium-large oval or oblong watermelon (seeded or seedless)
Cutting board
Paring knife
Dry erase marker
Kitchen knife
Scoop
Cactus cookie cutter
Small flower cookie cutters
Toothpicks
Fire and Ice Salsa (recipe below)
Wash watermelon under cool, running water and pat dry.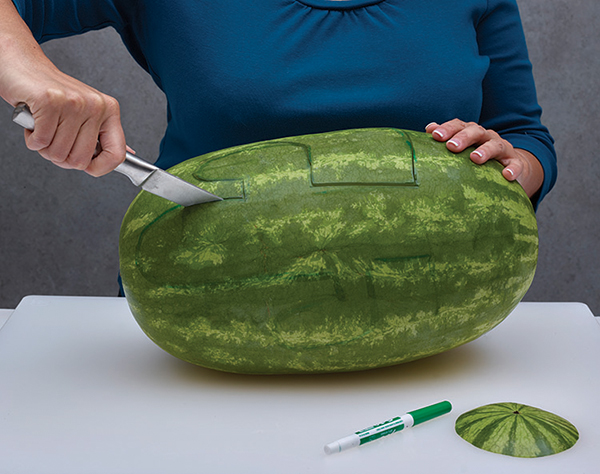 On cutting board, place watermelon on its side and cut off 1/4 inch-1/2 inch from stem end; this will provide a sturdy base. Reserve end piece to make into small cactus.
Stand the watermelon upright on base. Use dry erase marker to draw a simple outline of a cactus shape.
One-third up from the bottom of watermelon, draw a straight line around back, being careful not to go through cactus outline; this will create a serving bowl for watermelon salsa.
Use a kitchen knife to cut around the outline, leaving just bowl with cactus attached. Scoop out the base to form a bowl.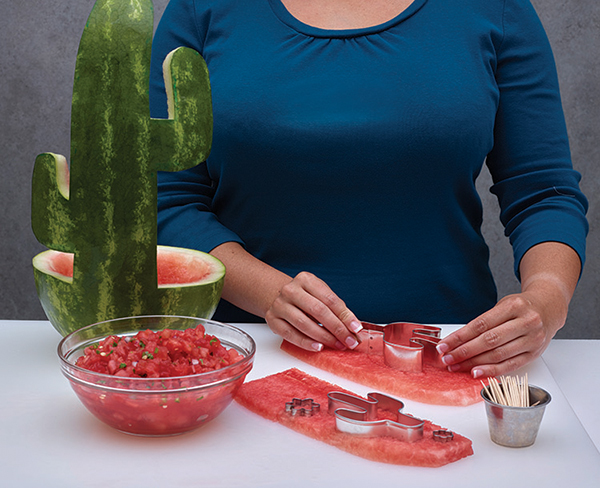 From pieces of watermelon that were cut away, use cookie cutters to make cactus pieces and flower pieces to decorate with, and chop remaining watermelon to make watermelon salsa and watermelon margaritas, or juice.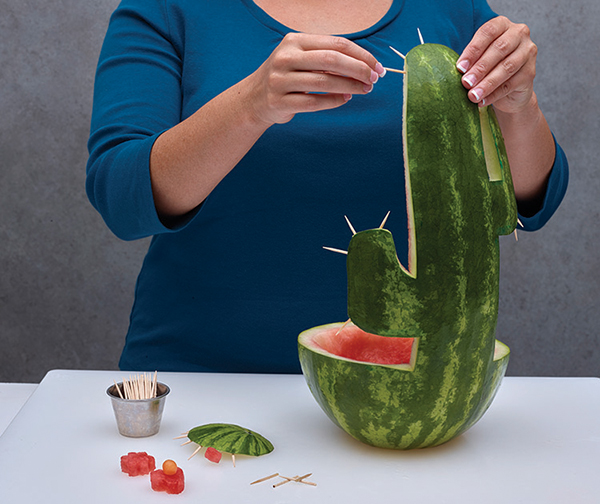 Attach toothpicks randomly around cactus to make thorns and decorate with watermelon flowers. Decorate bottom rind scrap with toothpicks to resemble short, round cactus.
Fill the bowl with Fire and Ice Salsa and serve with tortilla chips.
Fire and Ice Salsa
Makes: 3 cups
3 cups seeded and finely chopped watermelon
1/2 cup finely diced green peppers
2 tablespoons lime juice
1 tablespoon chopped cilantro
1 tablespoon finely sliced green onion
1-2 tablespoons finely diced jalapeno peppers
Combine ingredients; mix well and cover. Refrigerate at least 1 hour before serving.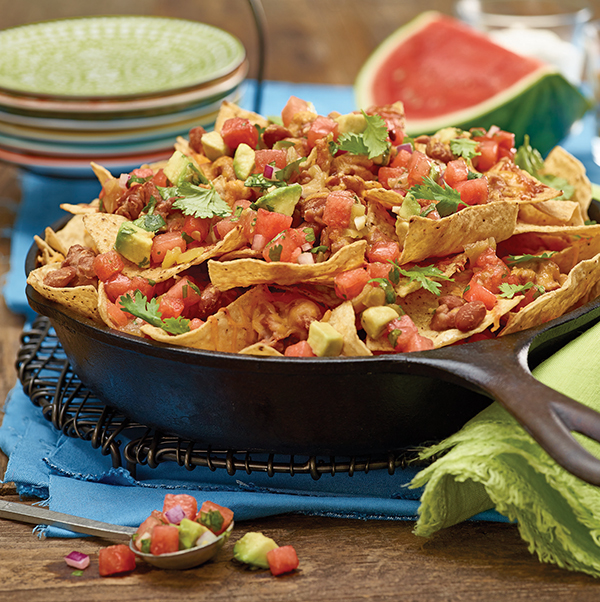 Nachos with Watermelon Avocado Salsa
Makes: 8 servings
1 avocado, peeled, seeded and chopped
2 teaspoons lime juice
1/4 cup chopped cilantro
1 minced garlic clove
1 can (4 ounces) diced green chilies, drained
2 tablespoons diced red onion
1 1/2 cups diced watermelon
16 ounces fat-free refried beans
11 ounces of corn tortilla chips
1 1/2 cups sharp cheddar cheese, grated
1/3 cup fat-free sour cream
Heat oven to 350° F.
To make the salsa: In a medium bowl, combine avocado, lime juice, cilantro, garlic, chilies, and red onion; toss to thoroughly mix. Add watermelon and toss gently. Set aside.
Over medium heat, heat beans until hot. Mash if preferred.
Place chips on flat, oven-proof plate or cookie sheet and top with beans and cheese. Repeat layers as desired. Heat in oven 10 minutes, or until cheese has melted and chips are hot.
Top with salsa mixture and sour cream.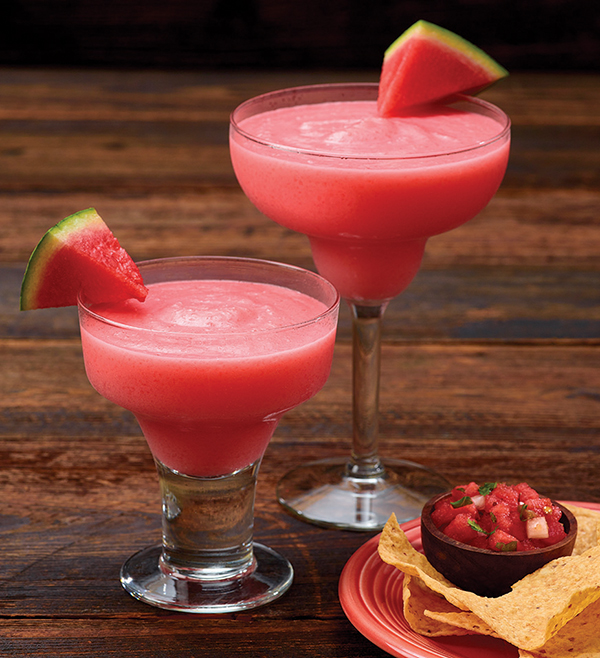 Tip: Reserve some salsa to place in a bowl for dipping.

Blended Watermelon Margarita
Makes: 2 margaritas
2 cups seedless watermelon, cubed and frozen
1/2 cup water
3 ounces silver tequila
1 1/2 ounces lime juice
1-ounce elderflower liqueur
pinch of salt
lime slices, for garnish
In a blender, combine watermelon, water, tequila, lime juice, elderflower liqueur, and salt. Blend until smooth.
Pour into two chilled margarita glasses and garnish with lime slices.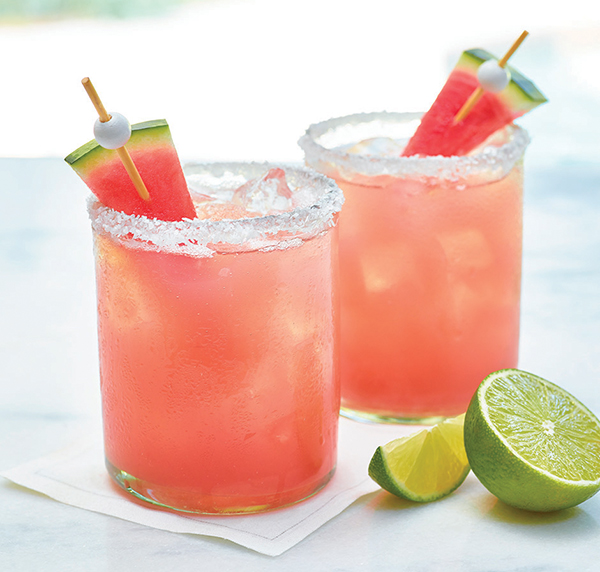 Watermelon Margarita on the Rocks
Makes: 2 margaritas
Watermelon Simple Syrup:
2 cups seedless watermelon, cubed
1 cup of sugar
Watermelon Juice:
2 cups seedless watermelon, cubed
1/2 cup water
Margarita:
lime wedges
coarse salt
ice
4 ounces silver tequila
4 ounces watermelon juice
2 ounces lime juice
1-ounce watermelon simple syrup
To make watermelon simple syrup: In a small saucepan over medium heat, combine watermelon and sugar. Use a potato masher to mash watermelon and sugar together, pushing out the liquid and dissolving sugar. Simmer 5 minutes, stirring frequently. Pour mixture through a fine-mesh sieve set over bowl or jar, pressing watermelon to extract all liquid. Set aside to cool completely.
To make watermelon juice: In a blender, combine watermelon and water. Blend until smooth then pour through a fine-mesh sieve set over bowl or jar.
To assemble margaritas: use a lime wedge to line rims of two glasses with juice. Dip glasses in coarse salt and carefully fill glasses with ice.
Combine tequila, watermelon juice, lime juice and simple syrup in a cocktail shaker with ice. Shake until thoroughly chilled, about 30 seconds, and pour into prepared glasses. Garnish with lime wedges.