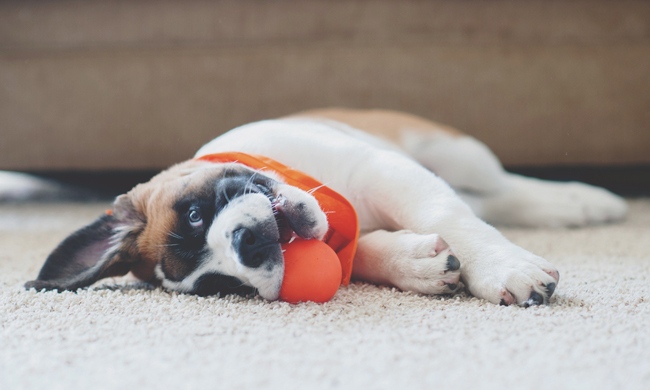 Introducing a new dog to the family can bring plenty of excitement, sweet snuggles, and puppy kisses. However, there are also plenty of practical steps to consider to successfully transition a pup into its new environment.
Whether you're a seasoned pet owner or a first-time puppy parent, these tips can help your newest family member feel right at home:
Purchase the necessities ahead of time. Similar to newborns, new pets require products that fit their size, age and life stage to ensure their safety and good health. This includes chew-proof food and water bowls, an ID tag with name and contact information and a sturdy leash for both walks and training. Many experts discourage retractable leashes because they offer little control. For puppies specifically, some veterinarians recommend harnesses to attach a leash to because their necks are too fragile to attach a leash to a collar. Remember, puppies are going to grow, and items like beds, crates, and collars will need to grow as they do, so you may want to hold off on investing in pricier options until they've matured.
Offer high-quality food that provides balanced nutrition. Feed new pets the best quality food possible because an investment in your pet's food is an investment in its health and longevity.
"Quality is a top priority when new pet parents are selecting food, so reading ingredient labels and understanding what nutrients are important for your pet at his or her life stage is key," said Dr. Jennifer Adolphe, Ph.D., R.D., nutrition manager at Petcurean. "Better quality food will usually equate to fewer vet visits overall. The same goes for treats."
An option like Petcurean's Now Fresh wet food features novel textures like shredded, stews and pates and is made with 100 percent fresh meats and bone broth gravy, which adds a meaty flavor. All recipes are 100 percent grain- and gluten-free and non-GMO, making for a perfect treat, topper or a complete and balanced meal.
Have enough playthings around the house. Keep dogs from destroying furniture, shoes and household items by providing them with fun, safe and entertaining toys. Chew toys and puzzles that combine play and treats are interactive, which can give dogs mental stimulation and help keep them out of mischief.
Pet-proof the house. Dogs are naturally curious and spend time exploring their homes, especially pets eager to get to know their new environment. Items on counters and shelves that could be dangerous to a small child are also dangerous for dogs, including wires, sharp or small objects, and fragile items. Store them up and away from your dog or in locked cabinets for safekeeping.
Provide a safe spot to retreat. Moving into a new home can cause a pet to feel a little disoriented and overwhelmed. Providing a safe place for the dog to retreat from enthusiastic kids, other pets and general household commotion can help the pup feel calmer. A crate or kennel lined with a soft pad or blanket in a quiet area of your home is typically a good choice – it's a confined space and can also serve a dual-purpose with housetraining if needed.
Find more tips for proper pet care at petcurean.com.
SOURCE:
Petcurean, Family Features