Entertainment seekers hooked on stories of love and romance can indulge in finding some of the early episodes of one of the most popular reality dating shows of all-time for free.
For fans of "The Bachelor" and "The Bachelorette," watching (or re-watching) the early seasons can be as simple as streaming with Tubi, the largest free video-on-demand service. Now also streaming season five of "Bachelor in Paradise," viewers can relive how Colton Underwood, who was also a contestant on season 14 of "The Bachelorette," began his journey toward becoming the Bachelor of season 23.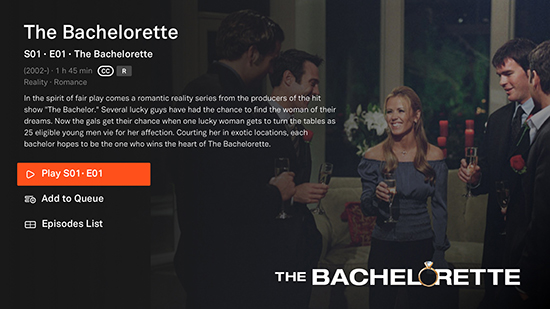 "I think it's great that 'Bachelor' fans can relive all their favorite moments on a free video service," Underwood said. "It gives original fans the chance to watch the moments that helped them fall in love with the show while bringing in new viewers to continue building the show's following."
A former professional football player, Underwood concluded his season as the Bachelor by giving the "final rose" to Cassie Randolph.
A massive library of films and TV shows are available for viewers, all without the hassle of credit cards and subscription fees, via ad-supported streaming services like Tubi, the largest of its kind, available on virtually every platform from mobile devices to video game consoles and more. With more than 40,000 hours of offerings, including 12,000 movies and television series, viewers can indulge in genres of all kinds on the growing platform from Hollywood blockbusters to independent films and specialty content.
Find more information at Tubi.TV.
Photo courtesy of Getty Images (Colton and Cassie Underwood)
SOURCE:
Tubi, Family Features